Hoosiers ranked No. 9 in preseason coaches poll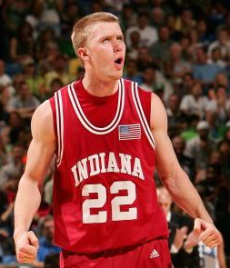 The first college hoops poll of the season was released today and IU is represented as a top 10 preseason selection by the coaches. The Hoosiers are slotted at No. 9, just behind Michigan State.
When was the last time IU was ranked this high going into the season? (To be perfectly honest, I can't remember. Bonus points to anyone who knows.)
Two of IU's non-conference opponents, Kentucky and Southern Illinois, also made the cut. The Wildcats, who visit Assembly Hall on December 8, are No. 22 and the Salukis, who will host the Hoosiers on December 1, are No. 23.
Besides IU and Michigan State, the only other Big Ten teams mentioned were Ohio State, Wisconsin and Illinois who were among the "others receiving votes."
I'm inclined to say the coaches got it right this time as I can make a case for each team ranked ahead of us for the time being. Duke is, as usual, overrated at No. 11. And two-time defending national champion, Florida, seems a bit underrated. They did, after all, sign one of the top recruiting classes in the country.
So, what are your thoughts on IU's preseason ranking? Too high? Too low? Just right? I'm interested in hearing your take.
Filed to: Coaches Poll, Kentucky Wildcats, Michigan State Spartans, Southern Illinois Salukis