SI's Seth Davis breaks down Hoosiers, sanctions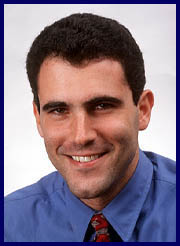 There's been no shortage of articles addressing Kelvin Sampson and the IU program over the last six days. Most have rehashed the same thing over and over, but Seth Davis of Sports Illustrated (he's also a studio analyst for CBS) hit the jackpot yesterday when he penned a column on the current state of the Hoosiers.
Davis gave us a little bit of everything, including some candid thoughts from Sampson regarding recent comments made by former players Kent Benson, Ted Kitchel and Joe Hillman.
Here are some of the highlights:
Sampson on the former players and their recent comments:

"Whatever the former players say is fine with me, because this is their program. I'm just coaching it right now."

Sampson on his reputation:

"My reputation will take a hit. But you know what? It should, because I'm the leader of this program and this is my responsibility."

On Jordan Crawford:

"Jordan Crawford is the best player out here," he announced at one point. "He's like a stallion that hasn't been broken yet."
He also revealed the Sampson has received calls of support from Pat Graham, Calbert Cheaney, Todd Leary and Larry Bird. That's an impressive list.
We've heard about Jordan Crawford all summer from other players and the media, but this is further confirmation that he'll make an immediate impact. The one time I saw Crawford he was very raw, but I felt that his length and athleticism would net him significant playing time from day one. With Crawford, Jamarcus Ellis, Armon Bassett and Eric Gordon, A.J. Ratliff could have a hard time finding minutes upon his return.
Davis's fearless prediction for the Hoosiers is a Big Ten title and beyond that, a tough out in the third or fourth round.
Filed to: Jordan Crawford, Kelvin Sampson, Seth Davis