Who will start for the Hoosiers?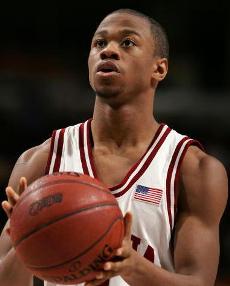 One of the quotes that caught my eye this offseason came from senior forward Lance Stemler when he was asked the depth of this year's team.
"We're definitely going to have to compete for our spots, which is a good thing. No one can get too comfortable with as deep as we are," Stemler said.
And that my friends, is a good problem to have. My only question now is: Who will be the five on the floor when the season tips off? I'll give you my take and I'm interested in hearing yours.
Armon Bassett – The Terre Haute native has worked all summer on his vocal leadership and will be in charge of running the team from the point guard position. At times as a freshman, Bassett was forced to take big shots down the stretch by default. This year, he'll act as a distributor and will be counted on to get the ball in the hands of Eric Gordon and D.J. White in key situations.
Eric Gordon – There's no question that Gordon will be the primary focus of opposing defenses all season long and for good reason. He's already been touted as a preseason All-American by several publications and will not be fazed by the hype. His scoring numbers may be slightly lower than some are projecting, but that's simply because he's a team first player who will get others involved to keep the Hoosier attack balanced.
Jamarcus Ellis – The Chipola J.C. product would be the primary option on a lot of teams, but as a Hoosier he'll embrace his role of a distributor and slasher from the wing. Ellis told me that he's looking forward to doing the little things that often go unnoticed like rebounding and passing. When needed, he'll also look to score.
Lance Stemler – One of the captains along with D.J. White, Stemler will be counted on to help anchor down the paint and be a hustle guy. His ankle should be 100% when the season starts and that should go a long way in helping his jump shot return to early 2006-2007 form.
D.J. White – The best big man in the Big Ten will be in my eyes, the key to taking the Hoosiers to San Antonio. The Hoosiers simply cannot count on a perimeter oriented attack to carry them through the Big Ten and the NCAA Tournament. One bad shooting night come March and you'll be going home. That's where White's stability and presence inside becomes important. Very few teams on the IU schedule will have an answer for the Tuscaloosa native.
Filed to: Armon Bassett, D.J. White, Eric Gordon, Jamarcus Ellis, Lance Stemler