Sporting News tabs Gordon first team All-American, IU ranked 10th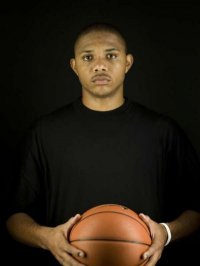 Another day and another hoops preview is on the newsstands. This time its The Sporting News, which is publishing for the last time on its own after merging with Street & Smith's.
Here's the rundown on the magazine from the IU perspective:
The Hoosiers are picked as the No. 10 team in the country. Michigan St. is No. 9.
Michigan St. is the pick to win the Big Ten with the Hoosiers taking second.
Eric Gordon is a first team All-American joining Tyler Hansbrough of North Carolina, D.J. Augustin of Texas, Chase Buddinger of Arizona and Chris Lofton of Tennessee.
Gordon and D.J. White are both on the first team All-Big Ten along with Geary Claxton of Penn St., Shaun Pruitt of Illinois and Drew Neitzel of Michigan St.
Jamarcus Ellis is the given the nod as the best transfer in the Big Ten.
Gordon is the league's best freshman.
White is recognized as the top NBA prospect and top shot blocker in the Big Ten.
Kelvin Sampson is called the best interview among Big Ten coaches.
Tom Izzo is their pick for the best coach in the Big Ten.
And finally, their top five teams nationally: UCLA, Memphis, North Carolina, Kansas and Georgetown.
I agree with most of the predictions here, although calling D.J. the best NBA prospect would seem to be a bit of a stretch. I'd say Mr. Gordon should have that distinction. I think most of us can agree that the Hoosiers and Spartans are the two best teams in the league. And it's nice to see Jamarcus Ellis get some love. He'll be a huge addition, no doubt. Is it time to start playing games yet?
Filed to: D.J. White, Drew Neitzel, Eric Gordon, Geary Claxton, Jamarcus Ellis, Kelvin Sampson, Michigan State Spartans, Tom Izzo