Drew Neitzel sings praises of Assembly Hall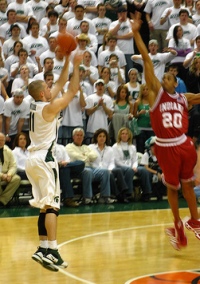 Over at Sports Illustrated today, Luke Winn threw down an interview he conducted with Michigan State's Drew Neitzel. (I swear DN should have graduated two years ago. Seems like he's been there forever.)
Within it, Neitzel talks about playing on the road in the Big Ten, namely at Assembly Hall:
It's a tough conference to play on the road. Every place is unique, and sometimes it depends on what kind of a year a team is having. Illinois is tough. Indiana might be No. 1, though. It's not just their student section; it's their whole fan base. They love basketball. The arena [Assembly Hall] is huge. It's like a theater — it goes up really high on both sides, and the sound seems to echo in there. It feels like the fans are right on top of you, and they get pretty loud.
I haven't been to a lot of other Big Ten arenas, (only Illinois' Assembly Hall and Northwestern's um, high school gym) but I'd have to say Drew's right: the other Assembly Hall is right up there with IU's. With the Orange Krush student section literally on the court, the atmosphere can get rather raucous in there. I'd actually give the edge to the Illini on a few different facets, (namely student section and crowd continuity) but IU has more seats which should equate to more sound, no?
Let's just call this a draw. Because if there's one thing we've learned about Illinois and Indiana fanbases, it's that they like to agree, right?
Filed to: Assembly Hall, Drew Neitzel, Michigan State Spartans