Hoosiers complete Bahamas Tour with 52-point win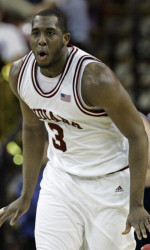 In their final Bahamas barn burner, IU snuck past the Commonwealth Bank Giants 115-63. I'm pretty sure most of the teams that play at the HPER could beat the three teams IU played on this trip.
Nonetheless, the final contest provided an opportunity for fantasy friendly statistics. D.J. White led the way with 22 points, Eric Gordon and Armon Bassett added 19 points each and Jamarcus Ellis added eight points, 10 rebounds and 10 assists.
For a complete look at the numbers, click here.
Here's a quick glance of some of the team numbers from the trip:
The Hoosiers shot 56% this weekend and held its opponents to 33.9% accuracy.

IU outrebounded its opponents 55.0 to 28.7.

The Hoosiers had 87 assists and 59 steals in three games. They also forced 30.3 turnovers per game, while averaging 108.0 points.
I'm fairly certain we learned nothing about the team IU will put on the floor this coming season from this trip. It was an opportunity for the incoming players to get acclimated to Coach Sampson's system and an opportunity for Eric Gordon to visit family in the Bahamas. Other than that, the competition level was mediocre and provided no real challenge. Nonetheless, the real value from the trip comes in the form of building team camaraderie and getting film for the coaching staff to break down before Midnight Madness tips off the season.
Filed to: Armon Bassett, Bahamas Trip, D.J. White, Eric Gordon, Jamarcus Ellis