Elston, Plumlee surface in Rivals Top 100 for 2009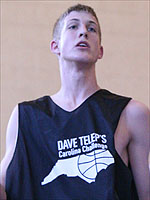 Two Indiana kids with Indiana offers have made their first appearance in the latest Rivals.com 100 for the Class of 2009.
Previously the Rivals network, which was recently acquired by Yahoo, had only ranked the Top 75 for 2009 and neither Derek Elston or Mason Plumlee (pictured) made that initial list.
The 6'11" Plumlee, originally from Warsaw, plays for the Arden Christ School in North Carolina. Rivals ranks him as the #67 player in 2009. I got the chance to check out Plumlee at the Kentucky Hoop Fest and he runs the floor well and has excellent athleticism for his size.
The 6'7″ Elston, from Tipton, barely made the cut, coming in at #97. Elston was also at the Kentucky Hoop Fest and as I wrote shortly after that event, he showed a knack for loose balls and really hit the glass hard.
Look for North Carolina to make a strong push for Elston. His father, Darrell, played at UNC for Dean Smith in the early 70's.
Also of note, Stephan Van Treese from Lawrence North in Indianapolis, fell to #53 in the rankings.
Filed to: Derek Elston, Mason Plumlee, Rivals.com, Stephan Van Treese