White the "go-to guy" for Pan Am team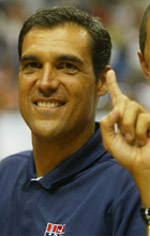 If it feels like you've been reading a lot of posts about D.J. White lately, well, you have. For the second straight game, D.J. scored 22 points (he also grabbed 13 rebounds) in a U.S. victory.
This time, it was a 84-58 blowout win over the Virgin Islands. Afterwards, Villanova and Pan Am head coach Jay Wright had some words of praise for Mr. White.
"D.J.'s probably played the most minutes of anybody and he's been our go-to guy. When it's tough and we need a basket, we go to D.J. and he's made the right play every time. He's doing a good job on the defensive end, too. I'm really impressed with him," he said.
A lot of you already know this, but for those who don't, I'm calling it right now: It's going to be a monster year for D.J.
Think All-American teams and a top contender for Big 10 Player of the Year. He's playing like he wants to be a first round draft pick. And if he continues at this pace, I wouldn't put it past him.
The U.S. will finish up Pan Am play later today against Panama in the 5th place game.
Update: The U.S. downed Panama, 77-74, to capture 5th place in the Pan American Games. D.J. White scored 14 points, grabbed six rebounds and had two blocked shots.
Filed to: D.J. White, Jay Wright, Pan American Team, USA Basketball