Monday roundup: D.J. adds a move, Mackey surfaces in Vegas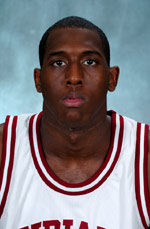 – The praise for D.J. White for his performances with the United States team leading up to the Pan American Games continues to come rolling in. Haverford, a blog that is following the team, has the latest on IU's top returning scorer:
When the D stretched to account for Foster's hot hand, White assaulted Jason Fraser with an array of hook shots and drop steps inside. D.J.'s hook is a throw-back to an earlier era with a contemporary influence. Both the traditional sky hook and White's "power hook" are released with one hand with the off-arm pointed directly at the basket. The sky hook circa 1976 was a finesse shot, taken from a slight running start. But White doesn't need the momentum or the leg kick often associated with the move to pour in his points. By dropping his beefy shoulder into his defender's chest, he adds a powerful component to the high release point in order to hit this shot from the low post.
Sounds like D.J. is adding a nice hook shot to go along with his patented turnaround baseline jumper. If it continues to develop, he'll be even more unstoppable on the low block.
– Bud Mackey, IU's first commitment for the 2008 class, has landed with the Indiana Elite AAU team. Currently he's participating in the Adidas Super 64 in Las Vegas, the biggest AAU tournament of the summer. This is Mackey's first AAU action in quite a while due to a torn meniscus suffered at the end of last season.
Also playing on the Indiana Elite team are IU targets Tyler Zeller and Lewis Jackson. Through their first two contests of the event, Indiana Elite is 0-2. According to Jody Demling, coach Kelvin Sampson watched Indiana Elite yesterday along with UK coach Billy Gillispie, UNC coach Roy Williams and Illinois coach Bruce Weber.
Filed to: Bud Mackey, D.J. White, Kelvin Sampson, Lewis Jackson, Pan American Team, Tyler Zeller