Wilmont, Calloway land in NBA Summer League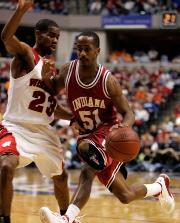 There weren't two guys on last year's Hoosier team with more charisma than Rod Wilmont and Earl Calloway. (Mike White was a close third. Wink.) They were flashy; they were fun to watch.
On a given night, Wilmont would transform into a can't-miss-three-point assassin. Calloway, at his best, could break down a defense with ease. So, I'm glad they've both hooked on with NBA Summer League squads — Wilmont with the New York Knicks and Calloway with the Atlanta Hawks.
It's hard enough making an NBA squad as a second round draft pick — they don't get guaranteed contracts — so I doubt either of these guys will actually land on their respective team's roster.
But hey, congrats are in order all the same.
Filed to: Atlanta Hawks, Earl Calloway, New York Knicks, Rod Wilmont