DeShaun Thomas is the next big thing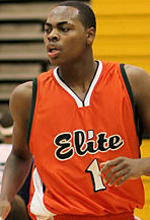 If you haven't heard the name DeShaun Thomas yet, it's about time you get educated.
Thomas, a 6'7″, 210 lb. sophomore-to-be at Ft. Wayne Bishop Luers, is regarded by many recruiting analysts as the top player in the class of 2010 and is a prime IU target.
Last month, Thomas gave a verbal pledge to Thad Matta and Ohio State, but has since backed out of the commitment. This was certainly welcome news for Hoosier fans.
The statistics put up by Thomas during his freshman season at Luers seem to back up the hype. According to the Louisville Courier-Journal's Jody Demling, Thomas scored more than 30 points eight times (including a school record 45) during his freshman season.
Early indications seem to be that Ohio State and Indiana are the schools to beat for Thomas. Thomas got his first college letter, as a 6'3″ sixth grader, from IU. He's also mentioned Duke, North Carolina, Purdue and Florida as schools of interest.
When Kelvin Sampson took over the IU program, he stressed the importance of keeping the best players in state. His next big test in this department will be getting DeShaun Thomas to Bloomington in the fall of 2010.
Filed to: DeShaun Thomas, Ohio State Buckeyes, Thad Matta