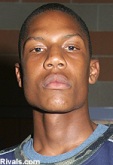 Much of the talk by Hoosier fans in recent weeks has been regarding the eligibility of incoming freshman Eli Holman. We know that Holman has recently arrived in Bloomington. What we don't know is whether or not Eli will be eligible to don the candy striped warm ups for the 2007-2008 campaign.
In a report by Terry Hutchens in today's Indianapolis Star, it appears we're about to find out and the news is looking favorable for the Richmond (CA) native.
"It's our understanding that he has qualified, but it isn't official until the Clearinghouse says so," said Leonard Coleman, an assistant coach at Richmond (Calif.) High School.
"Eli was able to improve his test score, and his grade-point average was already strong.
If it pans out, this would be a huge boost on the interior for the Hoosiers. Holman, from the video I've seen, looks like a shot blocker who can contribute immediately.
More importantly, this would be a feel good story for a young man who has fallen on troubled times the last few years. In December 2005, he pushed a referee and was suspended for quite some time. He was also shot in a drive-by shooting in January of this year.
Here's to good news for you, Eli.
Filed to: Eli Holman