Rebounding and 3-point defense leave IU soul searching ahead of Empire Classic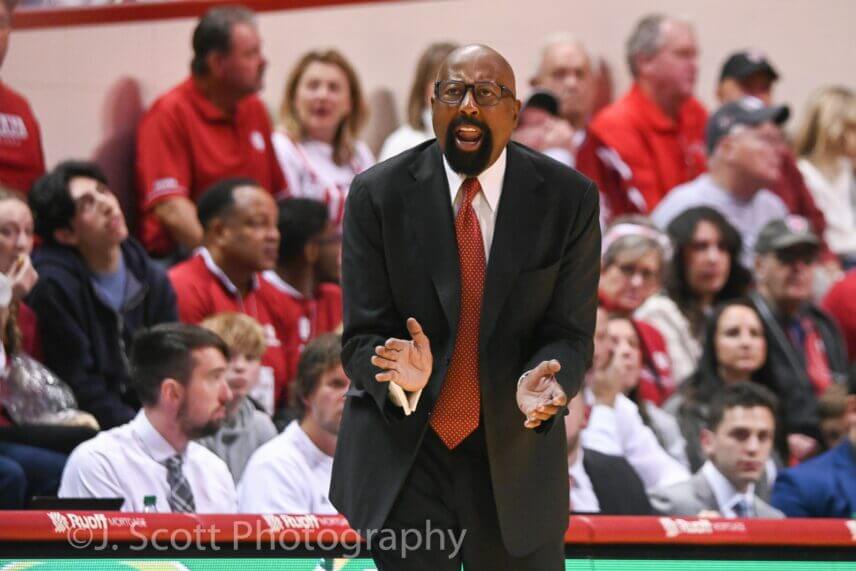 While Indiana put a bandage over some offensive woes in its 89-80 win over Wright State on Thursday, the Hoosiers leave Bloomington for the Empire Classic in New York with more questions than answers.
It was a point of emphasis for Mike Woodson to schedule stiff mid-major competition, and the Raiders, despite being without leading scorer Trey Calvin, were no slouch. Under Scott Nagy, Wright State has made the NCAA Tournament twice and may have another chance to win the Horizon League this season.
Offensively, Indiana dominated in the paint, outscoring Wright State 56-24, but gave up 11 3s on 26 attempts. Through three games, Hoosiers' opponents are shooting the ball at a 37.8 percent clip from deep. On the other hand, IU has shot 27.5 percent from deep through the start of the season. The Raiders came into Thursday as a team that doesn't like to light up the perimeter. Since the 2019-20 season, Nagy's squads haven't ranked higher than 265th nationally in 3PA/FGA, according to KenPom. However, this didn't deter his team from taking what IU's defense was giving.
Coming into the season, Wright State senior guard Andrew Welage had yet to score a point. At Assembly Hall, he scored 25 points on 7-of-10 shooting on 3s. Alex Huibregtse shot 39.3 percent from beyond the arc a season ago, but before Thursday, he was 0-for-7 to start his redshirt junior season. He splashed three 3-pointers against the Hoosiers. The sharpshooting might seem like a fluke by the numbers, but Wright State consistently found itself wide open on the perimeter.
Five-star freshman Mackenzie Mgbako has struggled to find his man in transition and is often in a poor position for a late closeout. It's been bad enough that it's hard to find a reason to keep him on the floor in crunch time. Mike Woodson pulled the New Jersey native aside three separate times in frustration with his defensive effort. Woodson didn't have much to say about how Indiana can stop the bleeding from beyond the arc.
"Just us switching correctly and getting next to a guy before he shoots the basketball. That would help. I really don't want to talk about it," Woodson said postgame.
It's simply put, but it's true. Indiana was lazy on its closeouts and lacked positioning on switches. The Hoosiers are a team that switches one through four, but the communication has been porous through three games. The lack of talk could be a side effect of a team with 10 new faces, but after three regular season games and two exhibitions, the Hoosiers are still trying to plug the holes on the perimeter. Because of Indiana's defensive switching, forwards Malik Reneau and Kel'el Ware consistently find themselves on the perimeter.
"It's definitely challenging, but coach wouldn't give us no challenge that we can't handle," Reneau said postgame. "Guarding little six-footers or 6'1″ people, they're quick so you've got to give a little step but be able to contest the shot when they're ready to pull up because hard because you're trying to get space so you won't get blown past, and you're trite to get a shot up so you've got to do two at once. You've got focused locked in, ready to go when they come your way and try to attack you."
Rebounding has also been problematic for Indiana through three games. Wright State outrebounded the Hoosiers 40-to-37 and cleaned the glass 14 times on the offensive end, leading to 15 second-chance points. Ware has been the only IU player to record 10 or more rebounds in a game this season.
Overall, Indiana is even on the glass to start the season, but it has all come against smaller and inferior opponents.
"A lot of it is because the three teams are really taking a lot of three-point shots against us, and long shots, long rebounds," Woodson says, "our guards, I can't have my starting guards play 26, 28 minutes and get one rebound apiece. That just can't happen. Hell, I can get a rebound at 65 years of age probably, stumble into one. They've got to help rebound the ball."
The guards in question — Trey Galloway and Xavier Johnson — combined for two rebounds, a number that must improve against better competition. Indiana can't continue to leave Ware alone underneath the basket to clean up the mess and pick up the pieces.
"Just gang rebounding, too, bringing the guards in to help. I think we're going to prioritize that and we know we've been getting out-rebounded," Reneau said.
This "gang" effort hasn't been there defensively and on the glass to start this season. Indiana seems to be a team still searching for its identity with 10 new faces, but the Hoosiers continue to tread water against mid-major competition. Things might get scary on Sunday against No. 5 UConn in New York.
Filed to: