Five takeaways from Indiana's win against Wright State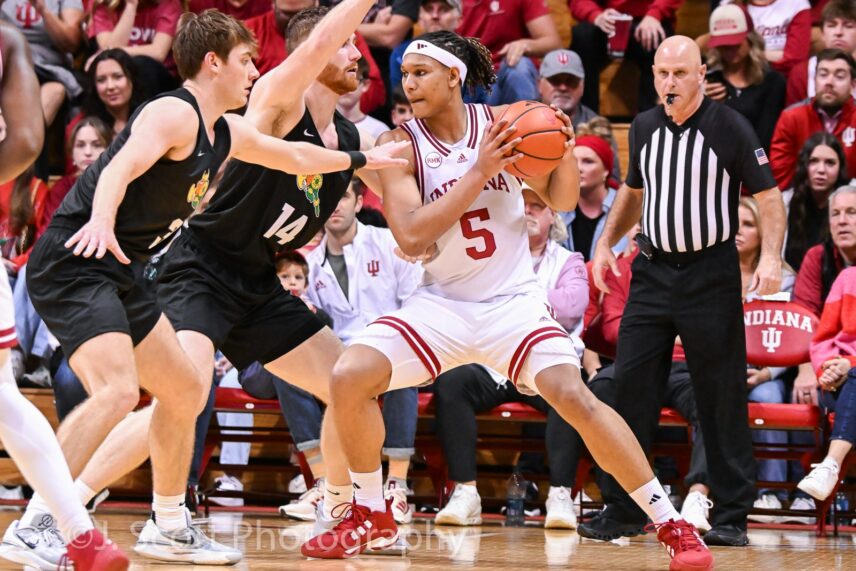 Indiana improved to 3-0 with an 89-80 win against Wright State on Thursday at Assembly Hall.
Here are five takeaways from the win against the Raiders:
Kel'el Ware continues to shine
Thursday marked another standout performance for Indiana's sophomore big man.
Ware scored a team-high 22 points with 12 rebounds, two assists and two blocked shots in 32 minutes. He was 9-for-11 from the floor and 4-for-5 from the free throw line.
After Ware's motor was questioned as a freshman at Oregon, he has started to flip the narrative through three games as a Hoosier.
"He's doing everything we've asked him to do since he's been here, and he's rebounded the ball," Mike Woodson said postgame. "He's blocked shots. He's made shots on the perimeter. He's made shots down low."
While Ware still has plenty of room for growth, he said after the Wright State game that Woodson's trust in him is critical.
"I would say I'm more in a groove now with Coach Woodson giving me that role where he trusts me enough to just go make the play and attack the basket, score, even throw it out to my teammates and just play smart on the court," he explained. "As long as I'm playing hard and just giving them that, then we should be good."
Indiana's 3-point discrepancy remains a glaring issue
Another game, another mismatch for the Hoosiers from the perimeter.
Wright State attempted ten more 3-pointers than Indiana and made eight more for a point differential of 24.
Indiana has attempted 40 3-pointers in three games, while its opponents have tried 98. The Hoosiers have been outscored by 78 points from the perimeter in three games, a glaring issue.
Woodson was asked about the discrepancy in the postgame and said the Hoosiers need to work on switching and getting closer to shooters before a shot goes up.
Whether the issue is switching or poor help defense, it's a problem Indiana needs to begin correcting soon. The Hoosiers have survived the first three games against inferior opponents, but the competition is getting stiffer, starting with UConn on Sunday in New York.
Hoosiers continue to make a living from the free throw line
The primary strength of Indiana's offense through three games remains its ability to get to the foul line.
Indiana attempted 15 more free throws than Wright State on Thursday and outscored the Raiders by seven points from the line.
Over their first 120 minutes of basketball, Indiana has attempted 52 more free throws than its opponents and outscored them by 39 points.
Indiana is currently ranked sixth in the country in free throw rate (FTA/FGA) at 56.4 percent and has the 11th-best opponent free throw rate at 16.8 percent.
Those numbers won't hold up completely once the games shift away from Bloomington, but this group should be able to utilize its ability to get to the line as a strength throughout the season.
Mackenzie Mgbako shows some progress offensively
After a slow start to the season, Mackenzie Mgbako had his best game yet in an IU uniform against Wright State.
The freshman from Gladstone, New Jersey was one of four Hoosiers in double figures with 13 points. Mgbako was just 3-for-9 from the field, but he got to the free throw line and made all six attempts.
He also added five rebounds, two assists, a steal and didn't turn the ball over in 23 minutes.
Mgbako still struggles defensively and committed four fouls, but he looked more comfortable offensively and could use the performance as a confidence builder moving forward.
"All these guys are young players," Woodson said after the win. "Sometimes on certain nights you get good things from some of these young players. Sometimes you don't. That's just how it works."
Indiana's rebounding has been poor through three games
Despite starting a frontcourt that features a 7-footer, a 6-foot-9 post player and a 6-foot-8 wing, Indiana's rebounding has been subpar through three games.
Indiana gave up 14 offensive rebounds and 15 second-chance points in Thursday's win.
The Hoosiers currently rank just 243rd nationally in defensive rebounding percentage (32.5) despite having played only mid and low-major opponents.
It's an issue irking Woodson despite the 3-0 record.
"I think it is a concern. A lot of it is because the three teams are really taking a lot of three-point shots against us, and long shots, long rebounds," he said. "Our guards, I can't have my starting guards play 26, 28 minutes and get one rebound apiece. That just can't happen. Hell, I can get a rebound at 65 years of age probably, stumble into one. They've got to help rebound the ball.
"I think Ware and Malik (Reneau) are doing a great job as far as rebounding it, but the surrounding pieces, we've got to pick up the scraps that are out there. Our opponents are beating us to those balls, and we've got to figure that out."
Filed to: Kel'el Ware, Mackenzie Mgbako, Wright State Raiders