Indiana's 32-point loss to Stanford is early wake-up call, sign of parity in NCAA women's basketball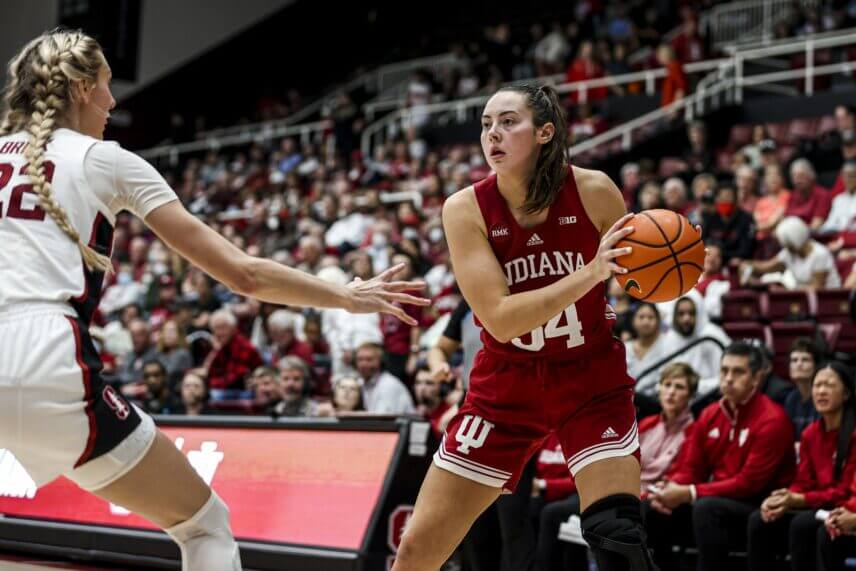 Heavy sighs and frowning faces characterized the visiting team's press conference at Stanford University on Sunday night. Teri Moren and Sydney Parrish sat at the podium, doing the most challenging thing they could do after losing by over 30 points: talking about it.
"It was just a good old-fashioned butt-kicking," Moren said.
The Hoosiers entered Maples Pavilion as the No. 9 team in the country, technically holding an advantage over the No. 15 Cardinal despite being the away team. It was supposed to be a matchup around the rim, with Mackenzie Holmes and Cameron Brink leading the way. The widespread expectation was that this game would be tense, highly competitive and a battle between two of the country's top women's basketball programs.
It wasn't.
Stanford took charge when the ball tipped and never slowed down or gave up the lead. The Cardinal took the victory 96-64 in a sobering blow to Indiana's players and fans.
"I know I've never lost by, what was it, 40-something points ever in my life, and I don't think a lot of the girls on the team have," Sydney Parrish said. "It widens our eyes a little bit and (we) realize that hey, we have a number by our name but we've got to bring it everywhere we go…we have to be better."
True to expectation, Cameron Brink headlined the game with 20 points and 17 rebounds. What wasn't as anticipated was Brink's contributions from beyond the arc – she made two 3-pointers in the first quarter to kickstart the Stanford offense. The Cardinal shot 11-for-29 from 3-point range overall, and six came in the first quarter.
"They punched us from the very start," Moren said. "They just kept knocking down shots."
Another just as viable threat for Stanford was Kiki Iriafen, who also scored 20 points and pulled down 11 rebounds. As a team, the Cardinal out-rebounded the Hoosiers 50 to 27.
Brink and Iriafen, both forwards, caused problems for Indiana almost everywhere on the court. They posted up hard and, standing at 6-foot-4 and 6-foot-3, loomed over most Indiana players trying to get to the rim. Stanford's defensive pressure was something the Hoosiers were unable to figure out for essentially the entire 40-minute game.
Shot selection was questionable from the beginning, as shots were lobbed from beyond the arc or from midrange in an attempt to just see the ball fall through the net. The Hoosiers shot 35 percent overall as a team and made only five of their 32 3-point attempts.
Moren said postgame that Indiana was not a team that needed to take that many 3-point attempts. But when your All-American forward doesn't score her first bucket until the second half, there are limited options to find points.
Mackenzie Holmes' struggles, while they weren't necessarily the determining factor in the loss, certainly played a big part in how the game turned out. She was constantly double-teamed, and sometimes even triple-teamed, by the dominant Stanford defense and struggled to get the ball out to her teammates or even grab rebounds.
Holmes finished with eight points, two rebounds and four personal fouls.
"Mack will be better," Moren said. "No doubt she's disappointed just like Syd is, just like we all are. We are not happy in that locker room in terms of the display today, but we've got to learn from it and we've got to move on."
It's difficult for anyone to look on the bright side after such a game — it's foolish to even ask it, really. Indiana women's basketball did not play well; they didn't play like they should have, and they know it.
But they also know the only thing to do now is to get better from it.
"We just have to stick together through this," Parrish said.
It is also worth noting that the Hoosiers are not the first team to be taken down by a lesser-ranked opponent, even though the season has been underway for less than a week. Just minutes before the Hoosiers tipped off Sunday, N.C. State upset No. 2 UConn 92-81. On opening day, No. 20 Colorado took down reigning national champion No. 1 LSU 92-78.
Nine of the top 14 teams in the AP preseason top 25 poll lost in the first week of the season.
"There's a lot of really good teams," Moren said. "The parity in women's basketball, last year I thought was at an all-time high."
Indiana's game against Stanford was always meant to be a challenge — that's why it was scheduled. And while it certainly didn't play out how the Hoosiers wanted, they are determined to learn from it and improve for the future because they know they will be facing great talent throughout the season.
(Photo credit: IU Athletics)
Filed to: Teri Moren