News and notes from Mike Woodson's radio show with Calbert Cheaney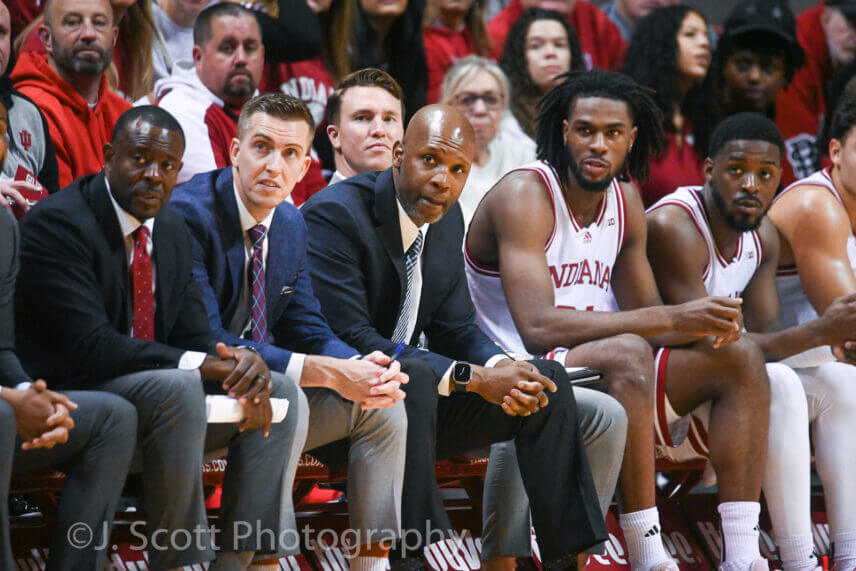 Don Fischer hosted his weekly Indiana basketball radio show with a special guest this week, Calbert Cheaney. The Big Ten's all-time leading scorer was sitting in for Woodson as he is in Indianapolis with his family as his daughter is expecting a child.
Topics on the show ranged from Cheaney's basketball career in high school, college, and the NBA, his current role in player development and an evaluation of the 2023-24 Hoosiers squad one week into the season.
• Cheaney, an Evansville native, said growing up, baseball was his best sport, but it was his dad that got him into basketball.
• Cheaney repeated a story from his junior year of high school when Ron Felling came to see him play. He said it was the worst game of his high school career. "I was maybe 7-for-30… I'm blessed to have played here."
• Cheaney on the biggest difference from college to the NBA NBA: "You gotta have a routine. It's not like everything is regimented (with classes and tutoring in college). Now you're on your own… It's all about managing your time wisely while you're in the NBA, and if you can't do that you won't have a long career."
• Cheaney said Mitch Richmond and of course, Michael Jordan, were the best players he had to guard in the NBA. The best team he was a part of was the 1995-96 Wizards and the 2002-03 Jazz.
• Cheaney on his current player development role: "You think about trying to make these guys understand how the game works and how basketball works and how life works in general." He mentioned talking to bench players and helping them understand their role and that there are only so many minutes. Cheaney was in the same role with the Indiana Pacers before coming back to Bloomington and IU.
• On Indiana's win over Army on Sunday: "Still got a long way to go. There's a lot of new faces… last night Army came in with a mindset that 'we're gonna come at you guys'…The guys underestimated them."
• Cheaney said he thinks the team has responded after the tough week but mentioned a potential disconnect between understanding the film in practice and in the film room to translating it to the game.
• Cheaney implored for the need to contest shots from beyond the arc. He said that there's a notable dropoff in shooting percentage when shots are contested. He mentioned Indiana's defensive mantra, that whenever someone catches the ball, they need to have a hand on him.
• On Indiana's 3-point shooting, Cheaney thinks Indiana has the shooters to dangerous. "We have some guys that can really shoot the ball, I think more so than last year."
• On five-star freshman Mackenzie Mgbako: "(He needs to) continue to understand how the game is played… college game is totally different from high school. Pay attention to the details of what coach (Woodson) wants him to do, he'll be fine."
• Cheaney said this year's team is more talented than last year's IU team. "We're bigger, we're more athletic, we're longer… Stay with us, we're working on it."
• Cheaney on freshman point guard Gabe Cupps: "We call him Iron Man … He's got one of the best work ethics I've ever seen … He's not the biggest kid, he's not the fastest kid, but he makes up for it with a huge heart and determination. And that's rare."
Filed to: Calbert Cheaney, Mike Woodson