Five takeaways from Indiana's win against Army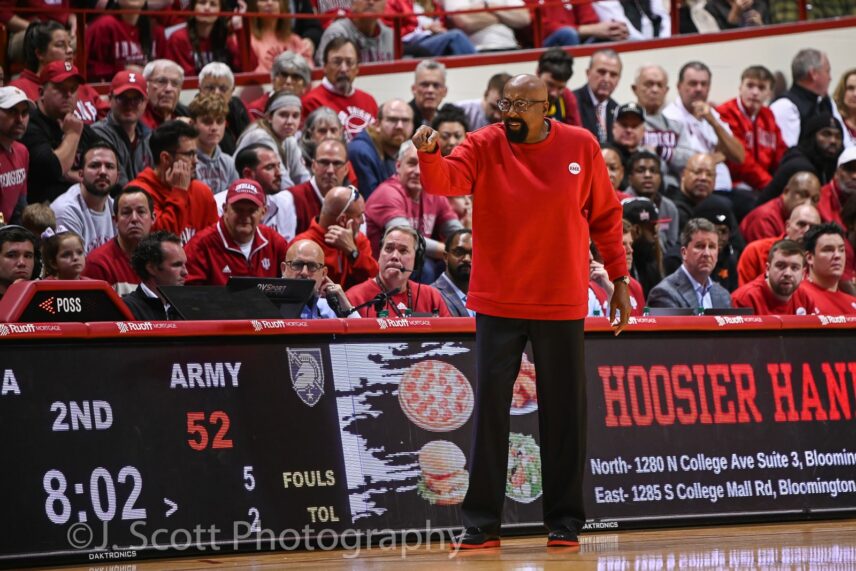 Indiana improved to 2-0 with a 72-64 win against Army on Sunday evening at Assembly Hall.
Here are five takeaways from the victory against the Black Knights:
Indiana's indifference to the 3-point line remains troublesome
Indiana was outscored for the second straight game by 27 points from behind the 3-point line.
The Hoosiers have been a low-volume 3-point shooting team since 2017; there are no signs of that changing.
Indiana only attempted 11 3-pointers in the win against Army. That's not enough. In the second half, the Hoosiers took only three shots from the perimeter and connected one time.
Despite being -54 on points from beyond the 3-point line in two games, Indiana is 2-0.
But the Hoosiers will not be able to consistently win games against high-major competition by continuing to take fewer 3-pointers than their opponents make, as was the case on Sunday.
Xavier Johnson's strong first half kept Indiana in the game
Indiana led narrowly at halftime – 32-31 – and Johnson's play was the reason.
The sixth-year point guard scored 15 of his 19 points in 15 first-half minutes.
He was 4-for-5 from the field, including two made 3-pointers, and 5-for-5 from the free throw line in the first half. He also dished out three assists and didn't commit a turnover.
It was the kind of performance Indiana needed to remain afloat as Army knocked down 3-pointers and gained confidence.
Johnson's second half, however, was a different story. He was just 0-for-3 from the field and committed two turnovers in 15 minutes.
Kel'el Ware was dominant down the stretch
As stagnant and out of sorts as Indiana's offense looked in the first half, the Hoosiers were able to score 40 points and 1.25 points per possession over the final 20 minutes.
The primary reason for that was the stellar play of Ware.
The 7-foot Oregon transfer was the best player on the floor in the second half, scoring 16 of his team-high 20 points.
Ware was 7-for-7 from the field in the second half and scored off of lobs and from the free throw line.
Ware has averaged 16.5 points, nine rebounds, 2.5 assists, and two blocks in 33.5 minutes per game through two games. He's shooting 68.8 percent from the field and 66.7 percent from the free throw line.
Indiana isn't getting enough stops to get out in transition
Mike Woodson has discussed his desire to generate offense in transition more this season than in the previous two years.
But Indiana needs to generate more stops to do so effectively.
The Hoosiers scored only four fast-break points against Army, a number far too low against a team with inferior talent.
"We're not getting very many fast break points, which we had in our first couple of exhibition games," Woodson said postgame. "We were out running, and that's where we've got to get to, but when you are taking the ball out of the net and happen to walk it down and not getting stops because I thought there were times we just didn't switch correctly, didn't switch up, and they were shooting three-point shots right in our face, and they made them."
The lack of fast break opportunities starts with Indiana's defensive breakdowns. The Hoosiers are giving up many open perimeter looks and too many offensive rebounds. Until those areas are cleaned up, fast break points will be few and far between.
Mackenzie Mgbako has been ineffective on both ends
Expectations were high for Mgbako as a national top-10 player, McDonald's All-American and five-star recruit.
So far, he's not living up to his preseason billing as one of the Big Ten's best freshmen.
Mgbako has appeared indifferent defensively and often stands straight up rather than bending his knees and looking engaged. He's slow to close out on shooters and often out of position.
Offensively, he's made a few jump shots off of pin-downs but hasn't shown an ability to do anything else reliably.
In the last two games, he's been benched for a long stretch of the second half. In Sunday's win, Mgbako played only five second-half minutes.
"He has to play harder and do the things that we want done on both ends of the floor," Woodson said Sunday. "That might keep him in the game."
Indiana needs more from Mgbako, who has the talent to be one of the team's best scorers. But to realize that potential, he has to be far more engaged defensively. Defense is a non-negotiable for Woodson, and until Mgbako embraces that, he's likely to find himself on the bench down the stretch in games.
Filed to: Army Black Knights, Kel'el Ware, Mackenzie Mgbako, Xavier Johnson