What to Expect: Indiana vs. Florida Gulf Coast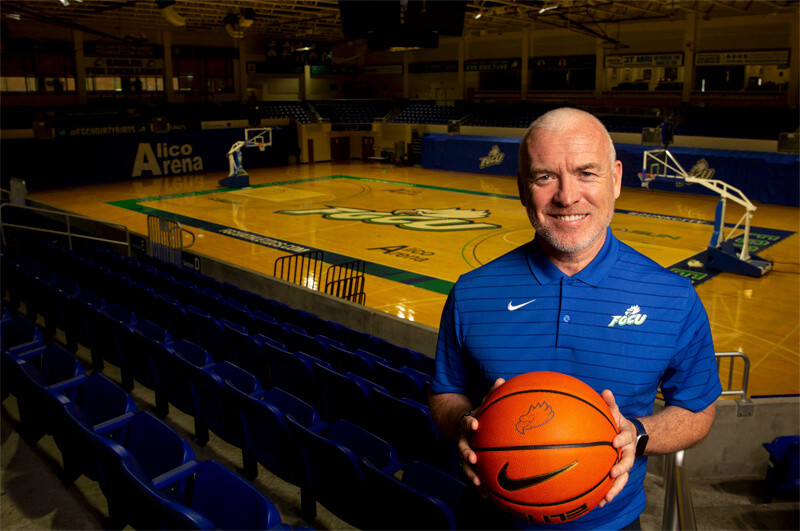 Indiana tips off the 2023-24 season Tuesday at 6:30 p.m. ET against Florida Gulf Coast at Assembly Hall.
It's the second-ever meeting between the two programs. Indiana beat Florida Gulf Coast 88-60 on Nov. 12, 2010 in Bloomington. Tuesday's game will air on BTN.
After two comfortable exhibition game wins, Indiana is set to begin its 124th season of basketball Tuesday night.
And the Hoosiers have a formidable opponent coming to Assembly Hall. Florida Gulf Coast, picked to finish second in the conference in the preseason by the league's coaches, will be looking to make a statement.
The Eagles beat USC last season by 13 on the road to open the season and are led by former Penn State coach Pat Chambers. Florida Gulf Coast is ranked 120th in the preseason by Bart Torvik and 147th by KenPom.
MEET THE EAGLES
The backcourt duo of Isaiah Thompson and Chase Johnston leads FGCU.
Thompson, a Zionville product, played his first three seasons at Purdue before transferring to play for Chambers.
Johnston began his career at league rival Stetson and played two seasons for the Hatters before making his way to Fort Myers.
The 6-foot-1 Thompson, who is entering his fifth season of college basketball, is the point guard and a member of the preseason All-ASun team. He averaged 14.9 points, 3.2 assists, 2.4 rebounds last season and shot 37.6 percent on 3-pointers. Thompson attempted a team-high 129 free throws last season and made 86 percent. According to Jeff Goodman, Thompson is listed as "day-to-day" and "questionable" with an upper body injury.
Johnston is the team's second-leading returning scorer after averaging 12.7 points per game last season. He's also a capable 3-pointer shooter who connected at a 37.3 percent clip from distance last season.
Thompson and Johnston, who will play a ton of minutes, will be joined in the backcourt rotation by Cyrus Largie, Franco Miller Jr., Dallion Johnson and Rahmir Barno.
Largie began his career at FGCU as a walk-on, but averaged 3.2 points last season. Miller Jr. is entering his fourth season at FGCU after two seasons at Ole Miss. The Bahamas native will provide experience off the bench. Johnson is a Penn State transfer who appeared in 60 games over three seasons for the Nittany Lions. And Barno is a freshman from Philadelphia who could be the program's future point guard.
In the frontcourt, the Eagles return Dakota Rivers, Zach Anderson and Andre Weir.
The 6-foot-7 Anderson is FGCU's third-leading returning scorer and top rebounder. He averaged 11.7 points and 6.7 rebounds last season. The Apopka, Florida native made 28 3-pointers last season.
Weir, a 6-foot-10 redshirt sophomore, gives Chambers a big man with legitimate size. Weir is 265 pounds and will try to use his size and strength against Kel'el Ware and Malik Reneau. He blocked 25 shots last season and averaged 9.2 points and six rebounds.
Rivers is a 6-foot-8, 208-pound forward who will play the four. He made 19 3s last season but is most known for his athleticism and ability to finish above the rim.
Keeshawn Kellman, a Princeton transfer, will also see significant time in the frontcourt rotation. The 6-foot-8 forward averaged 7.9 points and 4.5 rebounds for a Tigers program that reached the NCAA Sweet Sixteen last March.
THOUGHTS ON THE MATCHUP
FGCU was a high-volume 3-point shooting team last season, which should be of concern for the Indiana coaching staff after Marian made nine triples in the first half on Friday night.
The Eagles generated 38.3 percent of their points from 3s last season, the 13th-highest mark in the country. With a heavy reliance on 3s, FGCU didn't get to the free throw line much, ranking just 284th in the country in free throw rate.
FGCU was also a poor rebounding team, ranking 237th nationally in offensive rebounding percentage and 197th in defensive rebounding percentage.
With Chambers – who has plenty of high-major experience – on the sidelines and a host of players with Big Ten, high-major and NCAA tournament experience, FGCU will not be intimidated coming into Assembly Hall. Despite a disappointing second half to last season – FGCU finished 17-15 after starting 12-3 – this is a program with a legitimate shot to win its league and reach March Madness.
Given that the strength of FGCU is its backcourt, Indiana will need strong performances from Xavier Johnson and Trey Galloway on Tuesday. The team captains must set the tone defensively against an FGCU backcourt with considerable depth and experience.
WHAT IT COMES DOWN TO
KenPom likes Indiana by 11 and the opening spread at DraftKings Sportsbook is Indiana by 12.5.
The Hoosiers played much better against Marian than against UIndy but will need to be sharper defensively against FGCU, a program capable of lighting it up from the perimeter.
Indiana will have a decided advantage in the frontcourt with the trio of Ware, Reneau and Mackenzie Mgbako.
Two of Indiana's first three home games will be against opponents ranked in the top 150 of KenPom, so there's no easing into the season despite all the newcomers on the roster.
Filed to: Florida Gulf Coast Eagles