For former players, Bob Knight was "larger than life" on and off the court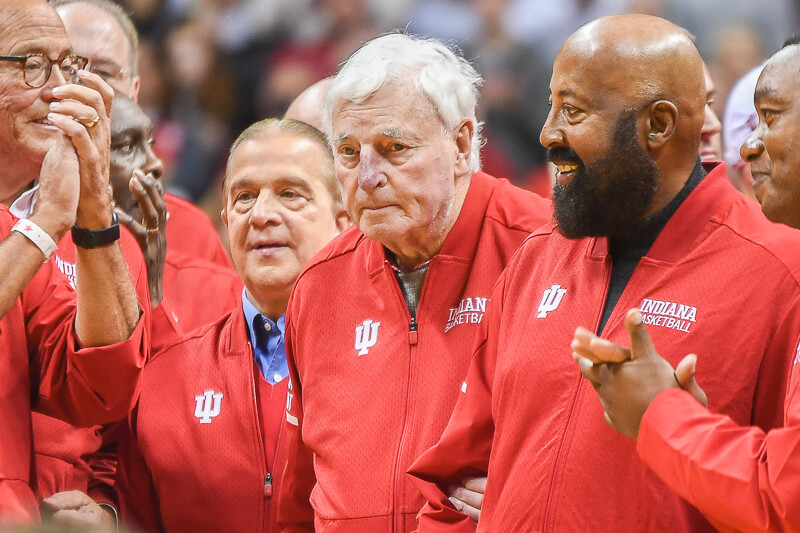 Robert Montgomery Knight will be remembered as one of the greatest coaches ever.
His impact on the court will be felt for generations and he revolutionized the game. Knight's name will forever live in basketball legacy. The national championships, the career wins, and his influence throughout the state speak for themselves.
Knight was one of one on the court and will always be remembered for that. But his influence went way beyond the court. His former players always speak highly of their coach and how he impacted them as players and people.
Knight's influence goes beyond the hardwood and his players will always feel his significance throughout their lives.
Wednesday night was a sad moment for the entire college basketball world as it was announced around 6:30 p.m. ET that the legendary coach had passed away. That same day, Indiana head coach Mike Woodson, a former player under Knight, heard the news of his passing. It was challenging for Woodson as he lost the man who helped him become a man.
Knight was a basketball coach, but he taught his players about life.
When Woodson was going through the ranks at Broad Ripple High School, Knight visited him and the rest of the Woodson family. Woodson's family didn't grow up in the best financial situation, but going to college opened the door to the possibility of changing that.
Knight walked into the door of Woodson's Indianapolis home, looked at Woodson's mother, Odessa, and promised her son a better life. An opportunity to play basketball but, more importantly, set a foundation for his future and get a college education.
"I grew up with nothing," Woodson said Thursday evening at Assembly Hall. "From a beautiful family of 12, brothers and sisters and a mom and dad, and I think what impressed me the most when he recruited me and he came to the house, he promised me that I would get an education and that I would play for the best basketball program in the country.
"That's all I needed to hear is somebody to give me an opportunity. That impressed me, sure as hell impressed my mother probably more than me because I was the only one that was able to go to college and get an education and graduate."
This didn't just change the life of Woodson but his entire family.
Nine years after Woodson graduated from Indiana, another Indiana native would join Knight's program. Calbert Cheaney, who became the all-time leading scorer in the Big Ten, came to Bloomington from Evansville.
Cheaney will be the first to tell you what playing for Knight is like. He experienced that legendary coaching style firsthand, having been one of the best players during the early nineties. Knight respected the game and he showed that to his players. The team practices consisted of grueling drills and mental battles to prepare for the upcoming game. This was the way the General wanted the game to be played.
Cheaney won over 100 games in his Indiana career. The preparation was difficult, but that's what Knight demanded. The game came easy for him and his teammates because of that preparation.
"He pushes you so hard," Cheaney explained Thursday. "Not so much the physical part but the mental part, trying to get you to understand how this game works and how to compete at a high level and how to be extremely prepared, and then once I finally got it — it's amazing how much respect and admiration he has for you because you're trying to do what he wants you to do, and he knows that you want to win, and he knows that you want to compete at the highest level and perform at the highest level for him and for the university and for the program."
Even with all the accomplishments, the first thing Cheaney will tell you about Knight is what he did for his players when the lights weren't on.
Knight was a character who always had his guard high. A man whose trust you had to earn. But once Knight opened his heart, he did everything for those around him.
He was a fierce competitor on the court but a loving man for those who believed in him.
"He's going to push you, he's going to make you not like him sometimes, but at the end of the day, when you graduate and go off and do your own thing, he'll do anything for you," Cheaney said. "You pick up the phone and give him a call, he's going to pick it up and do whatever you need. That's just the type of person he's always been. A lot of people didn't really see that… He touched a lot of lives in the time he was on this earth."
Woodson played for Knight for four years and learned to be great both on and off the court. Now, as the leader of Indiana basketball, Woodson looks to be the same type of mentor for his players.
"I'm going to continue to push guys and make sure that they do all the things necessary on the court as well as off the court," Woodson said. "That's how I learned… that's something he instilled in me when I played here, and while I'm coaching this Indiana team, I'm going to do the same thing."
Cheaney and Woodson have countless stories to tell from practices, but the ones they decided to share after the announcement were about Knight being more than just a coach.
There have been all kinds of stories that have surfaced since the passing of Knight. Tales from the one-of-a-kind coaching style, the fiery personality, and who he was off the court.
For many, Knight wasn't a basketball coach; he was the basketball coach.
Filed to: Bob Knight, Calbert Cheaney, Mike Woodson