BetMGM Kentucky Promo: Claim $100 Early Sign-Up Bonus This Weekend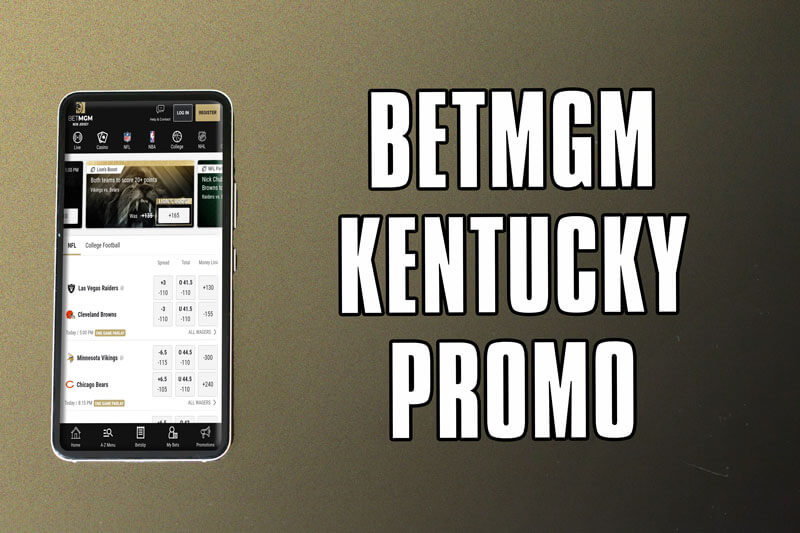 "The King of Sportsbooks" launches in the Bluegrass State later this month, but our BetMGM Kentucky promo (get it here) lets prospective KY customers get an early start on bankroll building.
Take advantage of the new BetMGM Kentucky promo to claim an exclusive launch-day bonus on BetMGM. Pre-register through this post to earn $100 in bonus bets once BetMGM goes live in Kentucky on September 28.
Passionate sports fans in Kentucky are only a few weeks from the mobile sports betting era. BetMGM will launch in the Bluegrass State on September 28, right as the NFL season approaches its quarter mark and the college football season is in conference play. Before that date arrives, BetMGM users in Kentucky can tackle those sports and more with $100 in bonus bets. All they need to do is complete a quick, fast, and free pre-registration through our promo links before the site goes live on the 28th.
Click here to secure a pre-registration bonus worth $100 in bonus bets from our BetMGM Kentucky promo.
BetMGM Kentucky Promo Offers Pre-Registration Reward Worth $100 in Bonus Bets
As Kentuckians will eventually learn, BetMGM is one of the best online sportsbooks in the nation. BetMGM, widely known as "The King of Sportsbooks," wants to take care of new Kentucky customers before they even place a bet. That's why the site created a pre-registration bonus that is a certified no-brainer for any sports fan in the Bluegrass State.
Use our links to initiate pre-registration. All BetMGM requires is a few pieces of basic information you'd otherwise have to input on launch day. Then, once BetMGM goes live on 9/28, log into your new account to earn $100 in bonus bets.
BetMGM's pre-registration doesn't require any deposit. By signing up today instead of waiting three weeks, you get a free $100 bonus that could lead to cold, hard cash.
How to Qualify for BetMGM Kentucky Promo
A deal like BetMGM's pre-registration offer is too good to last forever. Once BetMGM goes live in the Bluegrass State, any Kentuckian who missed the deadline won't receive the $100 bonus. So the early sign-up today is 100% worth it for eligible KY bettors.
Here's a step-by-step overview of how to claim BetMGM's early registration bonus:
Click here to open the BetMGM Kentucky promo page.
Fill out all essential account information and confirm you're within KY state lines.
Open BetMGM after it goes live in Kentucky on September 28.
Receive $100 in bonus bets for any game. BetMGM pays the bonus out as four $25 bonus bets.
Bet Kentucky and Louisville Football
Kentuckians will find many sports and betting markets on launch day. One of the most popular options will be Kentucky and Louisville football, two programs with must-see games immediately after BetMGM goes live at the end of September.
On Friday, September 29, Louisville travels to Raleigh to face NC State. The Cardinals started their 2023 campaign with an exciting come-from-behind victory versus Georgia Tech. Their road matchup versus the Wolfpack follows two home games and a neutral-field showdown against Indiana on September 16.
As for Kentucky, the Wildcats opened their regular season with a 30-point drubbing against Ball State. But after two more non-conference home games and a road opener against Vanderbilt, UK hosts Florida on September 30 in Lexington. The SEC showdown is a rematch of last year's thriller in Gainesville, where Will Levis and the Wildcats beat Anthony Richardson and the Gators 26-16.
Click here to activate our BetMGM Kentucky promo and unlock a $100 bonus bet payout for BetMGM's 9/28 launch.
21+ and present in Kentucky. Gambling problem? Call 1-800-Gambler.
Filed to: