Big Ten men's basketball coaching salaries: Where does Mike Woodson stand?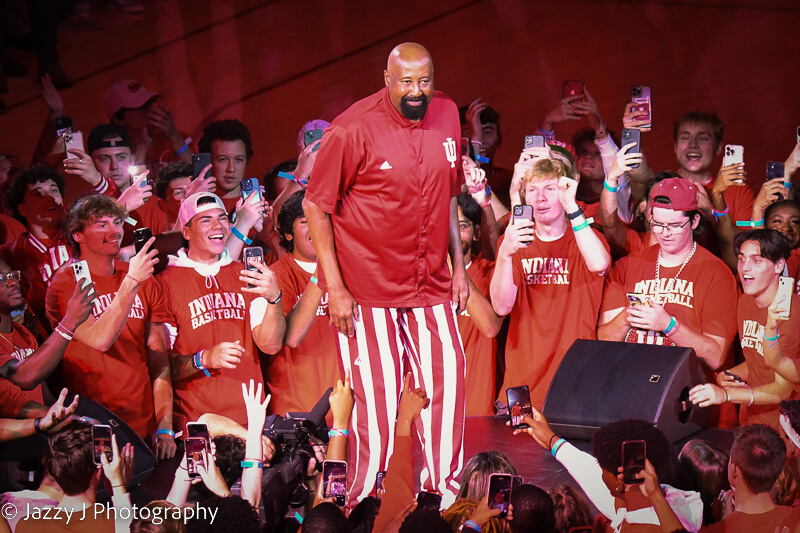 On Friday, Indiana announced an annual raise of $1 million for Mike Woodson.
Woodson's contract, a six-year deal he signed in 2021, keeps him on the sidelines in Bloomington through the 2026-27 season. He will earn $4.2 million annually over the final four years of his contract.
But where does he rank among coaches across the league? Based on research from news organizations across the conference, Woodson's raise will make him the third-highest-paid coach in the Big Ten.
Here's where the other 13 coaches in the league stack up (most figures below are salaries earned for the 2022-23 season):
Tom Izzo, Michigan State – $6.2 million
Unsurprisingly, the Big Ten's longest-tenured and most successful coach is also the highest-paid. According to MLive.com, Izzo "signed a new five-year rolling contract that pays him approximately $6.2 million in total compensation per year" in the summer of 2022.
Brad Underwood, Illinois – $4.6 million
Underwood is comfortably the second-highest-paid coach in the Big Ten, according to the St. Louis Dispatch. Underwood's latest contract, signed at the end of the 2021-22 season, was "scheduled to pay Underwood a salary of $4.6 million for the 2022-23 season, which is a combination of his base salary, additional compensation and retention bonus."
Kevin Willard, Maryland – $3.9 million
Willard, who is entering his second season in College Park, saw him earn $3.9 million last season and he'll get an escalator of $100,000 per season. That works out to an average of close to $4.2 million per season over the life of the seven-year deal.
Matt Painter, Purdue – $3.55 million
Painter's latest contract was agreed to in the summer of 2022. According to The Lafayette Journal & Courier, "the Board of Trustees approved amending Painter's contract, including a $350,000 raise heading into this season. Painter is guaranteed $3.55 million for the 2022-23 season. His base compensation will increase to $3.67 million in 2023-24 and $3.75 million in 2024-25."
Greg Gard, Wisconsin – $3.55 million
Gard received a significant pay bump beginning with the 2022-23 season, according to The Milwaukee Journal Sentinel. The details: "The UW Board of Regents recently approved a five-year contract for Gard that includes a total compensation figure of $3.55 million for the 2022-23 season. That deal includes annual raises of $100,000 through the end of the contract in 2026-27."
Chris Holtmann, Ohio State – $3.5 million
The latest deal for Holtmann, announced in March of 2022, earned him a raise of $500,000. According to Bucknuts, " That extension meant Holtmann received a raise of $500,000, taking his annual compensation to $3.5 million with a base salary of $1 million per year."
Fred Hoiberg, Nebraska – $3.5 million
After agreeing to forfeit some of his salary, Hoiberg will have his salary restored to $3.5 million for the upcoming season. Per The Lincoln Journal-Star: "Last season, Hoiberg coached with a $3.25 million salary, the result of a restructured contract signed in the winter of 2022. Like former Husker football coach Scott Frost, Hoiberg had agreed to a reduced salary — a $250,000 pay cut for 2022-2023 — that could be restored to its original number should he meet metrics "mutually agreed" upon before last season. Hoiberg's salary, back at $3.5 million, means he met the metrics set forth by NU athletic director Trev Alberts."
Mike Rhoades, Penn State – $3.4 million
Penn State never disclosed salary information for Micah Shrewsberry, but the numbers are out there for Rhoades, who is entering his first season in State College. His guaranteed compensation next season is $3.4 million.
Juwan Howard, Michigan – $3.31 million
Howard falls into the bottom half of Big Ten coaching salaries, according to his contract details reported by MLive.com. His deal runs through June 30, 2026.
Steve Pikiell, Rutgers – $3.25 million
The above figure for Pikiell is for the upcoming season, according to NJ.com. His contract was extended last winter through the 2030-31 season.
Fran McCaffery, Iowa – $3.2 million
The latest salary figure for McCaffery, reported last spring by The Des Moines Register, has him above the $3 million mark annually.
Chris Collins, Northwestern – $2.893 million
Northwestern, as a private institution, does not publicly disclose coaching salaries. According to data reported by The Des Moines Register, Collins earned just under $3 million last season.
Ben Johnson, Minnesota – $1.95 million
It's no surprise that Johnson is at the bottom of the Big Ten coaching salaries list. He was a first-time coach when he accepted the job in Minneapolis. Now earning his third season, The Minneapolis Star Tribune reported an annual salary of $1.95 million for Johnson back in 2021.
Filed to: Mike Woodson