The Inside the Hall Mailbag: The last open scholarship, 2024 recruiting targets and much more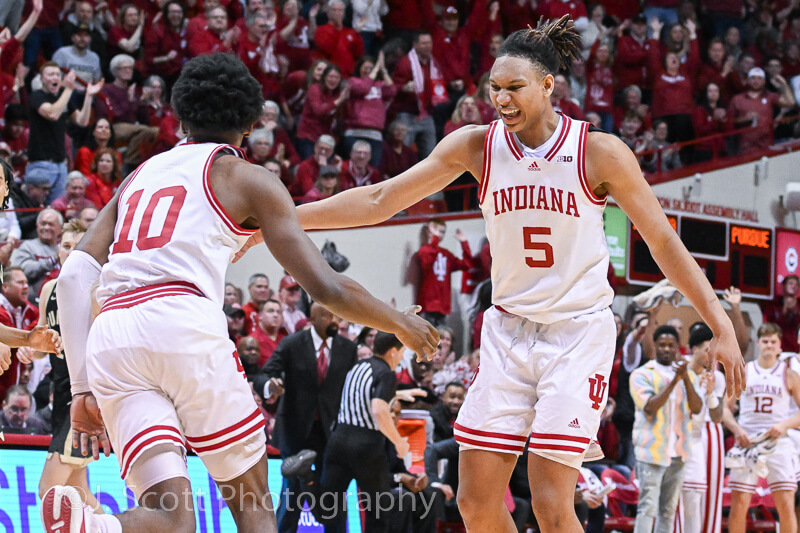 The Inside the Hall Mailbag is a collection of questions sent to us via Twitter/X (@insidethehall), via email, submitted via our community and sent to us via our Facebook page. Submit your questions and we'll answer as many as we can.
aluke writes: I was under the impression that (Flory) Bidunga was going to be a lock in Bloomington. Any thoughts on why he went elsewhere?
Before getting to the questions, a sincere thank you to everyone who submitted a question. Over the weekend, I was looking through the site archives and noticed that the last mailbag was written back in 2019. We conduct a monthly AMA on our private community (yes, that's a plug!), but we will try to bring the mailbag back to the site on a more regular basis.
As for Flory Bidunga, the Kokomo and Indiana Elite big man was in the news over the weekend. Bidunga committed to Kansas over Duke, Auburn and Michigan. Indiana was involved with Bidunga for an extended period, but earlier in the summer it became clear he would not be coming to Bloomington.
Bidunga was never considered a lock to come to Indiana, but he was a prospect the Hoosier staff spent time recruiting. Originally from the Democratic Republic of Congo, Bidunga's primary ties to the state are that he attends high school at Kokomo and plays for Indiana Elite. He's a top-five prospect nationally, had his pick of schools and chose Kansas.
I can't speak to the specific reasons he chose the Jayhawks, but any notion that he was a recruit that the Indiana staff let "get away" is not accurate. (I know that isn't what you wrote in your question, but there will inevitably be some fans who look at the fact that he plays high school basketball in Indiana and didn't choose the Hoosiers as an indictment on the coaching staff.)
Ethan McCartney writes: It seems the recruiting strategy is to go after high-level guys in high school and then get role players through the portal. Do you see this working out long-term?
That's not precisely the recruiting strategy as Indiana just landed one of the best available players in the transfer portal in Kel'el Ware. He projects to be much more than a role player for the program. Payton Sparks, Miller Kopp and Anthony Walker fall more into that category, although Kopp was a two-year starter in Bloomington before graduating last spring.
Indiana has undoubtedly set its sights high with its 2024 recruiting efforts. The Hoosiers are in on a bevy of highly-regarded prospects and with about three months to go until the November signing period, still needs a commitment.
Mike Woodson has already proven that he can land five-star, impact recruits. Since arriving on the job less than 30 months ago, he's inked four high school players ranked in the national top 30. Indiana is a program that should be trying to recruit the best players in the country. With its NIL resources and the athletic department resources poured into the recruiting budget, it makes sense to swing for the fences.
However, the only way it works out is to land a couple of these prospects each year. In 2022, IU was able to do that with Jalen Hood-Schifino and Malik Reneau. In 2023, it landed two high school players who weren't ranked as highly and had to do significant work in the transfer portal. Going forward, I believe it makes sense to target the best talent possible and then work the portal to fill gaps each spring.
Michael MGDC writes: Go out on a mild limb and please give us your best guess at an IU pre-conference record this season.
This would be a little easier if the Empire Classic matchups were set, but as of writing this (Sunday afternoon), they are not.
The Hoosiers are set to play 11 non-conference games. Marquee opponents include Kansas, Auburn and potentially UConn and Texas.
A best-case scenario is 10-1, but that seems ambitious, given the level of opponents on the schedule and all of the roster turnover. Some non-conference opponents like Florida Gulf Coast, Wright State and Morehead State could prove tricky on a given night.
Going out on a mild limb, as you said, I'd project Indiana to go 8-3 in non-conference.
Mr. Buford writes: With IU being a major player with many high-level '24 recruits, which 1 or 2 do you think IU is in the best position with?
This question is top of mind for the fanbase right now.
To answer this question, I would point you to our 2024 Indiana Basketball Recruiting Board, ordered by perceived mutual interest. In other words, the board is put in order of the recruits that, as of this writing, are most interested in Indiana and the program is most interested in.
At the top of that list right now is Liam McNeeley. He's already taken a junior year official visit and will be on campus again next month. That's a visit Indiana needs to go very well and try to seal the deal with McNeeley. After that, Derik Queen and Boogie Fland are next in line. While it's probably not accurate to call Indiana the leader for either player, the Hoosiers are certainly in the lead pack for both players.
Queen took a junior year official visit and is scheduled to be back on campus again this fall. Fland took an official visit in June, and Indiana wants to get him back on campus again before he goes into decision-making mode.
Joe Downey writes: We have one scholarship left. Will it be used and who is on the radar?
The fall semester begins in Bloomington one week from today. If the Hoosiers are going to fill the opening spot, time is starting to run out.
From what I understand, the door has yet to be closed entirely on adding a scholarship player for next season and due diligence is still being done with players in the portal. Whether anything materializes is in the "to be determined" category as of this moment.
Assembly Call writes: Who do you expect to have the more consistent role as a sophomore: CJ (Gunn) or Kaleb (Banks)?
Gunn is the more logical answer because the opportunity is greater at his position. This, of course, could change if Indiana adds a player late in the backcourt. But right now, Gunn has a more straightforward path to minutes than Banks.
Gunn will likely be the first backcourt player off the bench right now behind Xavier Johnson and Trey Galloway. With Banks, he will compete with Mackenzie Mgbako and Anthony Walker to play. Mgbako will be one of the nation's most talented freshmen and Walker is a grown man who was just on a Final Four team.
That's not to say Banks hasn't made great strides this offseason and won't have some moments as a sophomore, but the clearer path to a more consistent role is Gunn.
Don Endicott writes: What was the reasoning for expanding the league to 18 teams, and what do you think about it?
The reasoning for the expansion is that television partners pushed for it and were willing to put up the money to make it happen.
As someone who has followed the Big Ten for a long time and grew up in Indiana, I'm not a fan of all the league expansions. This is all football driven and I'm under no illusion that basketball (or the other sports) even matters in this conversation when it comes to those making these decisions.
I'd love to see college football break away as its own entity and let the conferences operate in a more traditional way without football. From a logistics standpoint, it's much easier for football to manage travel with just six or seven road games per week and one game per week. For other sports, traveling coast to coast and in the case of non-revenue sports, traveling on commercial flights is undoubtedly not in the best interest of the "student-athletes."
Hoosier Jake writes: Xavier Johnson is a tenacious on ball defender but he has also been susceptible to early foul trouble. This team desperately lacks backcourt depth from an experience standpoint and Gabe Cupps figures to be the guy needed to step up if X does get in foul trouble. Do you believe Cupps is capable of not only eating minutes and "holding down the fort," but excelling to the point that the team hardly skips a beat? (I doubt his defense stacks up to X so this is more of an offensive related question.)
There's plenty to like about Gabe Cupps and his long-term potential. He's a winner, a coach's son and a Jordan Hulls or Aaron Craft type of career is possible for him.
But Indiana needs Xavier Johnson on the floor for as many minutes as possible next season. I don't think it is fair to place the burden of the team "hardly" skipping a beat on a freshman nor do I think that will be the case when Cupps is on the floor instead of Johnson.
Filed to: