2023-24 Non-conference opponent preview: Auburn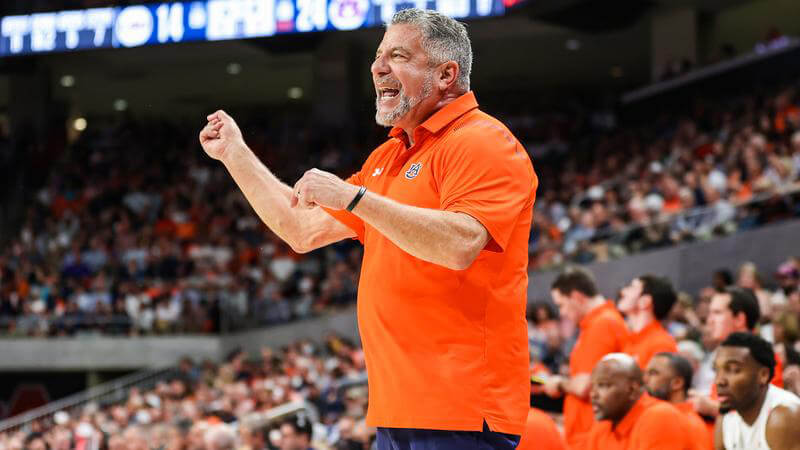 Indiana's 2023-24 non-conference schedule was finalized on June 27 and Inside the Hall will have a team-by-team look at each opponent. Today: Auburn.
Entering the offseason, it looked like Bruce Pearl and the Auburn Tigers were due for a major overhaul. Key contributors planned to enter their names in the NBA draft, few Tigers were confirmed as returning players and highly touted freshmen were looking to transfer after their first collegiate season.
Now, however, that's not quite the case. Losses were not as harsh as expected and Pearl will, in fact, have the core of his 2022-23 team playing once again this season. Pearl led Auburn to its 12th appearance in the NCAA tournament despite a disappointing 20-12 regular season. The Tigers were able to knock off Iowa in the first round of the tournament but fell to Houston in the round of 32.
The experienced head coach will lead an experienced roster, headlined by Johni Broome Jaylin Williams. The upperclassmen are coming off of strong 2022-23 seasons and both made the decision to remove their names from the NBA draft, bringing an increased level of stability to the roster.
Broome, a 6-foot-10 center, made waves in the SEC last year after he transferred to Auburn from Morehead State. He earned All-SEC second team honors and was named to the Karl Malone award watch list as he led the Tigers in scoring (14.2 ppg) and rebounds (8.4 rpg). The big man held the No. 10 spot in the nation in blocked shots per game with 2.4 and dominated the boards for the Tigers with a total of 78. He started and played in 33 out of 34 games in the 2022-23 season and is joined by Williams as the only returning player to see that level of action.
Williams, another Tiger who tested the waters in the NBA draft, announced his intent to return to Auburn and thereby keep a familiar face in the power forward spot. Williams was the third-highest scorer on the team last season with 11.2 points, and the multifaceted 6-foot-8 forward spread his talent across the board, averaging 4.7 rebounds, 2.2 assists and 1.1 steals per game. He also shot 35.4 percent from deep with 40 made three-pointers. The combination of Williams and Broome poses a major threat in the frontcourt for anyone who faces them.
Among other notable returners are seniors K.D. Johnson and Dylan Cardwell. The guard and center, respectively, were both rotational pieces for Pearl last season, with only one start between the two of them. However, with Johnson appearing in 33 games and averaging 21.9 minutes and Cardwell averaging 13.4 minutes in the 32 games he played, the two are candidates for increased starting roles this season. Cardwell, a 6-foot-11 center, averaged just 3.7 points per game but made himself known on the boards, posting 1.3 blocks per game — second only to Broome's 2.4 — and 3.8 rebounds per game. Johnson averaged 8.9 points per game alongside 1.9 rebounds and 1.3 assists per game, and shot at a 33.3 percent clip from deep with 36 made threes on the season.
Although the Tigers have a great deal of talent returning this season, they will be without some key players from the 2022-23 season. Wendell Green Jr. was the only Tiger to enter his name in the NBA draft and keep it in, and while he didn't hear his name called in the draft, he signed a summer league deal with Cleveland. The 5-foot-11 point guard was named to the 2022-23 All-SEC second team and started all 34 games for the Tigers. He led the team in steals (58) and assists with 4.1 per game, averaged 3.2 rebounds and put up an average of 13.7 points per game for second-best on the team. Forward Allen Flanigan (10.1 ppg, 5.0 rpg) and center Babatunde Akingbola both transferred out of the program and guard Zep Jasper — who also started all 34 games — exhausted his eligibility.
Five-star freshman Aden Holloway is the highlight of the incoming Tiger class and the 2023 McDonald's All-American could be one to fill the open point guard position left by Green.
Bart Torvik has Auburn ranked No. 24 heading into the season, six spots above Indiana at No. 30. The Tigers are primed for a highly competitive season with their wealth of returning talent, and their talent and height in the frontcourt should help lead them to success.
Filed to: Auburn Tigers