2023-24 non-conference opponent preview: Harvard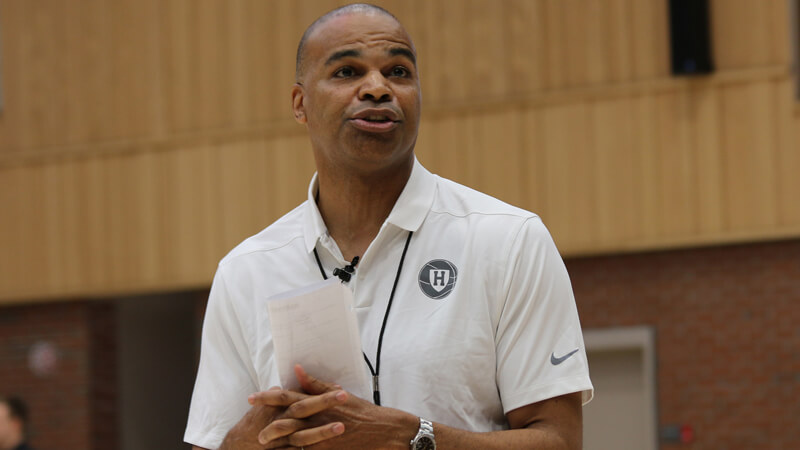 Indiana's 2023-24 non-conference schedule was finalized on June 27 and Inside the Hall will have a team-by-team look at each opponent. Today: Harvard.
For the 40th straight season, Indiana will face an opponent in Indianapolis when the Hoosiers face Harvard on Nov. 26 at Gainbridge Fieldhouse.
The two programs have only faced once before, a 21-point win for the Hoosiers in the winter of 1972.
Head coach Tommy Amaker will be entering his 17th season with the Crimson. Harvard's all-time winningest coach has led the program to seven Ivy League championships, seven 20-win seasons and four NCAA tournament appearances.
The Crimson are coming off a 14-14 season where the squad finished 5-9 in conference play and after back-to-back .500 seasons, Harvard is trying to turn things back to how they were in the mid-2010s.
Harvard only had one player average over 10 points a game last season and that was Chris Ledlum (18.8 points), who left the program for the transfer portal. The 6-foot-6 forward initially landed in Tennessee but de-committed on July 13 and is now headed to join Rick Pitino at St. John's. The Crimson also loses their second-highest scorer in Idan Tretout, a senior last year.
Evan Nelson, a junior from Tucson, returns for his junior year. Nelson started 26 games a season ago, averaging 8.4 points, 3.4 assists and three rebounds. The 6-foot-2 point guard shot 38.8 percent from 3-point distance and posted the third-best assist-to-turnover ratio in the Ivy League of 1.7.
Chisom Okpara, a 6-foot-8 forward and La Lumiere product, also returns to Cambridge for his second season. Okpara averaged a strong 7.4 points and 3.9 boards off the bench as a freshman. He earned Ivy League rookie of the week four times throughout last season. Aside from Okpara in the frontcourt is 6-foot-10 senior Justice Ajogbor. Ajogbar, a Nigeria native, was named by the team as the squad's most improved player a season ago. The center's 1.4 blocks a game ranked third in the Ivy League and 80th in the NCAA. Ajogbar uses his 255-pound frame well defensively and can run the floor better than most bigs his size. Coming into last season, Ajogbar had only played 32 career minutes. In 2022-23, he played 497.
While a strong frontcourt is critical, Okpara and Ajogbar don't jump off the screen as offensive threats. Guards Louis Lesmond, who is returning after a season-ending injury, and Denham Wojcik will have to step up in scoring the basketball.
According to 247Sports, Harvard is only adding one rated incoming freshman, Malik Mack, a 6-foot-1 point guard from Washington, DC. Mack is a three-star and the 49th-best point guard in the nation. On the site roster, three other freshmen are also expected to enter the program.
Even expect Mack to provide a lot of minutes early on in his college career. The opportunity will be there.
There's no question that Amaker knows how to lead this Harvard program, but in modern-day college basketball, limited recruiting in the transfer portal won't get it done. Especially as teams like Yale and Princeton continue to improve in the Ivy League. It's not a good sign that, as of July, Harvard doesn't have any rated portal addition. But in the Ivy League, the standards for athlete transfers are higher than in other conferences.
Bart Torvik projects the Crimson as the No. 252 ranked team entering the 2023-24 season and finishing seventh in the Ivy League. It might be another rough year for Amaker if he doesn't find some offense. Harvard is coming off back-to-back seasons without a winning record and is losing its two best players.
Filed to: Harvard Crimson