2023-24 Non-conference opponent preview: Texas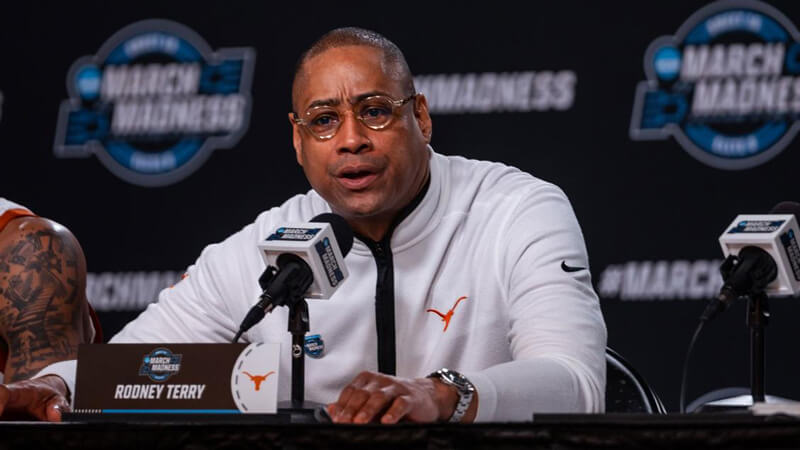 Indiana's 2023-24 non-conference schedule was finalized on June 27 and Inside the Hall will have a team-by-team look at each opponent. Today: Texas.
Last December, Texas basketball made national headlines due to the arrest and subsequent firing of then-head coach Chris Beard. In March, Texas made headlines for winning its second Big 12 tournament title and reaching the Elite Eight for the first time since 2008.
The Longhorns can make a national impact again this season with their newly constructed roster under head coach Rodney Terry. An early test for Terry and his team will come Nov. 19-20 when they head to Madison Square Garden for the Empire Classic. Texas will join Indiana, UConn and Louisville as the fourth team in the event and one of the three the Hoosiers could see during their time at the Garden.
After losing their top three scorers in Marcus Carr, Sir'Jabari Rice and Timmy Allen, the 2023-24 Longhorn roster will feature seven new faces with five transfers and two freshmen. Only two returning players started in every game last season, but this sort of roster change was expected as Terry takes over for his first full season as Texas' head coach.
Arguably the two biggest-impact returners for Texas are Tyrese Hunter and Dillon Mitchell, both of whom entered their names in the NBA Draft and then made the decisions to withdraw and return to Texas. The 6-foot-8 forward Mitchell, one of the top players in the class of 2022, started every game for the Longhorns his freshman year and averaged 3.9 rebounds and 4.3 points in 17.5 minutes per game. He withdrew his name from the draft after a lackluster offensive showing, but that means he'll come into this season with even higher expectations and more to prove.
Hunter, who was not invited to the draft combine, also withdrew his name from consideration and in doing so, brings back experience and versatility for the Longhorns. He averaged 10.3 points, three rebounds and 2.5 assists per game, started every contest and played an average of 30 minutes per game. The 6-foot guard also proved himself capable of playing either guard position.
Another notable returnee is forward Dylan Disu, who played in all but two games in the 2022-23 season and will return for his final year of eligibility. The 6-foot-9 Texas native led the team with 46 blocks (1.2 per game) while averaging 8.8 points and 4.4 rebounds per game. Disu will join Hunter and graduate forward Brock Cunningham as some of the most experienced players on the team.
More familiar names appear when examining the new Longhorn arrivals. Max Abmas, who first made a name for himself at Oral Roberts by helping lead the Golden Eagles to the Sweet Sixteen in 2021, will join the Longhorns for his final season of college basketball. The 6-foot guard enters the season as the NCAA Division I active leader in career scoring (2,562 points) and career scoring average (20.8 points per game). Abmas will likely join Hunter to make up a dominant backcourt this season.
Texas' frontcourt will see the addition of Kadin Shedrick, who transferred from the University of Virginia after playing three seasons. The 6-foot-11 forward averaged 6.2 points and 3.8 rebounds per game in the 2022-23 season. He also led the Cavaliers with a total of 43 blocks (1.4 per game). Another powerful forward joining Shedrick and the Longhorns is Ze'Rik Onyema, who spent the last three seasons — and starred — at UTEP. He averaged 7.1 points and 4.4 rebounds per game and, standing at 6-feet-8, led the team in blocked shots with 16.
It's not just returners and transfers to look out for; four-star recruit Chris Johnson and three-star Devon Pryor are two big freshmen commits for the Longhorns. Johnson previously signed with Kansas before committing to Texas, and the guard was ranked No. 44 nationally by ESPN in the class of 2023 rankings. Pryor, a 6-foot-7 small forward, plans to reclassify academically and join the Longhorns this season.
The Longhorns will primarily be led by their core group of returning players with significant experience. Their transfers set them up well to have a well-rounded and talented team, and if Terry's interim coaching stint last year is a sign of the future, the Longhorns could easily be a tough team to take down in many ways. Bart Torvik has Texas at No. 12 overall and third in the Big 12 behind Kansas and Houston. The Longhorns finished last year ranked No. 6.
Filed to: Texas Longhorns