2023-24 Non-conference opponent preview: UConn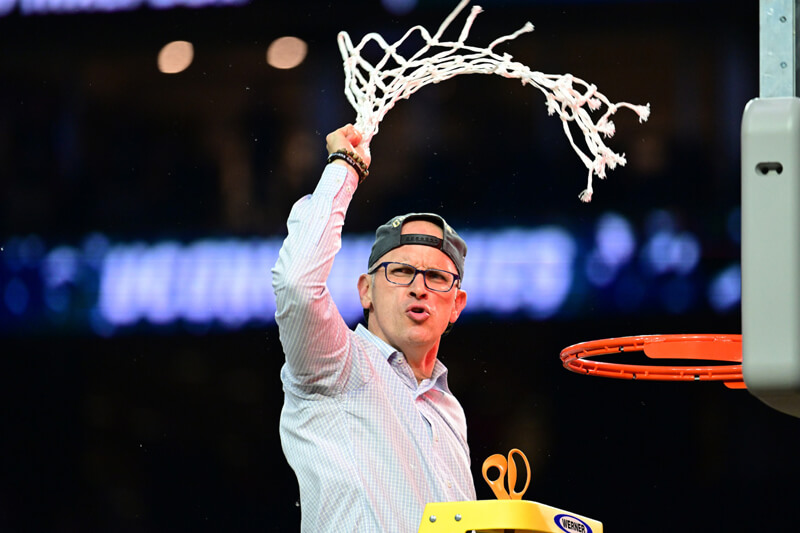 Indiana's 2023-24 non-conference schedule was finalized on June 27 and Inside the Hall will have a team-by-team look at each opponent. Today: UConn.
When Indiana men's basketball heads to Madison Square Garden for the Empire Classic Nov. 19-20, the Hoosiers will likely sit in the middle of the pack in terms of talent. First-round matchups for the event are still to be determined, but UConn poses the biggest challenge for any team who encounters them. The defending national champions, despite losing a host of talent, including their top two scorers, are still projected to be one of the top teams in the nation for the 2023-24 season.
The Huskies and the Hoosiers, if they face off, will meet for the first time since 2019, when the Hoosiers took down the Huskies in the Jimmy V Classic at Madison Square Garden. The two most recent games between the two teams occurred at The Garden, as UConn beat Indiana in 2013. The Huskies hold a slight advantage in all-time record with six wins and four losses.
November could give the Hoosiers a chance to establish themselves as contenders for a deep postseason run early in the season, but they'll have to get through Dan Hurley's talented pack of Huskies to do so. Hurley will enter his sixth season at UConn and has posted a 104-55 record during his time in Storrs.
Hurley is credited with the No. 6 recruiting class of 2023, per 247Sports, bringing in four four-star recruits and one five-star. Stephon Castle is the biggest name to know out of all the incoming Huskies. The McDonald's All-American and 6-foot-6 guard out of Georgia is the No. 10 overall recruit in 247Sports' composite rankings and the top-ranked recruit in the Big East. As a player with the potential to be a one-and-done, Castle is a versatile guard who can shoot and defend well and is expected to play significant minutes for the Huskies. Castle has been praised for his pinpoint accuracy in passing and overall athleticism in multiple positions.
The four four-star recruits joining Castle as incoming freshmen are guard Solomon Ball, center Youssouf Singare and forwards Jaylin Stewart and Jayden Ross. Stewart and Ross, standing at 6-foot-7, add significant height to the UConn roster and are thought to be somewhat underrated coming into the season. Singare brings even more of a vertical advantage to the Huskies, standing at 7 feet tall. The Mali native will try to fill the shoes of fellow countryman Adama Sanogo, who is currently on a two-way contract with the Chicago Bulls, while also working on his defensive skillset. He'll likely be the backup to returning center Donovan Clingan, who was, in turn, Sanogo's backup during his time as a Husky.
Clingan only averaged 13.1 minutes per game due to his role on the team his freshman season but posted 6.9 points and 5.9 rebounds per game. The 7-foot-2 Connecticut native is expected to see a significant increase in his playing time and could very well be an anchor for the Huskies due to his size and presence in the interior.
Even more noteworthy returning Huskies include guard Tristen Newton and forward Alex Karaban. Newton, a graduate student, is the oldest returning Husky. He averaged 10.1 points per game and 4.5 rebounds and 4.7 assists per game and put up two triple-doubles on the season. After entering his name in the NBA Draft, Newton returned to Storrs for his final year of eligibility. Karaban will return for his redshirt sophomore season after starting in 38 games and averaging 9.3 points, 4.5 rebounds and 1.7 assists per game.
Indiana fans will recognize the name Cam Spencer, who averaged 13.2 points, 3.8 rebounds, 3.1 assists and two steals per game for the Rutgers Scarlet Knights. The 6-foot-4 guard joins the Huskies for his graduate year, and he could pose a decent threat to the Hoosiers; the last time Spencer played Indiana, he scored 14 points and grabbed four rebounds and two steals in 32 minutes.
Clearly, despite losing top scorers Adama Sanogo (17.2 points, 7.7 rebounds) and Jordan Hawkins (16.2 points) as well as Andre Hawkins to the NBA, UConn has a wealth of talent on its roster. Bart Torvik has the Huskies as the Big East favorite and No. 3 team in the country heading into the 2023-24 season. UConn will, as always, be a tough team to take down this season — no matter who the opponent is.
Filed to: Connecticut Huskies