2023-24 Non-conference opponent preview: Army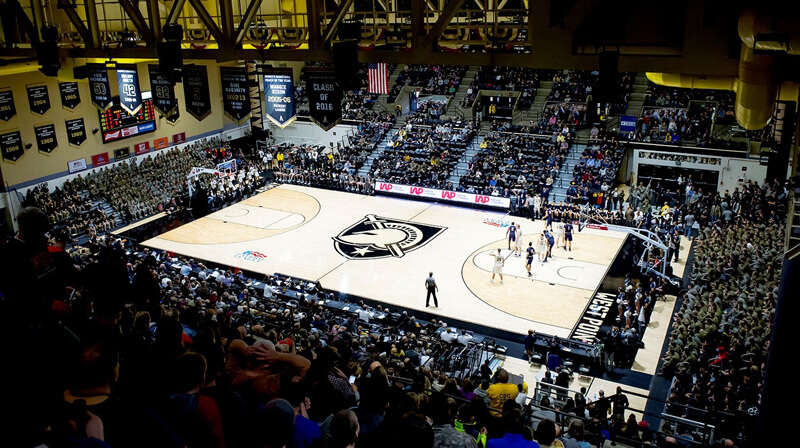 Indiana's 2023-24 non-conference schedule was finalized on June 27 and Inside the Hall will have a team-by-team look at each opponent. Today: Army.
Army men's basketball made headlines last March, but not necessarily for the right reasons. After finishing 17-16 on the season and failing to win the Patriot League semifinal, the Black Knights dismissed seven-year head coach Jimmy Allen.
His successor, Kevin Kuwik, will lead Army in its first-ever matchup against the Hoosiers on Nov. 12 at Simon Skjodt Assembly Hall. Despite the storied history shared by the two teams, both of whom were coached by Bob Knight, this is the first time they have faced each other.
Kuwik is somewhat familiar with the idea of basketball in Indiana, as he spent the 2022-23 season as an assistant coach at Butler University. He also worked as a video coordinator for Ohio State from 2009 to 2011, where he crossed paths with former Indiana head coach Archie Miller. Kuwik was then an assistant coach for Miller at Dayton. Army will be Kuwik's first head coaching job of his career.
The Black Knights have struggled to make themselves known nationally for quite some time and are one of four original Division I teams to have never participated in the NCAA Division I men's basketball tournament. They received two invitations to the tournament, the latter of which was turned down by Bob Knight in 1968.
The 2022-23 team, who went 17-16 on the season with a 10-8 record in the Patriot League, will return some — but not all — of its top players for the 2023-24 season.
Senior guard Jalen Rucker announced his entry to the transfer portal in May but has not committed to another school and is currently expected to return for his fourth season with Army, coming off arguably his most successful collegiate season. Rucker led the team with 16.6 points per game, 27 steals and 118 assists (3.6 per game). He was the only Black Knight to start all 33 games and he also averaged the fourth-most rebounds on the team with 4.1 per game. Rucker, whose scoring average also led the Patriot League as a whole, is the only returning Black Knight to have averaged double digits the season prior.
After the conclusion of the 2022-23 season, Rucker was named to the All-Patriot League first team and ranked in the top ten in the league in assists per game, field goals and field goals per game, free throw percentage, points and points per game.
Rucker's rebounding efforts will be bolstered again by senior forwards Charlie Petersen and Abe Johnson, both of whom pose significant threats at the rim, standing at 6-foot-9 and 6-foot-8, respectively. Last season Petersen led the team in rebounds with 5.2 per game and Johnson came in third with 4.2 while recording 20 blocks. The two are not even the tallest on the 2023-24 squad, however, as forward Matt Dove comes in at 6-foot-10. Every Black Knight except Rucker (5-foot-10) and guard Luke Benson (5-foot-11) is above 6 feet tall.
That height worked to Army's advantage last season, as the team outrebounded opponents by a margin of 3.9. However, Kuwik will likely aim to increase that number while also working to improve the average number of blocks (2.1). Height and athleticism are not lacking for this year's Army team, but figuring out how everybody works together will be key to success.
The Black Knights, while returning several impact players, will also be without two of their top bucket-getters. Forward Ethan Roberts, who was second on the team with 12.4 points per game, averaged 4.4 rebounds and shot 41 percent from deep, transferred to Drake University in May. Guard Coleton Benson, who was just behind Roberts with an average of 11.6 points per game and shot 37.1 percent from distance, announced he was transferring to Texas Tech at the end of March.
With Rucker still seemingly in the transfer portal and almost an entirely new coaching staff, there are a lot of unknowns for the Black Knights. Bart Torvik has Army as the No. 291 team entering the season for seventh-best in the Patriot League. If everything clicks, however, Army could pose a real physical threat on the boards and at the rim and have a chance to turn around from the recent disappointing seasons.
Filed to: Army Black Knights