2023-24 Non-conference opponent preview: Florida Gulf Coast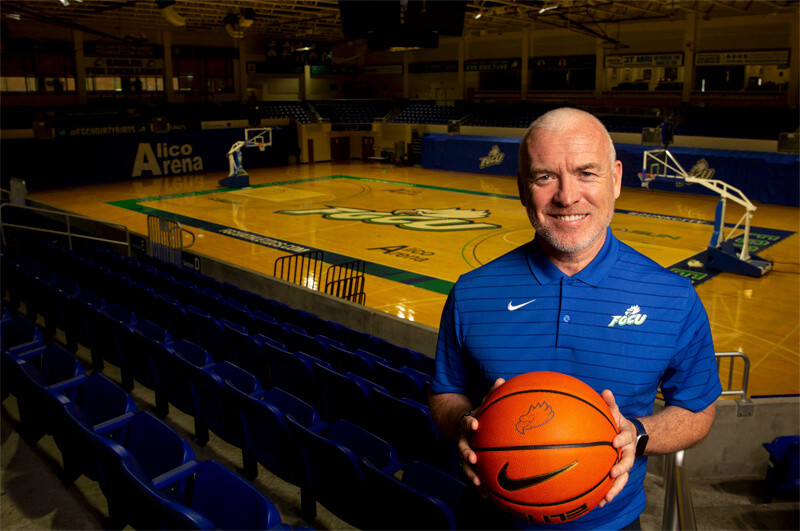 Indiana's 2023-24 non-conference schedule was finalized on June 27 and Inside the Hall will have a team-by-team look at each opponent. First up: Florida Gulf Coast.
Indiana will open its 2023-24 season when it hosts Florida Gulf Coast on Tuesday, Nov. 7. The two programs have only met once before, a 28-point home win for the Hoosiers in 2010.
The Eagles are members of the ASUN conference, traditionally a one-bid league. Kennesaw State was the ASUN's representative in this past year's NCAA tournament as a 14-seed, taking No. 3 Xavier down to the wire. Florida Gulf Coast has not made the tournament since 2017.
Former Penn State coach Pat Chambers will be at the helm of the Eagles program for his second season. Chambers resigned from Penn State in the fall of 2020 and took a short hiatus from basketball before being hired by Florida Gulf Coast in March 2022.
In his first season, Chambers led the Eagles to a 17-15 record, starting the season with a 12-3 record through Jan. 2 and a season-opening road win over an eventual NCAA tournament team in USC. Florida Gulf Coast finished the season as the No. 185 ranked team in KenPom.
Hoosiers fans may remember former Purdue guard and Zionsville product Isaiah Thompson, who started 20 games for the Boilermakers in 2021-22 and then left the program. Thompson returns to the Eagles for his second consecutive season in Fort Myers. Last year he started all 32 games for FGCU and led the team in scoring and assists, averaging 14.9 points and 3.2 dimes. Thompson led the team from beyond the arc and the free-throw line — shooting 37.6 percent and 86 percent, respectively.
The Eagles also return their second-highest-scoring guard in junior Chase Johnston. The 6-foot-3 guard from Boca Raton, Florida is now attending his third school after starting his college career at Purdue Fort Wayne and Stetson. As a freshman at Stetson — Johnston won ASUN Freshman of the Year. Johnston is a more bulky guard than the lanky Thompson, so he tends to have a knack for getting to the rim.
The fast-paced FGCU offense benefits guards like Thompson and Johnston who can do multiple different things well. Unfortunately for the Eagles last season, they struggled to find depth and consistency down low.
Chambers' squad didn't have a player over 6-foot-7 play more than 20 minutes a game. Andre Weir, a 6-foot-10 center, is the biggest player returning next season, but he struggled to find consistency in a back-to-the-basket role. The former Richmond Spider did improve as a rebounder and rim protector. The back-to-the-basket duties were typically handled by 6-foot-7 forward Zach Anderson — a good floor runner who can step out on the perimeter. Anderson shot 37.3 percent from deep last season and also led the Eagles in rebounding.
With his top three scorers returning in Anderson, Thompson and Johnston, Chambers hit the transfer portal to add depth and experience. A potentially overlooked pickup is 6-foot-9 senior forward Keeshawn Kellman from Princeton. Kellman was a big piece in the 15th-seeded Tigers' run to the Sweet Sixteen, starting all 32 games and averaging 7.9 points. Kellman is another big body around the rim, who brings strength and athleticism to the FGCU frontcourt. Kellman isn't as crafty as Anderson, but he bulldozes his way to the rim and can run the baseline. Making the two a good pairing.
Another addition from the transfer portal is Penn State guard Dallion Johnson, who played in 23 games for the Nittany Lions this past winter and averaged two points.
Pat Chambers finds his Florida Gulf Coast squad in a good spot for his second year in Fort Myers. Bart Torvik has the Eagles as the No. 119 team entering the season, good for second best in the ASUN behind Eastern Kentucky. The Eagles have a reliable and experienced backcourt and added some critical size and depth up front. The returning pieces and stellar additions mean Florida Gulf Coast could be headed for their first NCAA tournament in seven years.
Filed to: Florida Gulf Coast Eagles