Mackenzie Holmes, Trayce Jackson-Davis named IU athletes of the year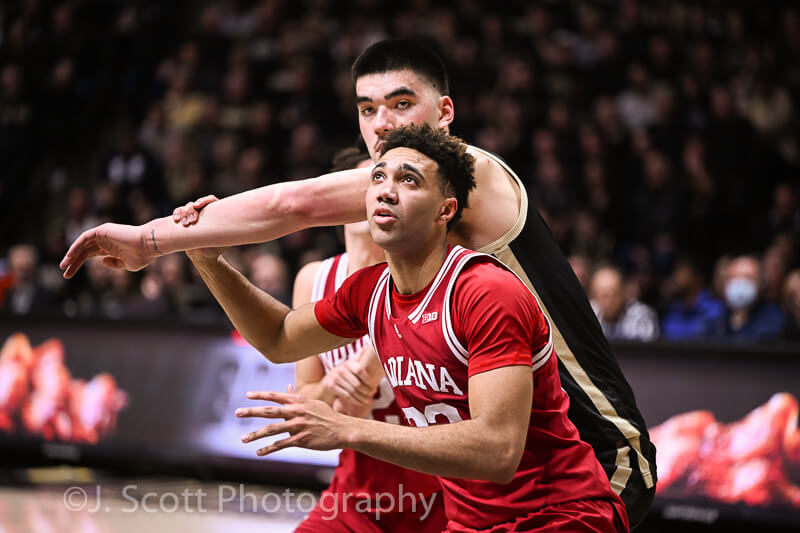 Mackenzie Holmes and Trayce Jackson-Davis were named IU's athletes of the year for the 2022-23 season, the athletic department announced Thursday.
Here's the full release issued by IU on the awards for Holmes and Jackson-Davis:
BLOOMINGTON, Ind. – Mackenzie Holmes (women's basketball) and Trayce Jackson-Davis (men's basketball) have been selected as the recipients of the IU Athlete of the Year award for the 2022-23 season for their performances on the court.

"Congratulations to Mackenzie and Trayce for their well-deserved selections as our 2022-23 Athletes of the Year," said IU Vice President and Director of Intercollegiate Athletics Scott Dolson. "As first-team All-Americans and Wooden Award finalists, they each enjoyed individual successes that rival those of any other past great that has played for our tradition-rich basketball programs. Every bit as important to their individual accomplishments, though, is the team success that each played such a big part in this past season. The 2022-23 year was one of our department's most successful in decades, both in terms of individual and team successes. That fact makes this year's award even that much more meaningful for these two all-time greats."

The Gorham, Maine native averaged a team-high 22.3 points, 7.3 rebounds, 1.9 blocks. She was one of the nation's most accurate shooters by going 68.0 percent from the floor. She is second in the nation and leading the Big Ten in field goal percentage, fifth in field goals made (281), sixth in points scored (692), and seventh in points per game (22.3). Holmes led the Hoosiers in scoring on 25 occasions this season while posting double figures in 31 games, scoring 20 points 19 times and three 30-point scoring efforts. Her nine double-doubles led the team, as six of her double-doubles occurred in conference play which ranks eighth all-time in a single season. She led the league in blocks (58) and blocks per game (1.9) and averages 1.1 steals (35) per game. She set a season-high five blocks against Nebraska and Michigan while recording multiple blocks in 14 games. Holmes is now in the top five in scoring in school history (1,897) and second in all-time blocks (208).

Other awards for Holmes this season included the program's first Big Ten Defensive Player of the Year and is now a three-time All-Big Ten selection in her career. She has also been named a 2023 Lisa Leslie Award finalist, a 2023 Wade Trophy finalist, 2023 Jersey Mike's Naismith Trophy semifinalist and 2023 USBWA Ann Meyers Drysdale Player of the Year candidate.

Jackson-Davis was a consensus first-team All-American and winner of the Karl Malone award as the nation's top power forward. He started 32 games as a senior and averaged 20.9 points, 10.8 rebounds, 4.0 assists and 2.9 blocks per game. He is the first Division I men's basketball player to average at least 20.0 points, 10.0 rebounds, 4.0 assists and 2.0 blocks in a season in over 25 years. Additionally, he was named All-Big Ten first team, All-Big Ten defensive team and was a five time Big Ten player of the week.

A 6-foot-9 froward from Greenwood, Jackson-Davis finished his Hoosier career third on the all-time program list for career points (2,258) and double-doubles (50). He holds the school record in both career rebounds (1,143) and blocked shots (270). TJD became the fifth player in Big Ten men's basketball history to amass 2,000 career points and 1,000 rebounds. He was selected 57th overall in the 2023 NBA Draft to the Golden State Warriors.
Filed to: Trayce Jackson-Davis