Freshman Focus: Mackenzie Mgbako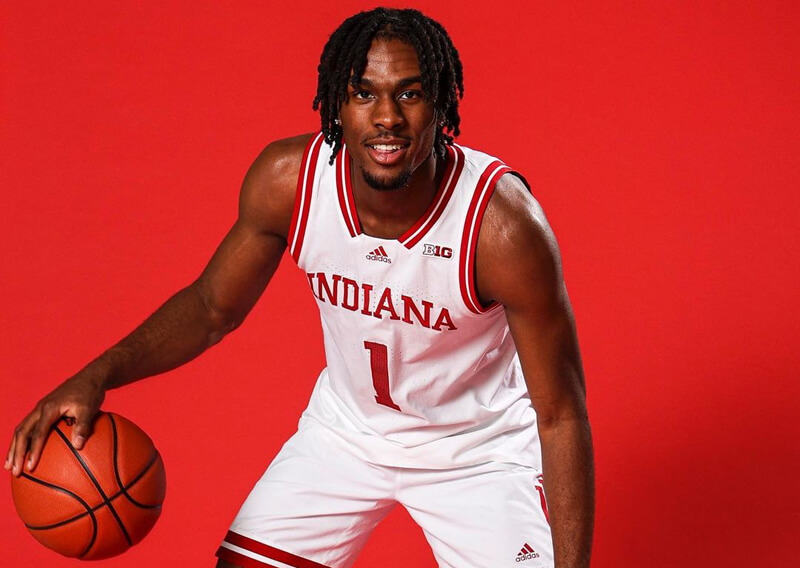 The third and final recruit to join Indiana's 2023 incoming freshman class, Mackenzie Mgbako was a late addition to the 2023-24 roster.
Mgbako, a 6-foot-8, 215-pound forward, committed to Duke in April 2022. About seven months later, he signed a National Letter of Intent with the Blue Devils.
But things changed for Mgbako last spring. Shortly after Kyle Filipowski announced his decision to return to Durham for his sophomore season, Mgbako requested his release from Duke.
"While I have great appreciation and respect for the Duke coaching staff and fans for their interest in me, I feel that there will be other places for me to continue my basketball journey, so I will be reopening the recruiting process to all schools," Mgbako wrote in a statement.
For the third straight spring, Indiana pursued a highly touted recruit who had chosen to re-open his recruitment.
Shortly after Mike Woodson took the Indiana job in the spring of 2021, the Hoosiers landed a commitment from five-star guard Tamar Bates. The Kansas City native originally signed with Texas but asked out of his Letter of Intent after Shaka Smart left for Marquette. The Hoosier staff won a commitment from Bates shortly after.
In the spring of 2022, Malik Reneau chose to part ways with Florida after Mike White departed Gainesville for the Georgia job. Indiana quickly got into the mix for Reneau and added him to an incoming freshman class that also included Jalen Hood-Schifino, CJ Gunn and Kaleb Banks.
The Mgbako circumstances weren't related to a coaching change, but the scenario was similar from a recruiting perspective. Indiana had to organize its plan quickly, build a relationship with the player and his family and beat out other recruiting powerhouses.
After Mgbako took official visits to St. John's and Kansas, Indiana was scheduled for his third of four visits. Much of the buzz pointed to Kansas or Louisville for Mgbako.
While the family remained tight-lipped after the visit to Bloomington, news broke in the days after the IU trip that Mgbako was done with visits and would choose between the Hoosiers and the Jayhawks. On a Friday in early May, Mgbako publicly announced his pledge to Mike Woodson and the coaching staff.
"I got a wonderful staff and, you know, we are beating the phones down and when guys come available, we trying to get in front of their parents and whoever's their representative and we doing all the necessary things to get 'em to campus and close the deal," Woodson said in late May. "And this has been a great, a great summer for us in terms of recruiting and, again, I give a lot of credit to my staff and them getting me in front of the people that we're trying to recruit, the player and we're starting to pay off. It's starting to pay off for us."
The Mgbako commitment was another major recruiting win for Woodson, further validating him as a force on the college basketball recruiting trail.
In his first two-plus years on the job, Woodson has already landed four recruits ranked in the top 27 nationally by the Recruiting Services Consensus Index (RSCI).
For Indiana's outlook as a team next winter, adding Mgbako is a potential difference-maker. The Hoosiers are losing four starters – Trayce Jackson-Davis, Hood-Schifino, Miller Kopp and Race Thompson – and have a lot of production to replace as a result.
Mgbako, the highest-rated recruit to ink with the program since Romeo Langford in 2018, should be a staple in IU's starting lineup from day one.
He's a capable perimeter shooter with range out to the 3-point line but is also comfortable in the midrange. And his size and strength allow him to finish at the rim. He's already put on a significant muscle mass since arriving on campus in early June.
And if all goes as many expect, Mgbako could be another success story for Woodson and the coaching staff leading to more recruiting momentum. The development the staff did with Hood-Schifino has the attention of recruits after he was selected in the first round of June's NBA draft. Many early projections have Mgbako as a potential one-year player. If that comes to fruition, it will likely mean that the player and the program both enjoyed a successful season together.
Filed to: Mackenzie Mgbako