Freshman Focus: Jakai Newton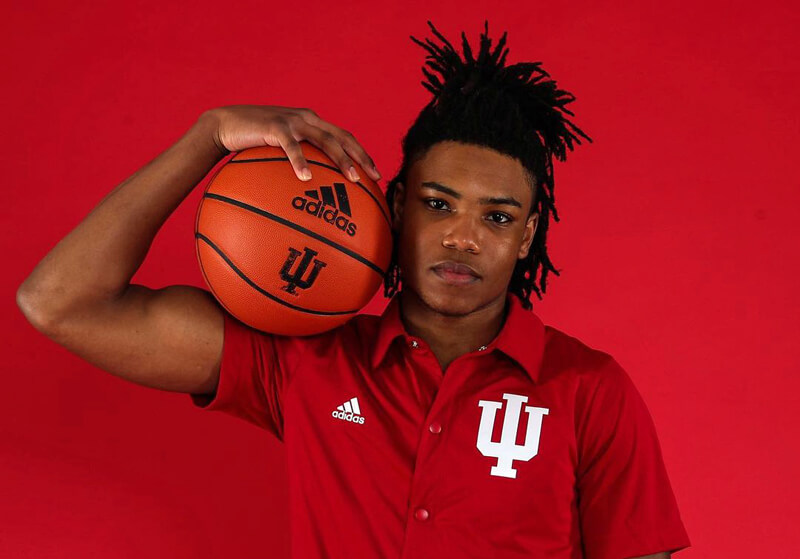 Injuries derailed the end of Jakai Newton's high school career at Newton High School in Georgia.
Indiana's first commit in its 2023 recruiting class, Newton gave his pledge to Mike Woodson and the coaching staff in October 2021. As a junior at Newton, the 6-foot-3 guard averaged 14.3 points, 5.2 rebounds and 1.7 assists. He appeared to be poised for a big summer and a rise in the recruiting rankings.
But in May of 2022, Newton suffered a setback that would impact the rest of his high school career. A torn meniscus and cartilage issue required surgery and forced Newton to the sidelines.
His final season of grassroots basketball was cut short and as he rehabbed from the setback, Newton only got on the court for less than half of his senior year of high school.
Now on campus in Bloomington preparing for his first season as a Hoosier, Newton – at no fault of his own – is the biggest unknown of Indiana's three-man freshman class that also includes Gabe Cupps and Mackenzie Mgbako.
What is known about Newton, though, is his upside as a potential difference-maker on an Indiana roster that has plenty of production it needs to replace.
An unknown prospect nationally early in high school, Newton had a special assist in getting his name out there: Yasir Rosemond.
"The first time I heard of Coach Ya was before the high school season last year," Newton said in the fall of 2021. "He did a podcast with me when I had no interest, no offers or nothing. He helped me get my name out there."
By the summer following his sophomore year, Newton had burst onto the recruiting scene.
He was ranked in the top 100 nationally and had scholarship offers from Alabama, Auburn, Georgia, Georgia Tech, and others.
But the connection with Rosemond was a notable development in his recruitment.
Once Indiana hired its new coaching staff in the spring of 2021 – a staff that included Rosemond – the Hoosiers emerged as a major player in his recruitment.
"I'm real cool with Coach Ya," Newton explained. "But Indiana is Indiana. It's a great basketball school."
Indiana extended a scholarship offer to Newton in June of 2021. He visited in October and, less than a week later, committed to the Hoosiers just days after spending time on his visit with Woodson.
"Man, I love coach Woodson," Newton said. "I didn't know what to really expect from him. He's so humble. He's so down to Earth. He's just a humble dude. You can tell he's got a great relationship with his players. He loves them, but he will also get on them."
On film, it's easy to see what makes Newton such an intriguing prospect, even though he's younger than most of his peers.
He's an aggressive player on both ends of the floor. He can get to the basket from the perimeter and thrives in transition. His body appears to be college ready. And Newton possesses the athleticism to get to his spots.
"As far as weaknesses, I want to be the best shooter," Newton said back in the fall of 2021. "That's one of my goals. I just have to keep working on that."
If his shot progresses and Newton continues to make strides with his health, the opportunity could exist to make an impact as early as this winter.
Indiana's guard depth behind Xavier Johnson and Trey Galloway appears to be unsettled with Cupps, CJ Gunn, Newton and perhaps Anthony Leal all battling for a rotation spot.
Assuming Indiana doesn't fill its final roster spot with a seasoned guard from the transfer portal, it needs a young player to grow up fast and develop into a reliable contributor.
That player could very well be Jakai Newton.
Filed to: Jakai Newton