Mackenzie Mgbako leads Big Ten signees in final RSCI rankings for class of 2023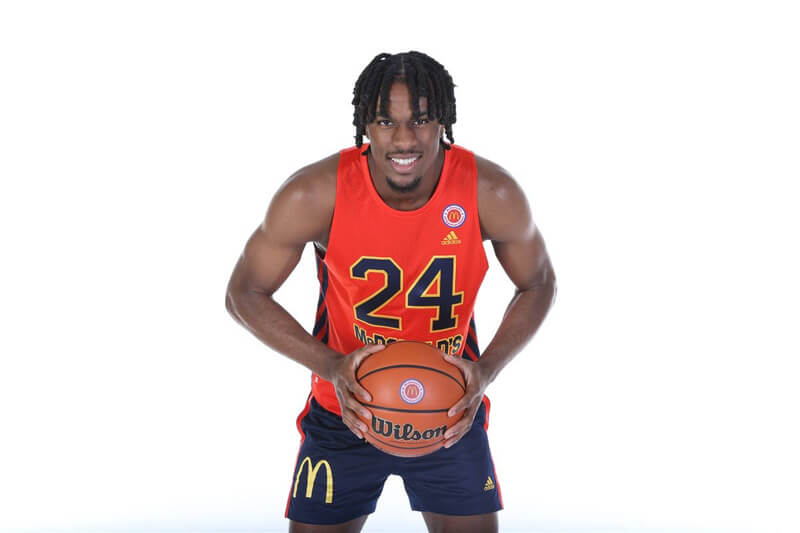 The final RSCI (Recruiting Services Consensus Index) ratings for the class of 2023 have been released and an Indiana signee is the highest-ranked Big Ten recruit.
Mackenzie Mgbako, a late addition to Indiana's 2023 recruiting class, is ranked the No. 10 prospect nationally.
The Recruiting Services Consensus Index (RSCI), which started in 1998, is a composite ranking that uses every national recruiting service ranking available.
The methodology used by the RSCI, which is pronounced "Risky," is available here and also outlined below:
1. The process begins with a single top 100 list from one of the experts.

2. The players listed are assigned points based on their position on that list. The top ranked player is given 100 points, #2 gets 99 points, #3 gets 98, and so on with #100 getting 1 point.

3. Repeat step 2 for each of the top 100 lists.

4. Finally, add up the scores based on all the lists and sort the players by their score in descending order.
This year's RSCI utilized rankings from 247Sports, On3, ESPN and Rivals.com.
The top five players in the final rankings are Isaiah Collier (USC), Ron Holland (undecided), Justin Edwards (Kentucky), Aaron Bradshaw (Kentucky) and Cody Williams (Colorado).
Mgbako is the highest-ranked RSCI recruit to sign with Indiana since Romeo Langford in 2018.
The Roselle Catholic product is Indiana's sixth top 10 RSCI recruit ever joining Eric Gordon (No. 3, 2007), Langford (No. 5, 2018), Noah Vonleh (No. 8, 2013), Jared Jeffries (No. 9, 2000) and Cody Zeller (No. 10, 2011).
Michigan State signee and Cathedral product Xavier Booker is the second-highest-ranked Big Ten signee at No. 12.
Seven other Big Ten signees – Coen Carr (No. 26), DeShawn Harris-Smith (No. 30), Jeremy Fears (tied for No. 34), Gavin Griffiths (tied for No. 34), Taison Chatman (tied for No. 37), Devin Royal (No. 40), Scotty Middleton (No. 49) – finished in the top 50.
The other Big Ten recruits in the top 100 include Amani Hansberry of Illinois (No. 58), Maryland's Jamie Kaiser (tied for No. 66), Purdue's Myles Colvin (No. 74), Michigan State's Gehrig Normand (No. 83) and Wisconsin's Nolan Winter (No. 90).
Gabe Cupps and Jakai Newton did not finish in the top 100.
In the final RSCI team rankings for the 2023 class, Michigan State finished No. 3 and Ohio State finished No. 9. Maryland was No. 17.
Filed to: Mackenzie Mgbako