Indiana's Grace Berger selected by Indiana Fever in 2023 WNBA draft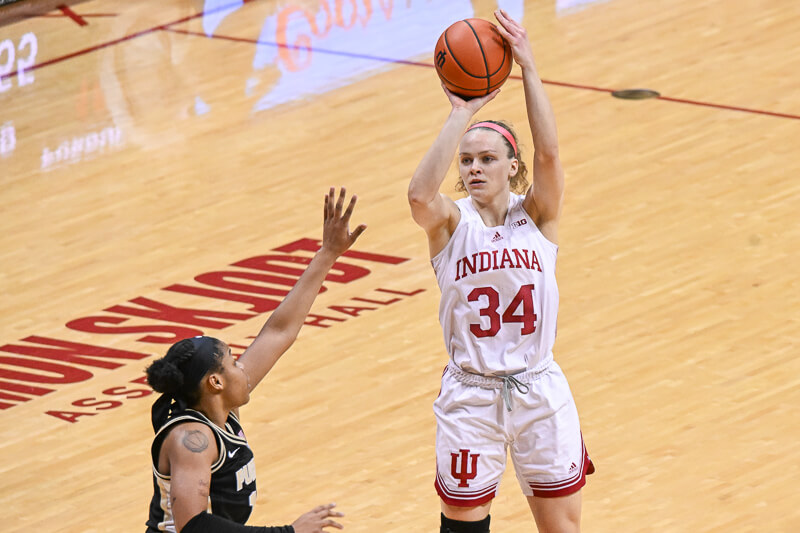 On Monday, the Indiana Fever selected former Indiana guard Grace Berger with the 7th pick in the first round of the 2023 WNBA draft.
Hoo Hoo Hoo!

the war room is hype to keep Grace Berger in Indiana!#sponsored | @AnthemBCBS pic.twitter.com/ekZSmHUAiS

— Indiana Fever ?????? (@IndianaFever) April 11, 2023
Here's the full release on Berger's selection, via IU media relations:
NEW YORK CITY – Former Indiana guard Grace Berger was selected in the first round as the overall No. 7 pick in the WNBA Draft on Monday night by the Indiana Fever.

Berger becomes the program's highest overall selection into the draft and fifth overall in school history. The Hoosiers have had players selected in back-to-back seasons for the first time ever, as Ali Patberg was picked as the 33rd overall selection to the Indiana Fever in 2022. Other players selected in the WNBA Draft include Jori Davis (2011, 33rd pick, Indiana Fever), Jill Chapman (2002, 21st pick, Detroit Shock) and Quacy Barnes (1998, 22nd pick, Sacramento Monarchs).

The Louisville, Ky. native finished her historic five-year Indiana career with 1,841 points, 573 assists and 752 rebounds. She ranks seventh all-time in scoring and second in all-time assists. She averaged 12.4 points, 5.1 rebounds, 3.8 assists, 1.1 steals and shot 45.2 percent from the floor in her career. Berger played in 148 career games, making 118 career starts and is the all-time winningest player in school history with 118 career victories and holds a 74.6 career win percentage and 83.1 percent in games inside Simon Skjodt Assembly Hall.

Berger finished her IU career as a four-time All-Big Ten first team honoree and USWBA and WBCA All-American honorable mention in 2022-23. In 24 games, the Louisville, Ky. native averaged 12.9 points, 5.8 assists and 4.8 rebounds per game while shooting 48.4 percent from the field, 40 percent from 3-point range and 75.7 percent at the free throw line. She scored in double figures 18 times including a season-high 26 points in the win over Iowa. A player who does a little bit of everything, Berger has dished out multiple assists in 21 games and averages 1.0 steals per outing while holding a +2.3 assist-to-turnover ratio. She collected three double-doubles this year including two on the road at then No. 11/4 Tennessee and in a win at Ohio State while also having the first point/assist double-double for the program since 2017.
Filed to: