A deeper look into Jalen Hood-Schifino's freshman season and his looming NBA draft decision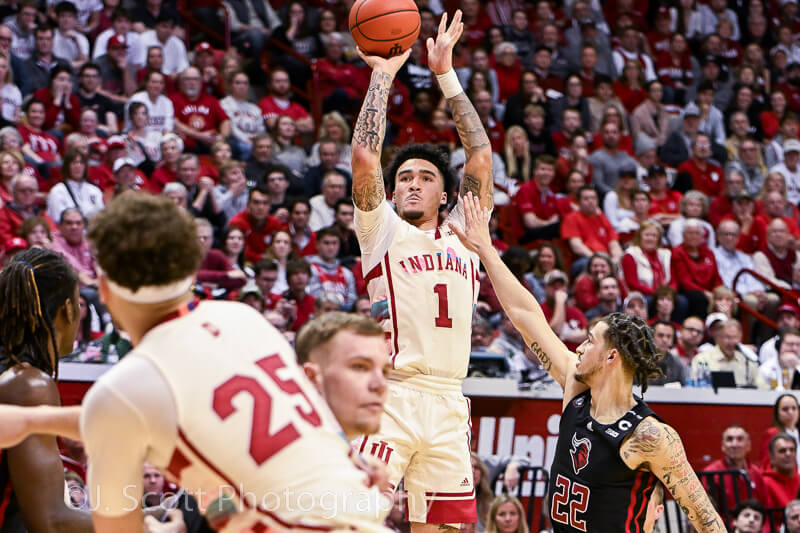 When Xavier Johnson broke his foot at Kansas in December, the lead ball-handling duties fell on the freshman Jalen Hood-Schifino.
At the time, there were questions. Was Jalen Hood-Schifino going to be able to lead the offense? Is he ready? How can he fill Johnson's shoes? What kind of player does he need to be for IU to succeed?
14 weeks later, it's safe to say that he's answered those questions. The Montverde product did everything he could to keep Indiana afloat, and then some. Without Johnson for the final 24 games, Indiana finished 23-12 and 12-8 in the Big Ten while making the NCAA Tournament for the second consecutive season. And the play of Hood-Schifino has created exciting possibilities for his future. The Big Ten freshman of the year played his way into the first round of NBA mock drafts. Before the season began, the projection was for him to be picked somewhere in the second round. It looked like if that happened, he may have decided to stay at Indiana for his sophomore season. Now, it seems a foregone conclusion that Hood-Schifino will enter his name into the 2023 NBA draft.
A deeper look into the Pittsburgh native's play shows why his season propelled him into the first-round discussion and how he helped lead the Hoosiers after Johnson's injury.
The freshman averaged 13.5 points per game, 4.1 rebounds and 3.7 assists while shooting 41.7 percent from the field, 33.3 percent from beyond the arc and 77.6 percent from the free throw line.
What Hood-Schifino did well
Poise: Most impressively, Hood-Schifino didn't seem to be having the regular growing pains of a freshman point guard. In the game's biggest moments, he never shrunk. After making a careless turnover at home against Illinois, he went down the court and made a pull-up jumper to tie the game at 67. Then, he drew a foul and made the game-winning free throws a possession later. In Indiana's big home win over Purdue, Hood-Schifino sealed the game with a layup which extended Indiana's lead to five with 25 seconds remaining.
Managing the pick-and-roll and two-man game with Trayce Jackson-Davis: Down the stretch of last season, the two-man game between Johnson and Jackson-Davis became the bread and butter of Indiana's offense. 40.4 percent of Indiana's offensive plays involving JHS were in the pick and roll. Jackson-Davis was the biggest benefactor in this. The guard's ability to pull up from mid-range and hit at an effective rate caused opposing defenders to play a level-up. That made TJD a bigger lob threat and gave him more room in the paint.
Shooting off the dribble: Hood-Schifino's mid-range pull-up has become a signature aspect of his game. 74.2 percent of his jump shots were off the dribble and he averaged a solid 0.92 points per shot on them. Back to the point about coming off screens, his ability to shoot off the dribble makes him a threat in that area and in the early offense before defenses are fully set. His 6-foot-6 and 213-pound frame makes this easy. He can lift over smaller guards on his jumper.
Areas for improvement
Getting to the rim: Despite his large frame for a point guard, Hood-Schifino doesn't get to the rim much. Out of all of his field goal attempts, only 19.9 percent of them were at the rim. Hood-Schifino lacks the superior quickness and athleticism to get downhill and attack college bigs effectively. That won't change much against the longer and more athletic rim protectors in the NBA. JHS's inability to attack the basket is a big reason why his mid-range pull-up jumper is effective. Getting to the rim would also help improve his free throw rate (FTA/FGA) of only 18.9 percent . That's incredibly low for a team's second-best player/option. Johnson had a free throw rate of 45.5 percent last season.
Shot selection: Hood-Schifino is most comfortable offensively in the midrange and he took a steady diet of long 2s all season. While these kinda shots are his most effective, they aren't the most efficient.
Defense: This goes along with his athleticism and speed issues. Hood-Schifino really struggled in man coverage against quicker guards this season. Jahmir Young of Maryland, Tony Perkins of Iowa, Boo Buie of Northwestern and Kobe Bufkin of Michigan all gave him issues at times. In IU's loss to Miami (FL) in the NCAA tournament, Hood-Schifino had some defensive struggles. Miami guards Isaiah Wong and Nijel Pack got everything they wanted offensively against the Hoosiers. This made Johnson's absence glaring.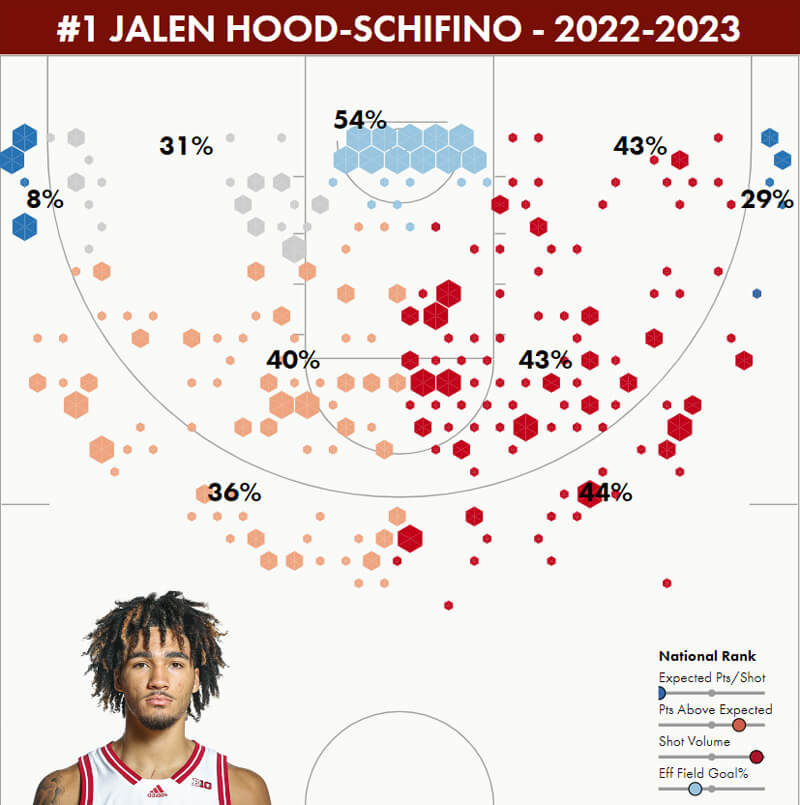 Hood-Schifino's ability to step up as a playmaker and steady ball-handler saved Indiana's season from spiraling downward after Johnson's injury. A more featured role also helped propel him up NBA draft board. The question of whether or not Hood-Schifino should leave Indiana this offseason doesn't really feel like much of a question anymore based on recent mock drafts. He should go.
This will leave Indiana in a tough spot next season. With Jackson-Davis announcing his departure and the graduation of three starters, Indiana's backcourt has holes to fill. The transfer portal should provide Mike Woodson with some options, but uncertainty looms.
Filed to: Jalen Hood-Schifino