Confident and loose: Tamar Bates and Trey Galloway look to be key pieces in Indiana's NCAA tournament run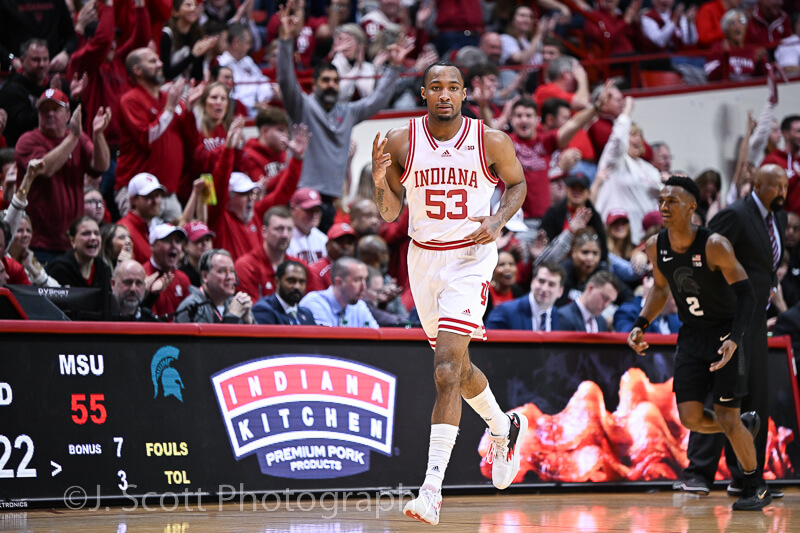 ALBANY, N.Y. — When reporters were interviewing Indiana's Tamar Bates during Thursday's open locker room at MVP Arena, Hoosiers teammates CJ Gunn and Xavier Johnson crept up behind the cameras to salute and make faces in an attempt to make him laugh.
Despite his teammates' hilarity, Bates didn't break aside from a slight snicker.
He sat composed and intrigued by questions as he answered with a loose but confident demeanor. It was a good frame of mind to have just over 28 hours before the No. 4-seeded Hoosiers take on the No. 13-seeded Kent State Golden Flashes in the first round of the 2023 NCAA tournament.
The sophomore and Kansas City native had reason to feel confident. He's coming off of a great weekend in Chicago at the Big Ten tournament. In the two games Indiana played in the Windy City, Bates scored 19 points on 53.3 percent shooting including three made 3-pointers.
February was a rough month for the IMG Product. In eight games and 116 minutes, Bates only made three shots. But for a player like Bates, all he needed was to see the ball go in the net to regain his stroke.
"I'm a confident person as it is," Bates said Thursday. "That's just me being me. I feel like the main thing was me getting back to being comfortable with who, you know, Tamar is… Doing everything I've done to build my resume, you could say, just being myself and doing what I've done to get me to this point and staying true to that."
For Bates, that's staying the course and going to the gym on days he doesn't want to. Sticking with everything that has gotten him to this point in his life and basketball career makes him a confident person.
As Indiana prepares for Kent State, wing players like Bates and Trey Galloway will be crucial for the Hoosiers to advance to the second round.
When Bates and Galloway are playing their best, the Hoosiers have looked like a completely different team this season. Having a secondary wing scorer next to Jalen Hood-Schifino takes a lot of weight off of the freshman. The cream and crimson shined in games like Indiana's win at Purdue where Galloway knocked down three triples and the Hoosiers' home win over Michigan State where Bates made five 3-pointers. Galloway also had 17 points in that game. In those two contests, IU looked like they could beat any team in the country.
In polarity to Bates, Galloway has been pretty consistent throughout the season but is coming off of a rough performance in Chicago. The junior was 1-for-9 from the field over the two days at the United Center and found himself in foul trouble against Maryland in the quarterfinals.
After the semifinal loss to Penn State, Jackson-Davis mentioned he noticed some guys were "tentative" when it came to shooting the ball.
"I thought overall we played kind of tentative. We weren't shooting the ball when we should have been," Jackson-Davis said postgame. "You can't be afraid to shoot the ball. We've got a great team. We've got great shooters, and that's what really spaces the floor for us."
Both Galloway and Bates spoke Thursday on how they felt they passed on a lot of good looks against Penn State and didn't capitalize on opportunities after looking at the film.
"We know we gotta shoot more 3s and make more 3s," Bates said on Thursday. "I'm confident in my shot… I tell them all the time — you don't gotta tell me twice. You tell me 'let it go,' I'm gonna shoot it."
"Coach (Woodson) has really harped on us to be ready to shoot it," Galloway added. "We know Trayce is gonna get doubled a lot, so when it gets kicked out we have to be ready to shoot it and knock it down."
Kent State will double-team Jackson-Davis. The Golden Flashes don't have a player on their roster above 6-foot-9 and are a team that collapses on the post from all angles. Whether that's a drive or a post-up, opportunities to kick the ball out to open shooters will be there.
Kent State has a top-40 defense in the country according to Kenpom and is top-20 at turning teams over with a rate of 22.6 percent. Rob Senderoff's guards will get up in IU's perimeter players' faces — especially Malique Jacobs, the MAC defensive player of the year.
Jacobs' defensive assignment will likely be Hood-Schifino, making it even more critical that Bates and Galloway have strong performances on the perimeter.
"Defensively they're good as well. They junk it up. They run around. They trap. A lot of it seems a little chaotic at times, but it looks like they have a sense of how they're rotating and stuff," Miller Kopp said Thursday. "So they create a lot of turnovers because they come and attack the ball and are kind of unrelenting in terms of how they trap and rotate and defend."
While the Golden Flashes don't press often, the Hoosiers have struggled this season with quick and feisty guards in the absence of Johnson. Galloway and Bates will have to be confident if the Hoosiers are to survive and advance.
Whether shooting and knocking down open looks from the perimeter or taking care of the basketball, Kent State provides a unique challenge for Indiana's role-playing guards.
Filed to: 2023 NCAA tournament, Tamar Bates, Trey Galloway