What to Expect: Indiana vs. Kent State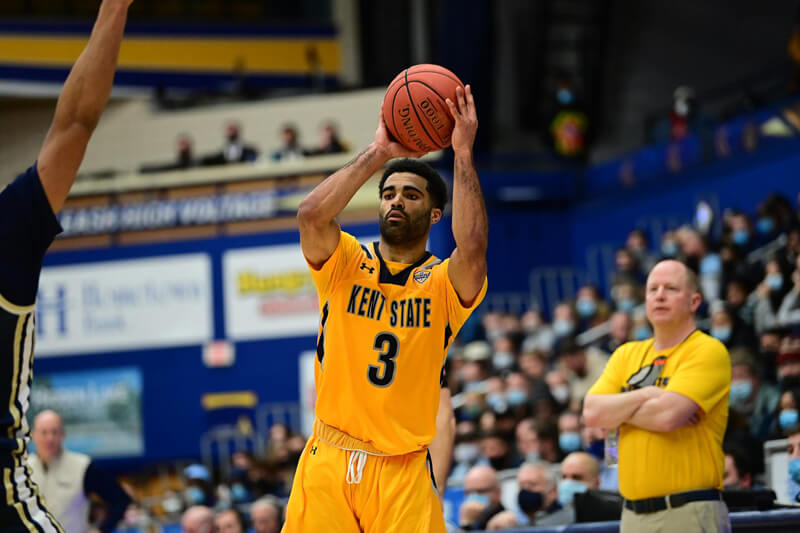 Indiana earned the No. 4 seed in the 2023 NCAA tournament's Midwest Region. The Hoosiers will take on No. 13 seed Kent State on Friday night at MVP Arena in Albany, New York. 
Friday's game is scheduled for a 9:55 p.m. ET tip on TBS:
Indiana is back in the NCAA tournament after a second-place finish in the Big Ten and a 21-win regular season. The Hoosiers, however, have an arduous task to open the round of 64.
Kent State, which earned the automatic bid from the Mid-American Conference, is a veteran, battle-tested team with a defense-first mentality. Kent State played a challenging non-conference slate against Gonzaga, Houston and Charleston and lost those three games by a total of 14 points.
Rob Senderoff, a former IU assistant in Bloomington during the Kelvin Sampson era, coaches the Golden Flashes. Senderoff's tenure at IU ended with NCAA rules violations that eventually led to Sampson's dismissal. The Golden Flashes are the highest-ranked No. 13 seed in the KenPom rankings and are currently one spot ahead of No. 12 seed Charleston.
MEET THE GOLDEN FLASHES
Kent State looked destined for an NCAA tournament appearance in 2022, but four players were suspended for the first half of the MAC championship over a Snapchat video. One of those players was Malique Jacobs, the team's second-best player. The Golden Flashes were on a 14-game winning streak entering the game, but lost 75-55 to Akron.
This year's Kent State team is even better than last year's version as Jacobs and Sincere Carry anchor one of the best backcourts nationally at the mid-major level.
Carry was an All-MAC first team selection and Jacobs was a second team pick. Both players made the league's all-defensive team and Jacobs was named the MAC defensive player of the year.
The 6-foot-1 Carry began his career at Duquesne, where he played three seasons before transferring to Kent State before last season. He leads the Golden Flashes in scoring at 17.6 points per game and has started each of Kent State's 34 games. Carry also leads Kent State in assists (4.6 per game) and is second in steals (1.7 per game).
While not a great 3-point shooter, Carry likes the right corner from distance, where he's making upwards of 40 percent. According to Synergy Sports, Carry ranks in the 89th percentile nationally in ball screen situations where he can either look for his shot in the mid-range or find cutters.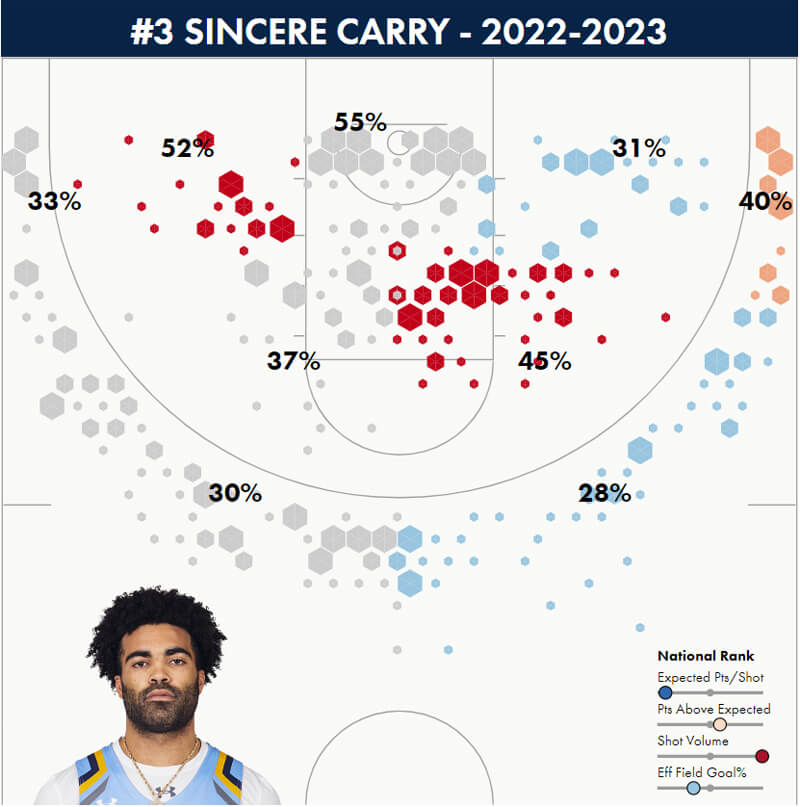 Jacobs is an elite defensive player and will be on Jalen Hood-Schifino. He's averaging 2.7 steals per game and the pressure he puts on the ball is relentless. He's smaller than Hood-Schifino at just 6-foot-3 but will make IU's freshman earn every scoring opportunity.
Offensively, Jacobs averages 13 points and the strongest part of his game is getting to the line. He was sixth in the MAC in free throw rate (FTA/FGA) at 51.5 percent, but converts at just a 66-percent clip from the line.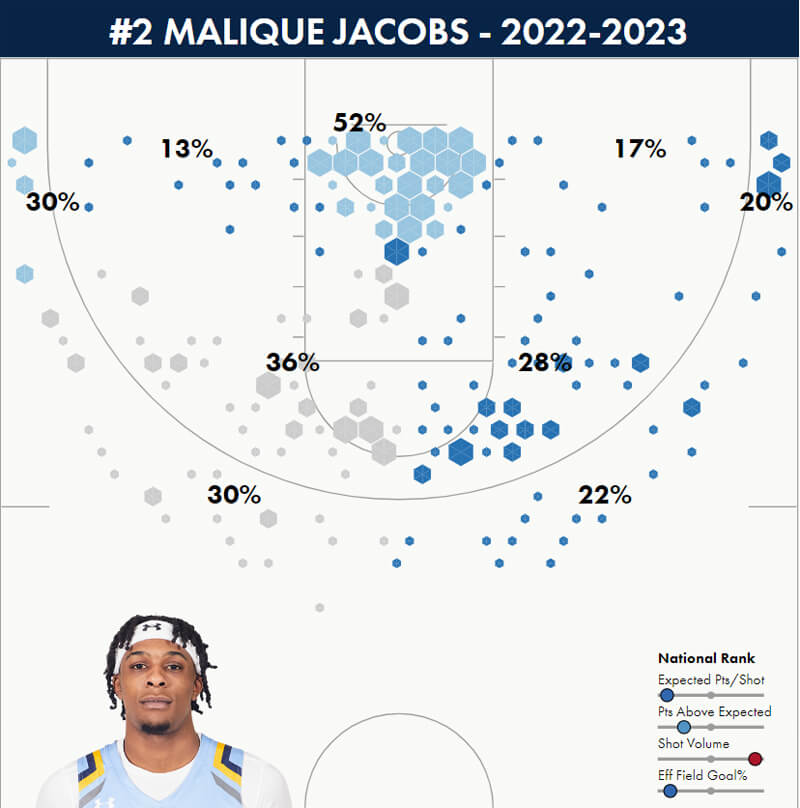 Sophomore Jalen Sullinger, the son of former Ohio State guard J.J. Sullinger and nephew of former Buckeye standout Jared Sullinger, is Kent State's best 3-point shooter. Sullinger's uncle Julian is Kent State's associate head coach and also played for the Golden Flashes.
Sullinger is 50-for-120 on 3s this season (41.7 percent). He's just 5-foot-10 and isn't a great defender, but he provides that boost off the bench on a team that doesn't have a ton of perimeter shooting. Sullinger logged 34 minutes in the MAC championship and scored 12 points.
Kent State starts 6-foot-5 sophomore VonCameron Davis at the three with 6-foot-8 senior Miryne Thomas at the four and 6-foot-9 sophomore Cli'Ron Hornbeak at the five. Senior Chris Payton, who is 6-foot-7, plays significant minutes off the bench.
Thomas, who transferred from Ball State, is the only Kent State player to average in double figures (10.7 points per game) besides Carry and Jacobs. Thomas can stretch the floor (35.3 percent on 3s), is a popular target for Carry and is a solid defender who can guard multiple positions.
Davis averages 6.6 points on 38.6 percent shooting and splits time between the three and four. He's made 24 3s this season, but has connected at just a 24.5 percent clip.
Hornbeak is 6-foot-9, 225 pounds, and an outstanding shot blocker who can be foul-prone. His block percentage is 6.4 percent, which ranks in the top 85 nationally and is second on the team behind Payton (7.5 percent). According to Synergy, Kent State grades out in the 92nd percentile in post-defense at just .707 points per possession allowed. With a swarming defense that will mix up coverages, it'll be important for Trayce Jackson-Davis to make the proper reads and not force passes into congestion.
Payton was 7-for-7 from the field in the MAC championship and finished with 17 points in 23 minutes. He's shooting 75 percent from the field and will finish his looks at the rim.
TEMPO-FREE PREVIEW
All statistics are through Tuesday's games.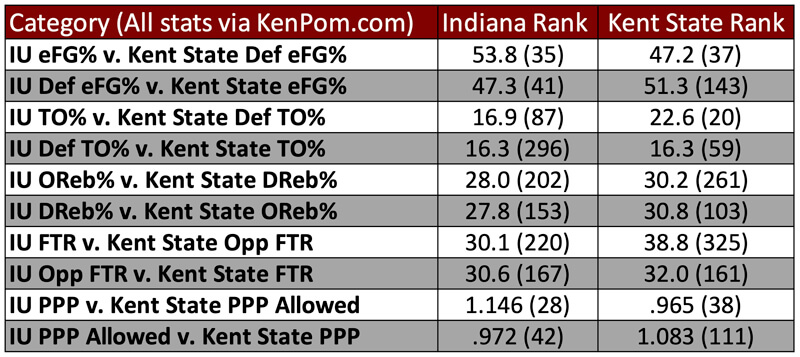 Kent State wins with defense. While the Golden Flashes did light up Toledo for 93 points in the MAC championship game, the performance came against an opponent with a defense ranked 291st in the country.
Kent State has forced 544 turnovers this season while committing just 389. That's a differential of 4.5 per game. According to KenPom, the Golden Flashes rank 30th in block percentage and 20th in steal percentage.
The Golden Flashes are not a high-percentage 3-point shooting team (33.6 percent), but have connected on 268 triples this season. Indiana has made only 187 3-pointers this season.
The clear areas for Indiana to take advantage of are the Jackson-Davis matchup, Kent State's poor defensive rebounding and potentially the free throw line. Kent State won't be able to matchup with Jackson-Davis straight up and he should be able to manufacture looks at the rim with his size and athleticism. In Kent State's loss at Gonzaga, Drew Timme went for 29 points and 17 rebounds, including seven offensive boards.
Kent State is 325th in the country in opponent free throw rate and with Senderoff's preference to go no more than eight deep, foul trouble could become an issue for the Golden Flashes if the Hoosiers can take care of the ball.
WHAT IT COMES DOWN TO
The KenPom projection is Indiana by four with a 63 percent chance of a Hoosier victory. The Sagarin ratings like Indiana by five and the Vegas line is currently IU by 4.5.
Looking at the other No. 4 vs. No. 13 matchups, Virginia (-5.5), Tennessee (-10.5) and UConn (-9.5) are all bigger favorites as of Wednesday morning.
According to Bart Torvik, the NCAA tournament team most similar efficiency to Kent State in recent history is 2012 Ohio, which advanced to the Sweet Sixteen: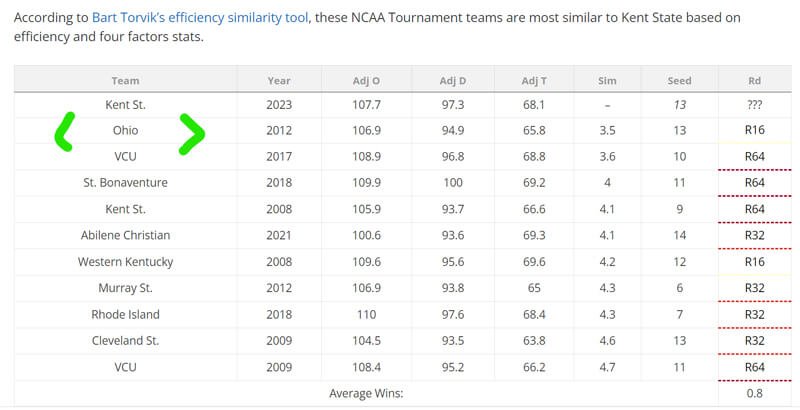 While the Hoosiers are a trendy pick to be upset, this is a game they should win if they play well.
Indiana has the two most talented players in the matchup, should be well prepared from a rigorous Big Ten schedule and got a taste of the NCAA tournament last season with a pair of games against Wyoming and Saint Mary's.
(Photo credit: Kent State Athletics)
Filed to: 2013 NCAA Tournament, Kent State Golden Flashes