What they're saying: A look at Indiana's NCAA tournament chances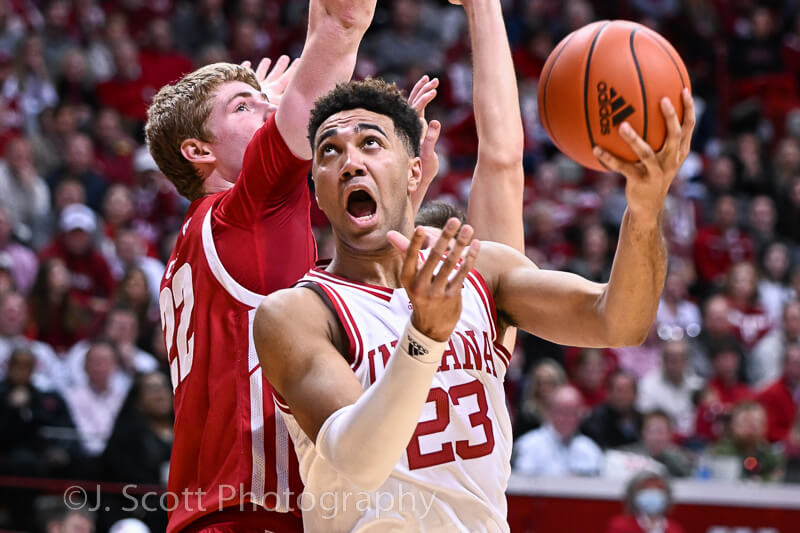 Indiana earned a No. 4 seed in the Midwest Region and will begin NCAA tournament play on Friday night against Kent State at MVP Arena in Albany, New York.
The Hoosiers are coming off a tough 77-73 Big Ten tournament semifinal loss to Penn State, but are an early 4 to 4.5-point favorite in Vegas against the Golden Flashes. KenPom projects a 73-69 victory for the Hoosiers.
Five Thirty Eight published an interactive bracket with calculated odds by round. The odds give Indiana a 74 percent chance of reaching the second round and a 47 percent chance at the Sweet Sixteen. The model gives IU a 14 percent chance to make the Elite Eight, a seven percent chance to make the Final Four, a three percent chance to make the national championship game and a one percent chance to cut down the nets in Houston.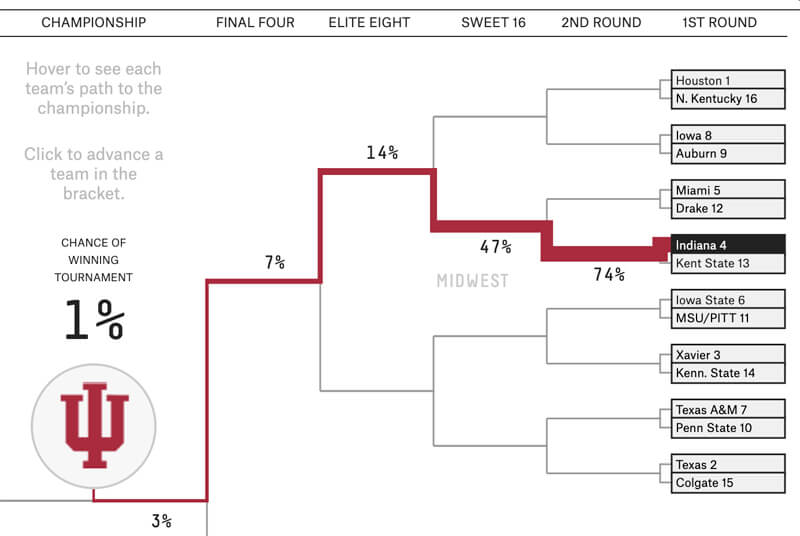 KenPom has a similar analysis on his blog: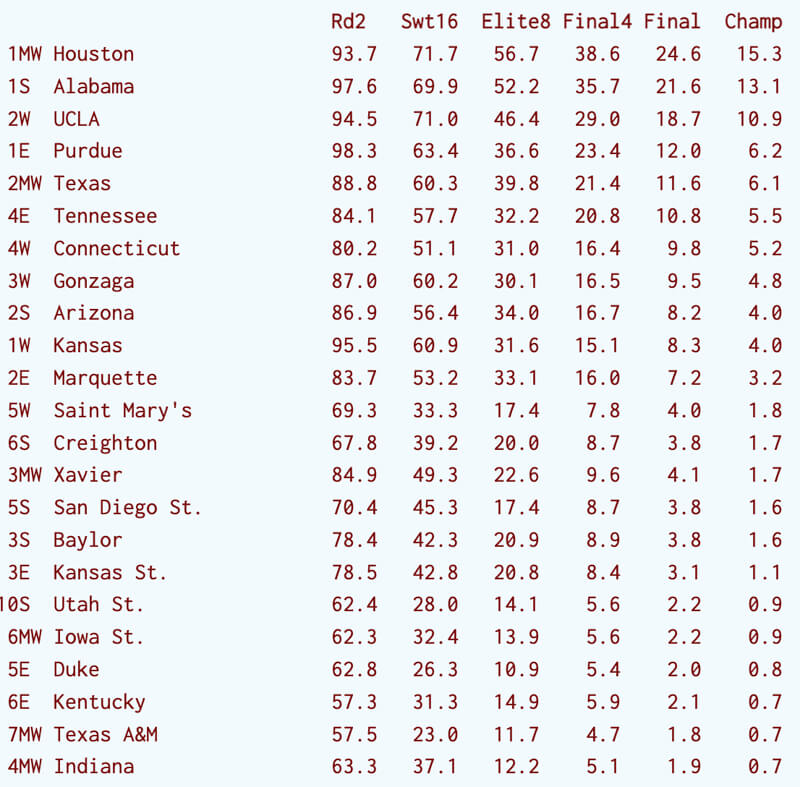 Indiana was ranked No. 15 on the NCAA's official seed list announced after the selection show. The Midwest Region features the No. 2, No. 6 and No. 12 seeds in addition to the Hoosiers.
The Selection Committee's official rankings of the 2023 #MarchMadness field! ? pic.twitter.com/oPjuTDcf0J

— NCAA March Madness (@MarchMadnessMBB) March 12, 2023
Andy Katz picked the Hoosiers to reach the Final Four along with Purdue:
? @TheAndyKatz's Bracket!

? Purdue = ?
? Indiana ? @MFinalFour
? Iowa > Houston
? Penn St ? #Elite8

Fill out #MarchMadness bracket:
? https://t.co/hSAhYNCyko pic.twitter.com/ZkQFQooPcU

— NCAA March Madness (@MarchMadnessMBB) March 13, 2023
The Sporting News identified Kent State, Indiana's first round opponent, as a potential bracket buster:
No. 13 Kent State is back in the tournament for the first time since 2017 under coach Rob Senderoff. Kent State has won nine of their last 10 games. The Golden Flashes scored at least 70 points in all of those games. Duquesne transfer Sincere Carry is a prolific scorer who averaged 23.7 points per game in the MAC tournament. Kent State plays Indiana, the same team that ended the Golden Flashes' Elite Eight run in 2002.
CBS Sports ranked all of the NCAA tournament teams 1-to-68 and has Indiana at No. 16 and Kent State at No. 50:
16. Indiana: It's taken a minute, but Indiana basketball is fun again. Few teams have a 1-2 duo that's as dependable and ready for the big moment like Trayce Jackson-Davis and Jalen Hood-Schifino. The former has been one of the three best players in college hoops this season, the latter ranks among top-five freshmen. Mike Woodson has gone to two NCAA Tournaments in his first two years, and though IU has some variance to its potential, at least this team has a good seed and has demonstrated plenty over the past two months that it is second-weekend material. Indiana isn't great at one single thing, but it isn't problematic, either. (Except for how it doesn't force enough turnovers, you could argue.) Very much a team that will thrive or thrash based upon matchup.

50. Kent State: Redemption for a really good Kent State team, which fell in the MAC title game a year ago to Akron. It's the Golden Flashes' first bid since 2017. A Cinderella candidate for a few reasons, one of them being point guard Sincere Carry, who could start for just about any team in this tournament. Also: This team has been rock-solid all season long. No. 1 seed Houston, No. 3 seed Gonzaga and No. 12 seed Charleston beat this team by a combined 14 points — and all of those were road games for KSU. Rob Senderoff's team has scored 70-plus in its last 11 games.
The Athletic identified the 10 most likely first round NCAA tournament upsets and Indiana is No. 4 on the list:
4. No. 4 Indiana Hoosiers vs. No. 13 Kent State Golden Flashes
Upset Chance: 30.9%
ESPN.com has Indiana as a "four-star" team, meaning that the Hoosiers haven't "always been consistent, but if it gets rolling, it has a reasonable shot":
In 2013, Victor Oladipo nearly crashed the Wooden Award race when he finished one spot behind winner Trey Burke after previously failing to make the midseason list of candidates. Trayce Jackson-Davis (20.5 PPG, 11.0 RPG, 2.8 BPG) has had a similar run this year, challenging consensus favorite Zach Edey for the award. When he and projected first-round NBA draft pick Jalen Hood-Schifino (13.4 PPG) are cooking together, Indiana is difficult to stop.

But the program's recent Jekyll and Hyde act has frustrated fans. Indiana has a nonconference win over Xavier, and it swept both Purdue and Illinois. Entering the Big Ten tournament, however, the Hoosiers hadn't won back-to-back games since Valentine's Day. During that rocky 3-3 stretch, Indiana failed to finish in the top-100 nationally in adjusted offensive or defensive efficiency. 4 stars
Filed to: 2023 NCAA tournament