2023 NCAA tournament: Previewing Big Ten matchups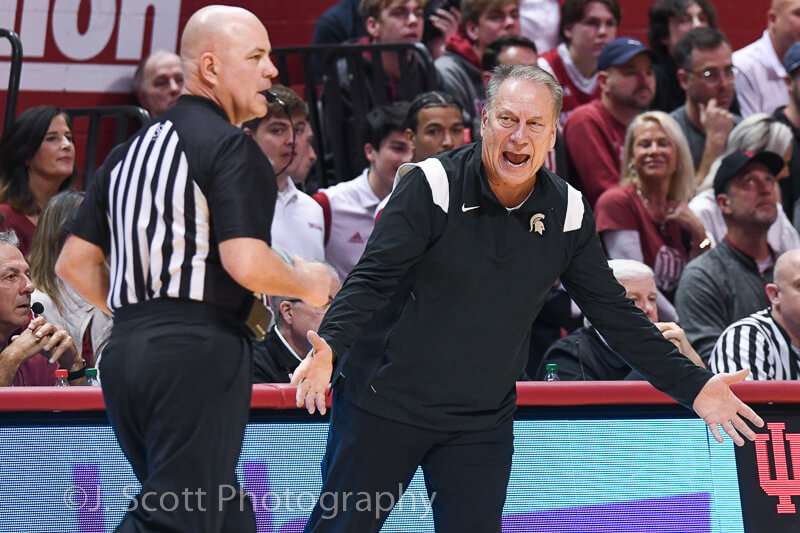 The Big Ten earned eight bids in the 2023 NCAA tournament, including a No. 1 seed for regular season and tournament champion Purdue.
Here are each of the Big Ten teams in the field by region:
South: Maryland (No. 8 seed)
Midwest: Indiana (No. 4 seed), Iowa (No. 8 seed), Penn State (No. 10 seed)
East: Purdue (No. 1 seed), Michigan State (No. 7 seed)
West: Northwestern (No. 7 seed), Illinois (No. 9 seed)
Only two of the seven Big Ten teams are favorites to advance past their first game, according to KenPom. (Purdue's opponent is not yet set as the Boilermakers will play an opponent from the First Four in Dayton.)
Here's a look at each Big Ten matchup in the NCAA tournament:
No. 8 Maryland vs. No. 9 West Virginia (Birmingham, Thursday, 12:15 p.m. ET, CBS)
The computers love West Virginia as the Mountaineers are No. 17 in Pomeroy's ratings despite a 19-14 record and a No. 9 seed in the South Region.
West Virginia boasts one of the top 15 offenses in the country and played a rigorous schedule in the Big 12. Maryland, meanwhile, hasn't been great away from home all season. The Terps have a legitimate star in Jahmir Young, but will need to keep West Virginia off the offensive glass (33.7 OR%) and off the free throw line (39.7 FTR) to advance.
KenPom: West Virginia 72, Maryland 71
No. 4 Indiana vs. No. 13 Kent State (Albany, Friday, 9:55 p.m. ET, TBS)
The Hoosiers will have the best player on the floor in Trayce Jackson-Davis, but Kent State is a strong defensive team that held its own against some of the nation's best teams (Gonzaga, Houston) in the non-conference.
The duo of Sincere Carry and Malique Jacobs will attempt to slow down Jalen Hood-Schifino, who is coming off of a tough performance against Penn State in the Big Ten tournament semifinals. Kent State is coached by former IU assistant Rob Senderoff, who was a part of NCAA rules violations while on staff that led to a show-cause penalty for the Golden Flashes coach.
KenPom: Indiana 73, Kent State 69
No. 8 Iowa vs. No. 9 Auburn (Birmingham, Thursday, 6:50 p.m. ET, TNT)
Both of these teams are unpredictable. Auburn stumbled to the finish line and lost three of its last four games, including a 32-point beatdown at Kentucky on Feb. 25. The Tigers are an elite defensive team that guards the perimeter well.
Iowa, meanwhile, crushed Indiana in Bloomington before losing at home to Nebraska and then falling to Ohio State in the Big Ten tournament. Fran McCaffery has never reached the Sweet Sixteen, but has a star in Kris Murray that could catch fire and propel the Hawkeyes to an opportunity against top-seeded Houston on Saturday.
KenPom: Auburn 78, Iowa 77
No. 7 Texas A&M vs. No. 10 Penn State (Des Moines, Thursday, 9:55 p.m. ET, TBS)
The Nittany Lions are red hot and have won five of their last six entering NCAA tournament play. Their five-game winning streak was snapped on Sunday in a narrow 67-65 loss to Purdue in the Big Ten tournament final.
But there's plenty to like about Texas A&M, which ranks sixth nationally in offensive rebounding percentage and third in free throw rate. Guard play is pivotal in March and Buzz Williams has an outstanding backcourt in Wade Taylor and Tyrece Radford. Most of the projections had Texas A&M seeder higher than 7, too, as the Aggies were 7-6 in Quad 1 games.
KenPom: Texas A&M 71, Penn State 69
No. 1 Purdue vs. No. 16 Texas Southern/Farleigh Dickinson (Columbus, Friday, 6:50 p.m. ET, TNT)
The Boilermakers will await the winner of Texas Southern and Farleigh Dickinson, who will square off Wednesday in Dayton in the First Four.
KenPom projects Texas Southern to defeat Farleigh Dickinson, 77-75. Whichever team moves on, look for Purdue to cruise into a Sunday matchup against the winner of Memphis and Florida Atlantic.
KenPom: To be determined
No. 7 Michigan State vs. No. 10 USC (Columbus, Friday, 12:15 p.m. ET, CBS)
This is a tough spot for the Trojans  – a future member of the Big Ten – who will have to come East and play a game that tips at 9:15 a.m. Pacific time. And they'll have to do it against Michigan State in Columbus, which isn't far from East Lansing. Expect the crowd to be heavily in favor of the Spartans.
The backcourt matchup between AJ Hoggard and Boogie Ellis, who averages 18 points and shoots 39.2 percent from the perimeter, should be fun to watch.
KenPom: Michigan State 70, USC 69
No. 7 Northwestern vs. No. 10 Boise State (Sacramento, Thursday, 7:35 p.m. ET, truTV)
Northwestern heads west to Sacramento to face a Boise State team with a top-15 defense. The Broncos rank 14th nationally in KenPom's adjusted defensive efficiency rankings, one spot behind the Wildcats.
The Wildcats are typically in every game they play because of how well they guard, but they need better play out of Chase Audige to advance. Over his last three games, Audige has scored just 20 points and is 2-for-15 from beyond the 3-point line.
KenPom: Boise State 64, Northwestern 63
No. 8 Arkansas vs. No. 9 Illinois (Des Moines, Thursday, 4:30 p.m. ET, TBS)
Illinois is talented enough to make a run, but could also go home quickly. Arkansas has NBA talent in the backcourt with Anthony Black and Nick Smith, who has battled injuries this season. And Eric Musselman has reached the Elite Eight in the past two seasons.
Working in favor of Illinois is the NCAA tournament experience of Terrence Shannon Jr. and Matthew Mayer, who are no strangers to this stage. It should be a pro-Illini crowd in Des Moines, too.
KenPom: Arkansas 73, Illinois 72
Filed to: 2023 NCAA tournament