Gear up for March and save 15% at Homefield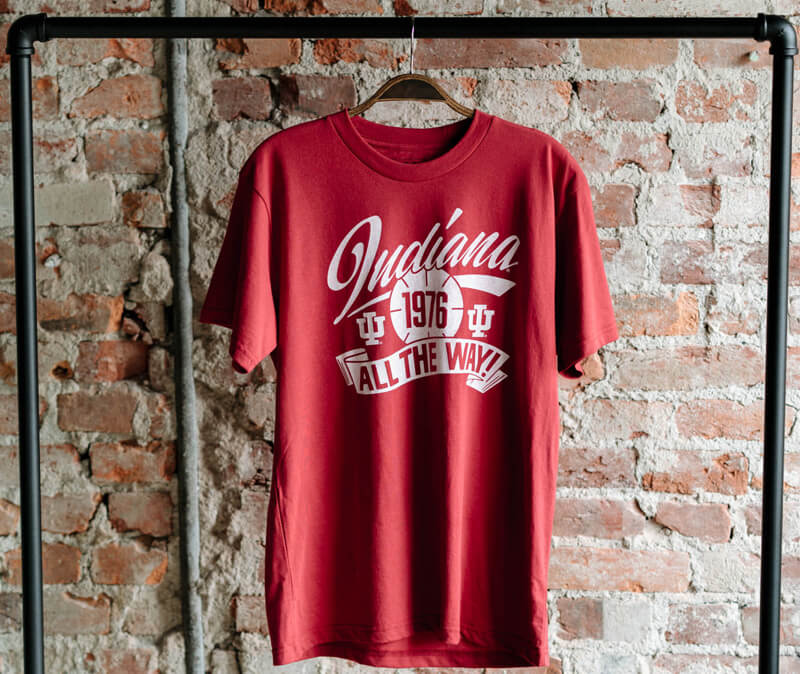 March is here, making it the perfect time to stock up on IU apparel over at Homefield.
Beginning today, Inside the Hall readers can save 15% off IU apparel at Homefield by using promo code INSIDEHALL23.
Earlier this year, Homefield released several new IU designs and here are a few of our favorites currently available:
IU Indiana 1983 Women's Basketball Tee – While Indiana women's basketball made its deepest tournament run ever in 2021, we still wanted to honor the program's winning roots. In 1983, the Hoosiers won the conference and made their first of eight NCAA tournament appearances. To really transport you to the '80's, we added the IU drop-shadow trident to a crest honoring the women's team achievements.
Indiana All The Way – In IU's storied basketball history, they've gone "All the Way" to become National Champions five times. We dug through vintage Indiana marketing materials and fan-made posters from the 1970's to create our version of a rallying banner. To match the era, we tipped our caps to the undefeated 1976 men's squad.
Indiana Vintage High Tops Youth Shirt  – Turn back the clock in a retro-inspired Hoosiers design, featuring some classic high-tops in IU Crimson and a vintage IU logo. The old-school sneakers are a throwback to past Hoosier victories, including five national championships and countless conference titles. We promise we're not bragging. (Okay. Maybe we are.)
IU Rags To Roses 1963 Tee – When they say IU went from "Rags to Roses," they meant it. Our beloved Football Hoosiers went 1-8-1 during the 1966-67 season, but bounced back next year with a 9-1 record, a shared conference title and a Rose Bowl berth. We found the phrase on a celebratory "Rags to Roses" publication – clearly, fans were abuzz.
IU Assembly Hall Midcourt Logo Tee – At the heart of Assembly Hall in the '80s and '90s, you'd see this logo, a silhouette of the state of Indiana with an "I" in the center. No matter which logo's there, midcourt is a focal point during the Timeout – a foot-on-the-gas performance of the William Tell Overture into the fight song. We can't get enough of "the Carnegie Hall of College Basketball" earning its nickname every second half, even if our ears are permanently ringing.
You can view all of Homefield's IU apparel at this link. Save 15% using promo code INSIDEHALL23.