Led by its seniors, Indiana beats Michigan 75-73 in overtime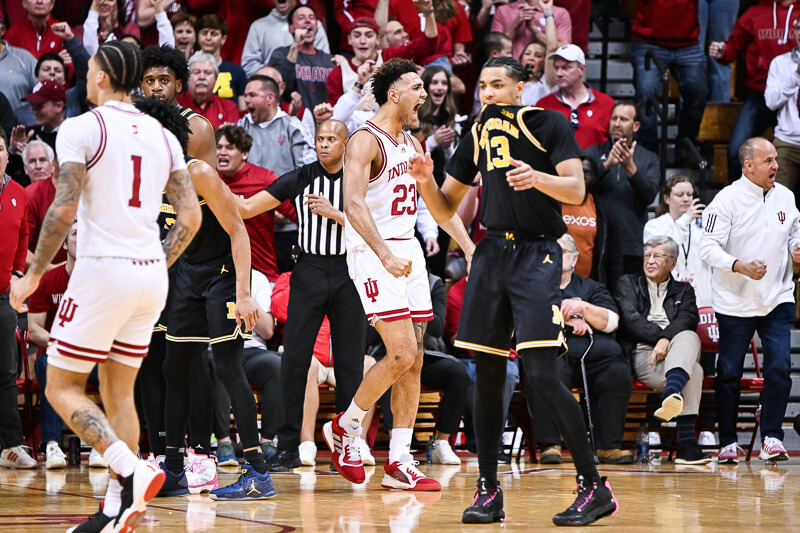 Trayce Jackson-Davis had the chance to etch his name in Indiana men's basketball history yet again Sunday evening. The recipient of an inbound pass, with less than a second left on the clock, in a game tied 69-69, Jackson-Davis heaved the ball and sent a prayer.
It sailed from just beyond halfcourt, hitting the rim before bouncing up and away. Simon Skjodt Assembly Hall almost exploded. It would have been the storybook ending to Jackson-Davis' already historic career at Assembly Hall.
Instead, it led to overtime.
But in doing so, it provided the opportunity for Indiana to finish its final home game this season, winning 75-73, in the way they know how — together.
"We just played hard, and played for each other," Trayce Jackson-Davis said postgame. "You do that, you go on little runs, you get this crowd engaged. We've got the best fans in college basketball, so we ride that."
In a game to decide Indiana's position in the Big Ten tournament, and the last game of the season at Assembly Hall, it was only fitting that Sunday's game was full of tense moments and raucous cheering. And it was only right that most of those moments involved the senior class. After all, it was their day.
So even though Miller Kopp and Race Thompson weren't having perfect games, when those five minutes of overtime began, Mike Woodson wasn't looking to anyone but his most experienced players.
"Coming down the home stretch, make no mistake about it: I was going with my seniors," Woodson said. "And that's when I made the push to put Miller and Race back to bring it home."
They delivered.
The Hoosiers scored six points in the overtime period to the Wolverines' four. All six points came from the three starting seniors, split perfectly three ways. Kopp and Thompson each hit jumpers, and Jackson-Davis sunk two free throws.
But offense wasn't the driving factor of the final five minutes: Indiana's aggressive defense was what ultimately came through, and Thompson led it.
With 25 seconds left in the second half, Thompson forced a turnover from Hunter Dickinson, stealing the ball and charging down the court. While he missed the layup, it set up the series of events to close out the half and send the game to overtime. With 14 seconds left in overtime, Thompson stole the ball from Dickinson once again, drawing a foul from the Wolverines.
"Everybody that played kept making plays," Woodson said. "The two plays that Race made down the stretch, from a defensive standpoint — the two steals — were probably the two biggest plays of the game."
Thompson's tenacity wasn't new, though; throughout the game, he was a force on both ends of the floor. It just happened to come out even more at the right time.
Similarly, Kopp seemed to find an even more intense focus in overtime; besides scoring one-third of Indiana's points, he grabbed three key rebounds. Jackson-Davis also added two decisive blocks to his final stat line, keeping Michigan from finding any momentum or easy looks.
Kopp finished his final night at Assembly Hall with five points and seven rebounds. While it wasn't his most efficient game, his lone 3-pointer came at a crucial time in the second half, bringing life back into Assembly Hall and bringing Indiana within six points of tying Michigan.
Thompson and Jackson-Davis were the ones to lead Indiana — literally and figuratively — to victory, posting 27 and 16 points, respectively. Thompson recorded his 10th career double-double with 10 rebounds alongside a season-high four steals. Jackson-Davis added nine assists, six blocks, two steals and two blocks. Both refused to let their team lose.
Sometimes acts of desperation lead to the best endings, and the best feelings. For example, Kopp attempting a 3-pointer after missing his first four attempts, or Thompson standing strong at the free throw line despite only shooting 1-for-6 on the night from the stripe.
Jackson-Davis' heave from half-court would have been the ultimate desperation play, if it had gone in. That would have been the story, representing what Jackson-Davis has done for Indiana basketball.
But the real ending to Indiana's regular season was arguably better — for Jackson-Davis and the rest of the Hoosiers. Because they got to win together, as a team.
Filed to: Michigan Wolverines, Miller Kopp, Race Thompson, Trayce Jackson-Davis