What to Expect: Michigan at Indiana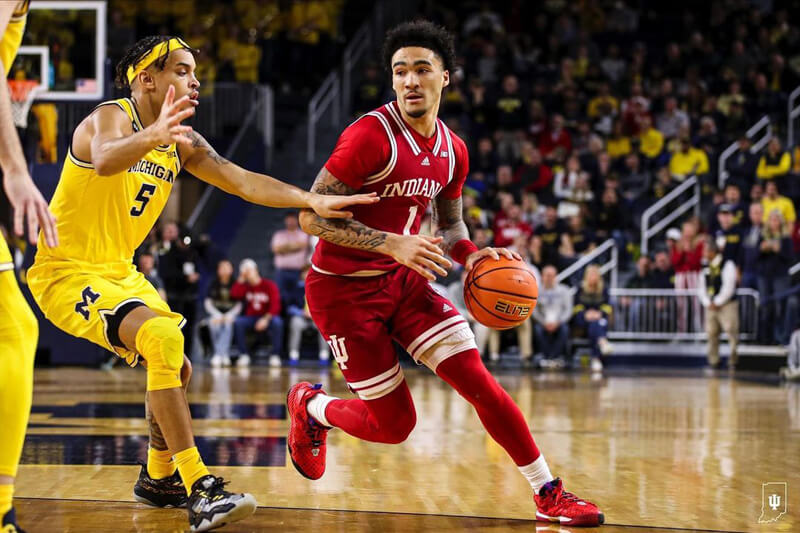 Indiana wraps up the regular season when it hosts Michigan on Sunday at Assembly Hall. The Wolverines are 17-13 overall and 11-8 in Big Ten play. 
Sunday's game will tip at 4:30 p.m. ET on CBS:
Indiana's up-and-down season hit a low point on Tuesday with an embarrassing 90-68 loss to Iowa at Assembly Hall.
"Watching the film was embarrassing," Mike Woodson said Friday morning. "It was just — it was probably the worst display of basketball since I've been here as a coach. It was awful. We didn't do anything that we set out to do going into that ballgame."
While the Hoosiers are a lock to be selected for the NCAA tournament, reversing course from Tuesday's debacle is of utmost importance if a run is to materialize this month.
At this point of the season, Indiana's Jekyll and Hyde form doesn't bode well for stringing together wins in postseason play. In recent weeks, Indiana has a win at Big Ten regular season champion Purdue and two losses by 15 or more points.
Time is also running out to bring Xavier Johnson back. The fifth-year senior warmed up on Tuesday before the Iowa game, but never took off the candy-striped pants. Based on his comments Friday, Woodson was still uncertain about the status of Johnson.
"Got to go through practice and see where he is," Woodson said. "But hey, listen, I'm counting on the guys that's been playing, and we just got to see what — where he is right now. Because he has not really practiced a lot. We've just got to see where it takes us today."
THE FIRST MEETING
Indiana's 62-61 win at Michigan on Feb. 11 was not a well-played game by either team. But it's a loss that will sting Michigan if the Wolverines aren't in the NCAA tournament field come Selection Sunday.
The Wolverines led by as many as 11 in the first half and by seven with 11:34 remaining in the game. Michigan would score just eight points over the final 11:34 and went scoreless after a Hunter Dickinson layup with 5:12 to play.
Indiana wasn't much better as the Hoosiers only had a dunk by Trayce Jackson-Davis and two free throws from Jalen Hood-Schifino in the final 5:12. Neither team scored in the last 2:58.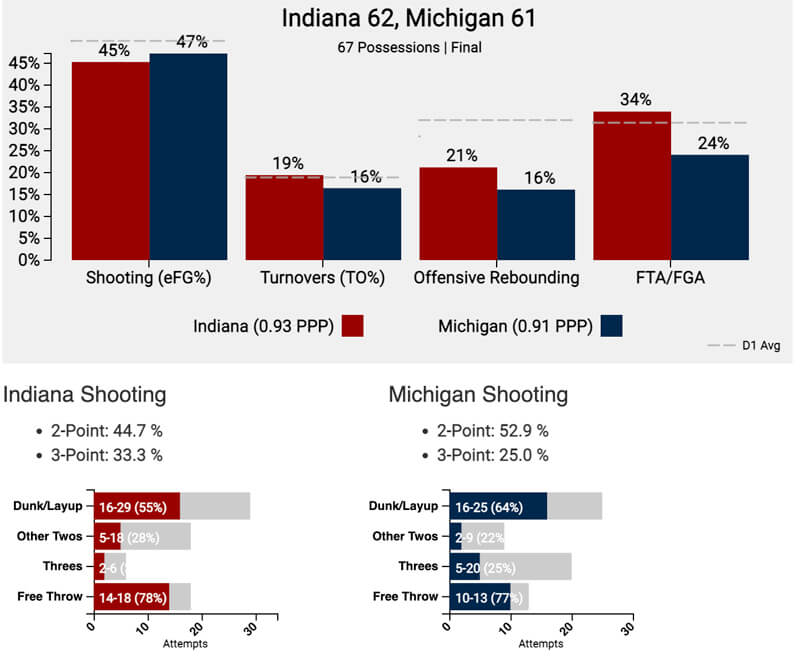 Jackson-Davis and Hood-Schifino were the clear standouts for Indiana. Jackson-Davis went for 28 points and 11 rebounds in what was IU's eighth win in its last nine games. And Hood-Schifino added 21 points.
A big reason for Michigan's offensive struggles in the second half was an underwhelming performance from its guards. Dug McDaniel, Kobe Bufkin and Jett Howard combined for five points in 49 second-half minutes.
Indiana was also able to gain an advantage in the win from the free throw line, which has been a rare occurrence this season. The Hoosiers currently rank last in the Big Ten in opponent free throw rate (FTA/FGA). But in Ann Arbor, Indiana attempted five more free throws than Michigan and outscored the Wolverines by four from the line.
TEMPO-FREE PREVIEW
All stats are conference-only and are updated through Thursday's games.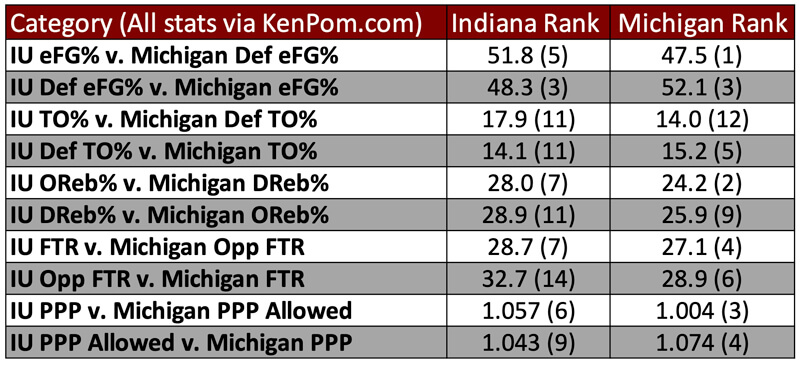 From an efficiency margin standpoint, Michigan is the second-best team in the Big Ten. The Wolverines have played a light league schedule (11th toughest per KenPom), but have been in most of their league games. Seven of Michigan's eight Big Ten losses have come by two possessions or less.
For Indiana, the key is refocusing on defense. The Hoosiers have fallen to ninth in the conference in points per possession allowed after Tuesday's loss against Iowa. Last season, Indiana finished the season with the Big Ten's best defense.
"Our defense has been solid this year," Woodson said Friday. "Even when we've lost games, we've had spurts in the game where we've been pretty good defensively. So I'll never diminish that."
WHAT IT COMES DOWN TO
Indiana has won its last two games against Michigan in dramatic fashion after dropping the previous nine contests.
The KenPom projection is a four-point Indiana win with a 66 percent chance of victory. The Sagarin numbers favor Indiana by 4.5 points.
In addition to the Big Ten tournament and NCAA tournament seeding implications on Sunday, it is also senior day in Bloomington. Trayce Jackson-Davis, Race Thompson, Xavier Johnson and Miller Kopp will all be honored in a postgame ceremony.
Both teams should also be desperate for a win.
If Michigan wants a chance of an NCAA tournament bid without winning the Big Ten tournament, the Wolverines need a victory. The Wolverines just suffered a heart-breaking overtime loss to Illinois at the State Farm Center on Thursday night.
And for Indiana, a win sends the senior class out on a positive note at Assembly Hall while also reestablishing some momentum ahead of next week's trip to the United Center in Chicago for the conference tournament.
(Photo credit: IU Athletics)
Filed to: Michigan Wolverines