What to Expect: Indiana at Michigan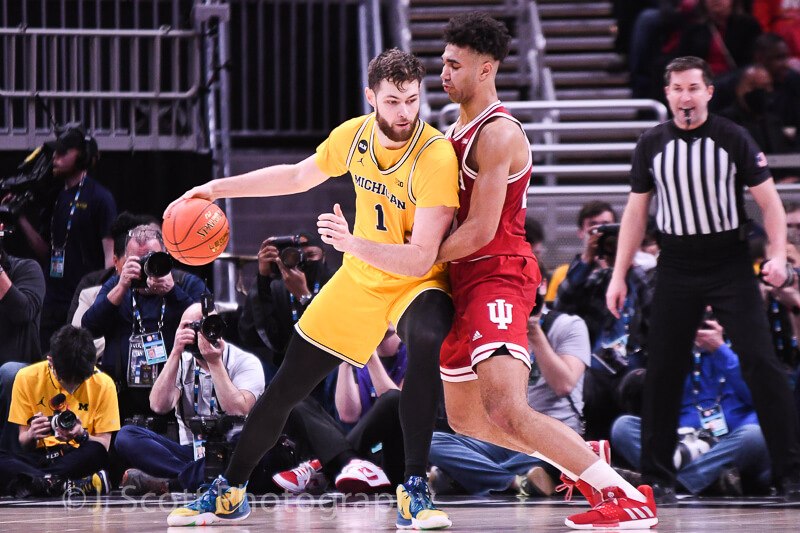 Indiana will aim for its third Big Ten road win on Saturday night in Ann Arbor. The 17-7 Hoosiers will take on a Michigan team coming off of home wins against Ohio State and Nebraska.
Saturday's game is set for a 6 p.m. ET tip on ESPN:
After hard-fought home wins against Purdue and Rutgers, Indiana is back on the road for its next two games. Up first is Michigan on Saturday at the Crisler Center. The Wolverines are 14-10 overall and 8-5 in the Big Ten.
Michigan's season has been a disappointment overall with a lackluster non-conference performance that included a home loss to Central Michigan. However, the Wolverines are still hoping to play their way into the NCAA tournament with a strong finish to the regular season. And the schedule will have plenty of opportunities for quality wins beginning on Saturday.
Indiana, meanwhile, has been playing its best basketball of the season. The Hoosiers are 7-1 in their last eight with the lone loss in that stretch coming to Maryland at the Xfinity Center. Trayce Jackson-Davis is performing at a first-team All-American level, Jalen Hood-Schifino is rising up NBA draft boards and IU's role players are stepping up in key spots. Purdue has a firm grasp on the Big Ten regular season title, but the Hoosiers are playing for Big Ten and NCAA tournament seeding.
MEET THE WOLVERINES
Michigan's depth took a major hit in December when point guard Jaelin Llewellyn tore his ACL in a loss to Kentucky in London. The injury forced freshman Dug McDaniel into the starting lineup and the Wolverines have been rolling with two freshmen and a sophomore in the backcourt since.
The centerpiece of the Michigan roster, however, remains Hunter Dickinson. The 7-foot-1, 260-pound lefty leads the team in scoring, rebounding and blocked shots. Dickinson averages 18 points, 8.5 rebounds and 1.6 blocks in 30.9 minutes per game. He's a 38.9 percent 3-point shooter and shoots 72.1 percent from the foul line.
Junior Terrence Williams starts at the four, but has been underwhelming in a larger role this season. The 6-foot-7 forward shoots 40.4 percent from the floor and only 28.3 percent on 3s in 60 attempts. Williams is a solid rebounder, ranking in the top 20 in the league in both offensive and defensive rebounding percentages. If Indiana sends help against Dickinson in the post, doubling off of Williams is probably the safest bet.
Likely first-round NBA draft pick Jett Howard starts at the three and is one of the better offensive talents in the Big Ten. The son of Michigan coach Juwan Howard, Jett is second on the team in scoring at 15 points per game and is 65-for-166 on 3s (39.2 percent). Nearly 63.3 percent of his field goal attempts are 3-pointers and at 6-foot-8 with a quick release, he doesn't need much space to get his shot off.
McDaniel starts at the point with sophomore Kobe Bufkin at the two. Bufkin is the team's best backcourt defender and will likely draw the Jalen Hood-Schifino assignment defensively. McDaniel is listed at 5-foot-11, which seems generous. He averages 3.8 assists in 27.5 minutes per game and is fourth on the team in scoring at 7.2 points per game. McDaniel is shooting 35.9 percent from the field and 33.9 percent on 3s.
Bufkin is a former McDonald's All-American with plenty of long-term upside. Bufkin is a streaky perimeter shooter but is third on the team in scoring at 12.3 points per game. He's a solid athlete who rebounds well for a guard (4.3 per game) and also is Michigan's best free throw shooter at 81.1 percent. Bufkin is second on the team in assists at three per game and has a team-high 32 steals.
Michigan's bench depth consists primarily of Joey Baker, who transferred from Duke and freshman Tarris Reed Jr.
The 6-foot-7 Baker is 18-for-42 on 3s in conference games and is 8-for-13 over Michigan's last three games.
Reed Jr. was a coveted recruit and has legitimate size at 6-foot-10 and 260 pounds. But he's been a terrible free throw shooter (38.9 percent) and foul-prone with 6.5 fouls per 40 minutes, per KenPom.
TEMPO-FREE PREVIEW
All stats are conference-only and are updated through Wednesday's games.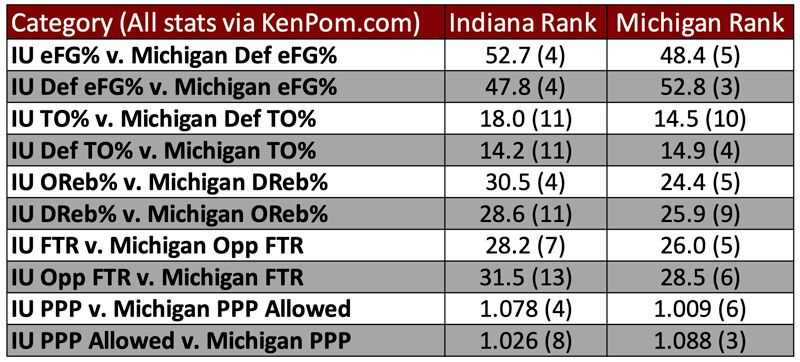 As you might expect from a team with an 8-5 record in league play, Michigan has produced some solid numbers in conference play. The Wolverines take care of the ball and have one of the top offenses in the league.
Michigan is fourth in the Big Ten in 2-point field goal shooting percentage (51.6) and produces 31.9 percent of its offense in league play from 3-pointers, which is the fourth highest in the conference.
The Wolverines don't force many turnovers, limit their fouling and don't emphasize crashing the offensive glass.
WHAT IT COMES DOWN TO
The KenPom projection is Indiana by one with a 52 percent chance of a Hoosier victory. The Sagarin numbers like Indiana by about a point.
Outside of a strong second half last season in Indianapolis, Michigan has dominated Indiana in recent seasons. Dating back to March of 2016, Indiana is 1-9 against Michigan in its last 10 games.
The Jackson-Davis vs. Dickinson matchup looms large, but this game will likely be decided by the players around the two stars. Indiana needs much better guard play than it had in its last road game in College Park to be successful away from Assembly Hall. Jalen Hood-Schifino has been much better overall at home than on the road and needs the star freshman to limit turnovers and shoot well to prevail.
It should be a festive atmosphere at the Crisler Center with an evening weekend tipoff. Michigan fans have been in and out on this Wolverine team this season, but with three straight wins and an opportunity for a quad 1 win, should have a strong showing of support with the 18th-ranked Hoosiers in town.
Filed to: Michigan Wolverines