Trayce Jackson-Davis continues to shine on and off the court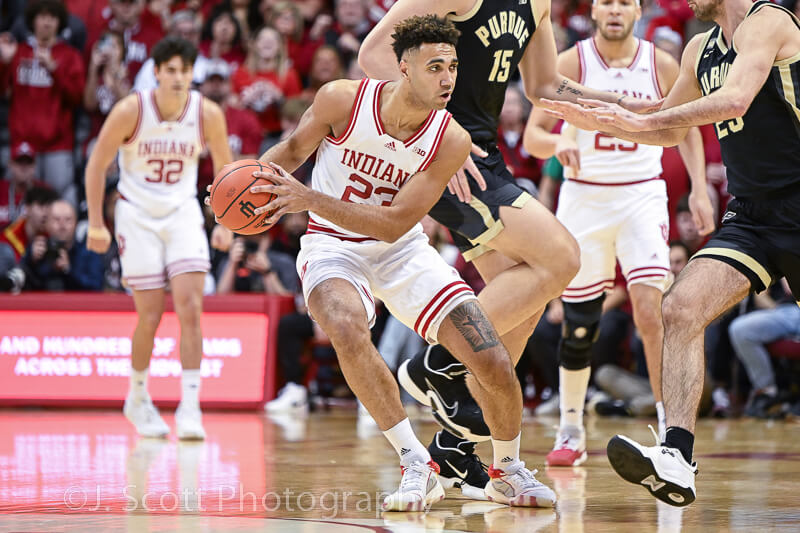 After the death of former Purdue big man Caleb Swanigan in June, Trayce Jackson-Davis sent a text of care and consideration to Boilermakers head coach Matt Painter.
"It just kinda shows you what's inside of him," Painter said Saturday of IU's star forward. "Trayce is fabulous. Just a great person and a great player…he's a super, super person."
Jackson-Davis' profile has only risen since his time at Indiana began. On top of being one of the most electrifying players in college basketball, he's grown into a leader. The senior is never caught up in drama or off-the-court trouble and has been the program's poster boy for years.
Painter and Purdue heavily recruited TJD out of high school. Eventually, he chose Indiana. Although, he hadn't beaten the Hoosiers arch-rival until last season. He and his Hoosiers did it again at Assembly Hall this year.
In Saturday's 79-74 win over No. 1 Purdue, the two All-Americans down low were the headline coming into the game and after.
Jackson-Davis and Zach Edey combined for 58 points and 25 rebounds. It was clear who the best two players on the floor were. And it wasn't really close. Edey's positioning and ability to use his body made it almost impossible to guard his 7-foot-4 frame when he caught the ball. Jackson-Davis efficiently passed out of double teams and stretched the floor off the dribble. He also ran the floor and used his athleticism.
When Edey was out of the game, the physicality and strength of Jackson-Davis shined. But no one should fault him for struggling defensively against Edey. TJD's recovery defense continued to be excellent. He finished with five blocked shots.
If you remember last season's Purdue-Indiana game in Bloomington, both Jackson-Davis and Edey didn't exactly leave their claw marks on the box score. TJD found himself in foul trouble early on and only logged 12 minutes of action and made one field goal. Edey scored 12 points on only six shot attempts.
Last season's rivalry matchup in Assembly Hall was dominated by guard play. This season, the post held the spotlight. Sometimes the hype of a matchup like TJD vs. Edey can be too much for the matchup itself to live up to. But on Saturday, it did.
"Well again, Edey and Trayce are two of the top players in the country, I think. And they showed that tonight," Mike Woodson said postgame.
Jackson-Davis's emergence and consistency in areas other than rim protection and scoring have stood out. It's propelled him into higher NBA draft consideration and national player of the year contention.
"His decision-making when he first started when you doubled him was just okay. And now he's gotten where he's really good," Painter said. "But tonight he was physical. When he made move and he did stuff, our guys were bouncing off of him, I mean it was impressive. He's got a bright future. There's some really really intelligent NBA people out there that understand that. So you can look at those mock drafts or whatever, but he's gonna spend a long time in the NBA."
With less than five minutes to go in the first half and an 11-point Hoosiers lead, TJD was fouled in the post by Edey and muscled the ball in. And-one. Then, he stalked and trotted around the perimeter.
It feels like every game Jackson-Davis has the confidence that he's the best player on the floor. Whether he's against a 7-foot-4 Zach Edey or not, he owns the paint. And he acts as if he knows it.
If Indiana is to be a second-weekend team in the NCAA tournament, its All-American will have to continue along with his current form. Based on his recent stretch of stellar play, Jackson-Davis doesn't appear to be slowing down anytime soon. As dominant as he's been on the floor, he also continues to lead off the floor, as evidenced by the text he sent Painter over the summer. That type of leadership exemplifies why Jackson-Davis is a star the program can be proud of.
Filed to: Trayce Jackson-Davis