What to Expect: Purdue at Indiana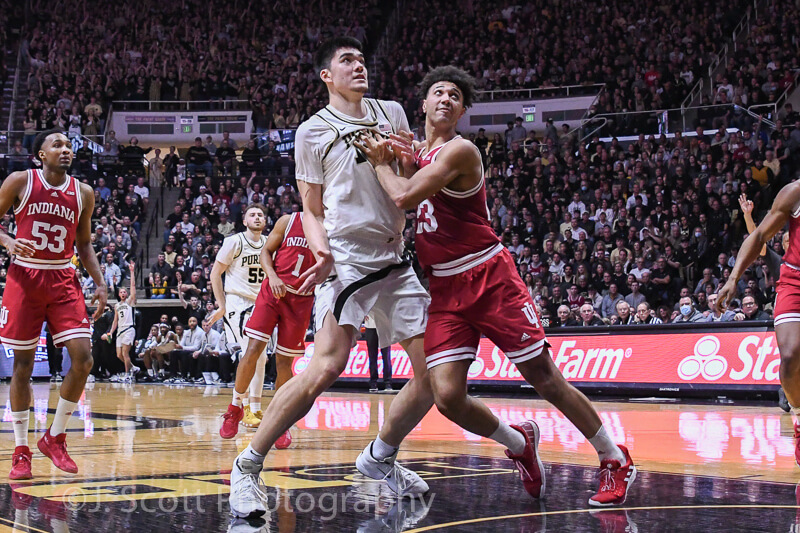 Indiana will try to knock off the nation's No. 1 team when it hosts Purdue on Saturday at Assembly Hall. The Boilermakers are 22-1 overall, 11-1 in the Big Ten and have won nine straight games.
Saturday's game will tip at 4 p.m. ET on ESPN:
Could this be the year Purdue breaks through and reaches the Final Four? The pieces are in place for Matt Painter to make a deep run in March.
After losing Jaden Ivey, Sasha Stefanovic and Trevion Williams, it was assumed the Boilermakers would take a step back. That has not occurred. Purdue is better than it was a season ago. Zach Edey is the frontrunner for national player of the year, Purdue's freshmen guards have been excellent and its role players almost always deliver.
While the Big Ten regular season race is all but decided, Saturday is a major challenge and opportunity for Indiana. The Hoosiers are playing for pride in a rivalry that has been one-sided for several years and NCAA tournament seeding. A victory over the nation's No. 1 team would be a marquee piece to the resume.
MEET THE BOILERMAKERS
The Purdue formula is straightforward. Feed Zach Edey. The 7-foot-4, 290-pound junior has the seventh-highest usage rate in the country and is dominant when he catches the ball in the post. Edey's 22 points per game lead the Boilermakers as do his 13 rebounds per game. He's the best offensive rebounder in the country and shoots 61.7 percent from the field.
There will be plenty of pregame discussion about the best way to guard Edey. The reality is Purdue has played 23 games and has one loss by a point in early February against the nation's second-best defensive team in Rutgers. Indiana's best strategy will be to mix up its coverages against Edey to keep him guessing and try to prevent catches deep in the post where he can just turn around for easy layups.
As great as Edey is, he wouldn't be as dominant without a great supporting cast. And Purdue has one. Two freshman guards, Fletcher Loyer and Braden Smith, are the team's second and third-leading scorers. To this point, neither Loyer or Smith have performed like freshmen navigating the Big Ten for the first time.
Loyer is the younger brother of former Michigan State Foster Loyer and averages 12.4 points per game. He's shooting just 39 percent from the field overall, but is connecting at a 36.2 percent clip from distance.
Smith has team-highs with 99 assists and 25 steals and shoots 40 percent on 3s. The Westfield product is also a good rebounder (4.6 per game) and an excellent free throw shooter (89.7 percent).
Rounding out the Purdue starting lineup are Ethan Morton and Caleb Furst. Morton is a 6-foot-7 guard who rarely shoots but makes a ton of winning plays. Morton is second on Purdue in assists, second in steals and second in blocked shots.
The 6-foot-10 Furst averages 6.4 points and 5.1 rebounds in 19.3 minutes per game and is the only Purdue regular other than Edey shooting better than 50 percent from the field.
New Castle product Mason Gillis came off the bench against Penn State and set a Mackey Arena record with nine made 3-pointers. The 6-foot-6 forward shoots 40 percent on 3s.
The other rotation regulars to know are guards David Jenkins and Brandon Newman and forward Trey Kaufman-Renn.
Jenkins and has taken 48 of his 71 field goal attempts from 3. He's shooting only 33.3 percent from distance. Newman was billed as a shooter out of high school, but has really struggled in Big Ten play from the perimeter. He's just 9-for-31 on 3s in conference games. Kaufman-Renn redshirted last season. He was routinely playing double-figure minutes early in the season, but has logged more than 10 minutes just twice in the last nine games. The Silver Creek product is just 4-of-19 on 3s this season.
TEMPO-FREE PREVIEW
All stats are conference-only and are updated through Thursday's games.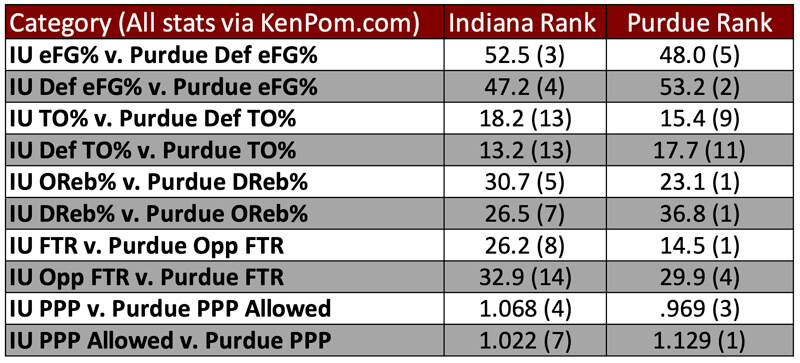 A glance at Purdue's KenProm clarifies why this is the Big Ten's most dominant team. The Boilermakers are the best rebounding team in the conference and have the lowest opponent free throw rate.
Purdue has grabbed 264 more rebounds than its opponents this season. It has also attempted 242 more free throws than its opponents. Those are hard numbers to overcome.
In conference play, Purdue is fifth in 3-point shooting percentage, third in 2-point shooting percentage and fourth in free throw shooting percentage.
WHAT IT COMES DOWN TO
The KenPom projection is Purdue by two with a 42 percent chance of an IU victory. The Sagarin numbers like the Boilermakers by just over a point.
Indiana's defense has been average in Big Ten play and average won't get the job done against Purdue. The Boilermakers are an elite offensive team because of Edey's dominance in the paint. Trayce Jackson-Davis has done an excellent job of staying out of foul trouble this season, but Edey is a unique challenge. Last season, Jackson-Davis couldn't stay on the floor in Bloomington because of foul trouble and Indiana had to go to Michael Durr to defend Edey.
Saturday's atmosphere should be electric in a sold-out Assembly Hall. The keys for Indiana to pull off the upset are taking care of the ball, limiting second-chance opportunities for Purdue and hitting perimeter shots.
Filed to: Purdue Boilermakers