Malik Reneau's progress marked by patience and confidence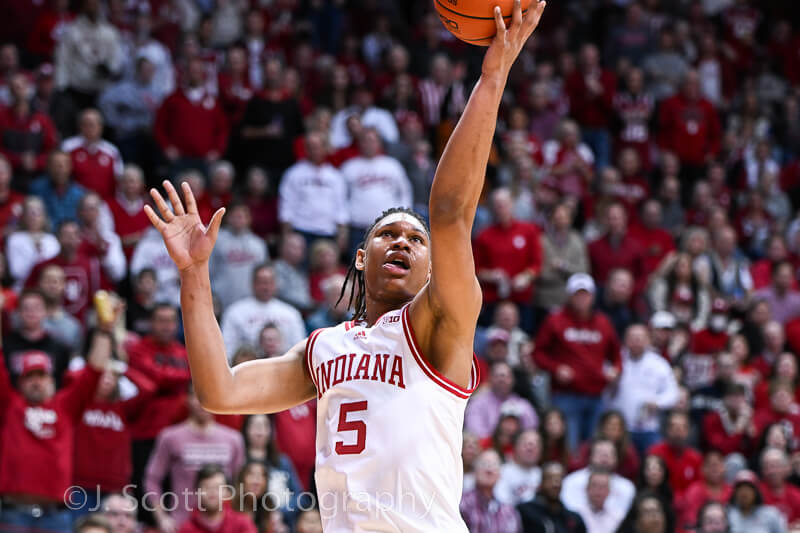 In Indiana's 86-70 win against Ohio State on Saturday, Indiana freshman Malik Reneau was all over the floor. Diving after loose balls, taking charges, making 3s and eating his seconds at the rim. It was easily his best Big Ten performance as a Hoosier.
Early in the season, it looked like the Montverde product was coming for blood. Through his first six games of the season, he averaged 11.2 points a game and appeared to be up to speed with the college game.
Before last Wednesday's Minnesota game, Reneau had not scored in double-figures since late November. In that stretch, Reneau looked timid. He was turnover and foul-prone, and it looked like things were moving too fast for him. Now, things have slowed down.
How has the Miami, Florida native gotten his mojo back?
"Just calming down on the court," Reneau said. "Just being calm when I'm out there and just letting the game come to me."
That's what it sounds like when the game is starting to slow down. There's a noticeable difference in his confidence. He isn't afraid to dive on the floor, make the right pass and help on the weak side. On Saturday night he did all three of those.
With the injury to Jordan Geronimo on Saturday, the 6-foot-9 freshman didn't just get the opportunity to shine, he had to. In 23 minutes, Reneau tallied 15 points, eight rebounds and three assists. He drew a charge and knocked down his second career 3-pointer.
A lot of Reneau's best opportunities against the Buckeyes game on the offensive glass. Four of his eight rebounds were on the offensive end.
It helps to have an All-American next to him in the frontcourt. It makes it easy to crash the glass and work the high-low game. Trayce Jackson-Davis' recent play requires a lot of attention on him. Early on, the Buckeyes were doubling TJD hard and Reneau was one of the beneficiaries.
"Everything just opens up when they start double-teaming Trayce," Reneau said postgame. "It lets me, Race (Thompson), be able to isolate on the other side. Post ups…get open threes, cuts, stuff like that."
When in isolation and with his back to the basket, Reneau has the nifty footwork and soft touch to get to his spots on the block and be efficient. That was on display during several possessions against the Buckeyes.
"We got to work with him some more in terms of his low post moves. 'Cause he's got great footwork and a nice touch around the rim," Mike Woodson said. "I thought tonight he was burying himself too low. He wasn't taking the guy high enough…that's something that's fixable. He did have a lot of cleanup stuff…Malik's got a big body. And I'm on him about using his body because he is talented enough to do that."
There's polishing that needs to be done to the freshman's game. But, his stellar play so early on in his college career bodes well for Indiana's future in the frontcourt and finding a replacement for Jackson-Davis.
The fouling remains Reneau's biggest flaw on the defensive side. This season, he has totaled 57 fouls. That's 15 more than his high school teammate Jalen Hood-Schifino who has the second most on the team. Against the Buckeyes, Reneau only played 23 minutes due to having four fouls. If he wants big minutes, he'll need to clean up that area of his game.
Indiana's five-game win streak has been a program effort. Players are playing their best ball at the right time and the coaching staff has made the necessary adjustments on the defensive end. What shouldn't be lost, though, is what Reneau has done this past week and what it means for the future of Indiana's frontcourt.
Filed to: Malik Reneau