Jalen Hood-Schifino and Kaleb Banks shine in Indiana's 86-70 win against Ohio State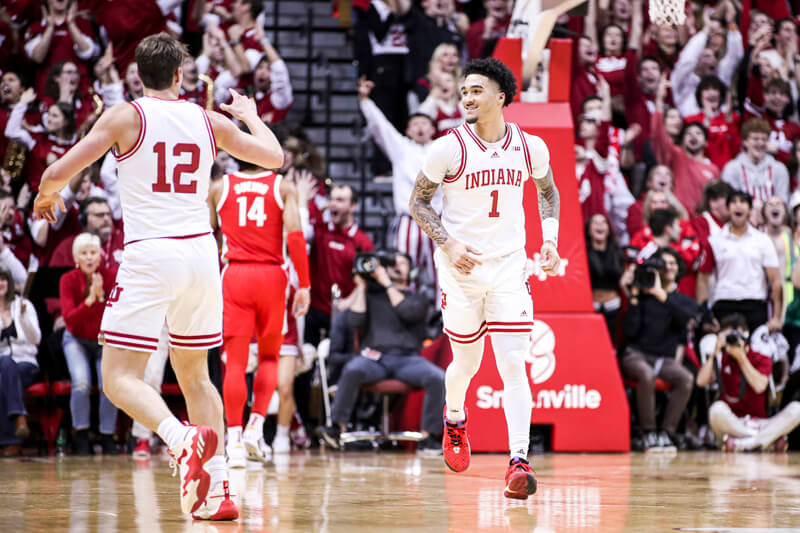 It was just another Saturday night in Bloomington. The town was filled with candy stripes and buzzing with excitement, anxiously waiting for Indiana basketball's 8 p.m. tip against Ohio State. As the time drew nearer, the excited crowd filed in steadily, filling almost every corner of Simon Skjodt Assembly Hall as usual.
But that was just about where the normalcy stopped.
It started with an in-person "Martha the Mop Lady" instead of the traditional video on the jumbotron. Then, six made 3-pointers and a 15-0 run to close the first half. Then, a piece of the jumbotron fell to the floor just before the second half.
Following the five-minute delay that ensued, the weirdness abated — for the most part. Indiana held a comfortable lead for the entire 20 minutes of the second half, decisively beating Ohio State 86-70 in one of the most successful offensive performances of the season.
The game trended in Indiana's favor in the second half, much as it did for the final three and a half minutes of the first half when the Hoosiers went on their 15-0 scoring run. And while the roaring crowd quite literally brought the house down, or at least a piece of it, even that couldn't disrupt the groove Indiana was in.
Trayce Jackson-Davis opened the second-half scoring with a dunk, and Indiana held a double-digit lead for the rest of the night. But some of the biggest reasons why the Hoosiers won so comfortably came in the first half.
Jalen Hood-Schifino came out poised, calm and confident, playing arguably one of the best halves of his college career. With a shot as smooth as silk, he connected on a career-high six 3-pointers on seven attempts for a whopping 20 first half points.
And since it couldn't just be that simple, he did it all while fighting an upset stomach.
"I said 'Hey, I've had some of my best games when I've been sick, so hell, I can't feel sorry for you,'" Mike Woodson said about his pre-game message to Hood-Schifino. "He performed. I thought he came in and played his butt off."
"Playing his butt off" is a normal expectation for a player like Hood-Schifino, who has been a staple in Indiana's lineup since the beginning of the season. What stood out Saturday was his maturity and his ability to push through physical discomfort to propel his team.
Hood-Schifino wasn't the only one who had a unique first half, though. Kaleb Banks entered the game just about 13 minutes into the first half, for one of his earliest appearances of the season. Jordan Geronimo was ruled out of Saturday's game after reaggravating a left leg injury, per the program, thus explaining why Banks was able to see the court so soon.
Banks took advantage of the opportunity. He played like he belonged and was a big contributor to Indiana's energy in the first half. In the 12 total minutes Banks played, he put up five points and a career-high seven rebounds.
"He's been very in tune to what we're doing in practice, in shootaround, walk-throughs," Woodson said. "I thought it was time to give him an opportunity, and I thought he came out and performed. He shined tonight."
Banks was a force underneath the basket, not afraid to get mixed up with the physicality of rebounding or driving into the paint. Despite not having the chance to play very significant minutes since December 20 against Elon, Banks looked comfortable and on the ball, figuratively and literally.
Saturday night marked one of the first times Banks seemed to come into his own on the court. A quieter presence compared to many of his teammates, and the other freshmen on the team, Banks didn't immediately start with a bang. But in what seems to be a principle in Woodson's program, the "next man up" philosophy worked once again.
"My staff has done a tremendous job in terms of trying to bring these young guys along, and everyone is not going to be Jalen Schifino and Malik Reneau," Woodson said. "It's been a slow process with him, but tonight I thought he responded. I feel good about putting him in the game."
Banks and Hood-Schifino perfectly represented the combination of doing what is expected night in and night out and doing things not seen before. Like the piece of the jumbotron that fell, Hood-Schifino's near-perfect shooting wasn't expected.
And while one would hope no more pieces of Assembly Hall come tumbling down, sometimes the unexpected parts of a game end up being the most important.
(Photo credit: IU Athletics)
Filed to: Jalen Hood-Schifino, Kaleb Banks