Five takeaways from Indiana's win against Ohio State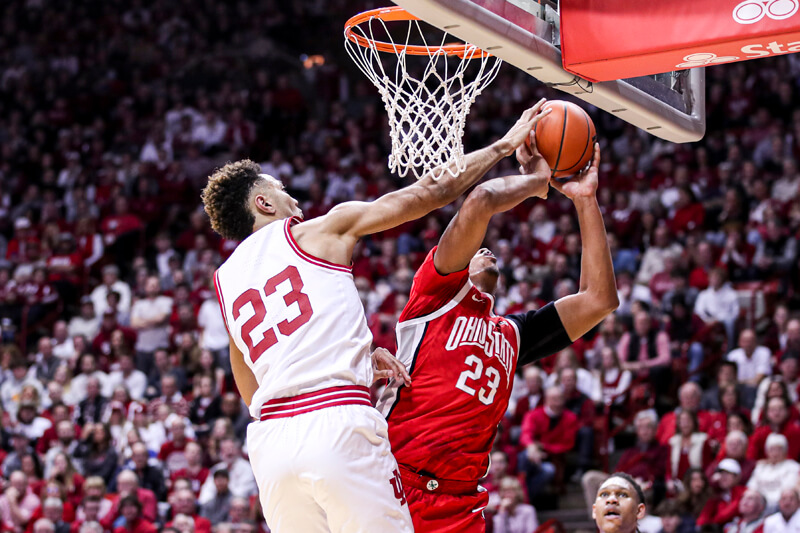 Indiana improved to 15-6 overall and 6-4 in conference play with an 86-70 win against Ohio State on Saturday at Assembly Hall.
Here are five takeaways from the win against the Buckeyes:
15-0 run to end first half proves to be the difference
Indiana and Ohio State looked like two evenly matched teams for the first 16 and a half minutes of the first half.
The teams traded buckets, traded the lead multiple times and were both playing at a similar level. But Indiana flipped a switch over the final three and a half minutes of the half, which proved to be the difference.
The contributions during the run came from across the roster.
Five different players scored during the 15-0 run. Chris Holtmann called a timeout after the first six points, but couldn't change the momentum. The run was capped off by the most unlikely hero of the first half, Kaleb Banks, who made a transition layup off of an assist from Trayce Jackson-Davis.
It was one of the most dominant stretches of play of the season to date for the Hoosiers. Indiana's defense, which hasn't been a constant this season, came up with stop after stop.
"That had a lot to do with it. We got stops — I came out of the time-out, I'm like, guys, we're just sitting here trading buckets, and we can't trade the rest of the game," Mike Woodson said. "Somebody has got to make a stand. We came out of that time-out, I talked about getting three or four stops, and we got a lot of stops and was able to get out and make plays in the open court offensively to get the cushion that we needed going in at halftime."
Jackson-Davis posts another double-double on "off" night
The standard set by Jackson-Davis in recent weeks is second to no one in the country.
The lefty All-American entered Saturday's game averaging 21.8 points, 13.6 rebounds, 4.7 assists and 3.9 blocked shots in 36.4 minutes per game in Big Ten play.
Jackson-Davis only exceeded his Big Ten average in one statistic – assists with six – as he posted another double-double with 18 points and 10 rebounds.
In an uncharacteristic performance, Jackson-Davis shot only 8-for-18 from the field and missed several point-blank looks at the rim.
"I think Trayce slowed himself down. He's the one that missed a lot of chippies around the rim, but when you look at the stats, he had 18 and 12 rebounds? 10 rebounds. That's a man's game, I think," Woodson said. "He's not going to make every shot that he gets around the bucket, but it put pressure on the defense to have to guard him, and tonight he missed a lot of shots that he's been making. Had he made them, he probably had a 30-plus point night tonight."
The fact that Indiana scored 86 points on a night where its best player didn't have his "A" game offensively shows how far the Hoosiers have come offensively.
Through 10 Big Ten games, Indiana has the second-best offensive efficiency in the Big Ten at 1.084 points per possession.
Jalen Hood-Schifino carries offense early on
Jalen Hood-Schifino struggled in IU's 61-57 win at Minnesota on Wednesday night.
He was just 2-for-11 from the field and 0-for-3 from the perimeter.
But Hood-Schifino was red hot on Saturday night in the first half against Ohio State. The Montverde Academy product scored 20 of his game-high 24 points in the first half. He was 7-for-9 from the field and 6-for-7 on 3s. And he did it with an upset stomach.
"Fino, he's ready to go at any moment, at any time," Malik Reneau said. "He prepares mentally, physically, and it's two or three days before the game time, he's in the gym, getting up shots, after practice, before practice. He's really prepared for when those games come to perform like he performed today."
At the halfway points of conference play, Hood-Schifino is 17-for-36 on 3s. His 3-point percentage (47.2) is fourth best in the Big Ten.
Indiana takes advantage of Ohio State's lackluster rebounding
Ohio State entered Assembly Hall as one of the Big Ten's worst defensive-rebounding teams.
Saturday's performance didn't help matters for the Buckeyes.
The Hoosiers grabbed 15 offensive rebounds in Saturday's win and had 23 second-chance points. IU's offensive rebounding percentage of 41.7 was its best against a high-major opponent all season.
Jackson-Davis and Reneau led the way with four offensive rebounds and Banks had three in just 12 minutes.
Fifth straight win keeps Indiana in the Big Ten race
Purdue has a two-game lead in the loss column and a firm grip on the Big Ten title race.
But Indiana has positioned itself in the upper half of the league standings with its current five-game winning streak.
The Boilermakers sit alone in first in the standings at 9-1, followed by Rutgers and Northwestern, who are both 6-3.
The Hoosiers, who are looking for their first finish above .500 in league play since the 2015-16 season, are a game in the loss column behind the Scarlet Knights and Wildcats.
Indiana's current five-game winning streak in Big Ten play is its longest since the 2015-16 season. That season, the Hoosiers won seven straight from Dec. 30 through Jan. 23 on the way to an outright regular season league title.
(Photo credit: IU Athletics)
Filed to: Ohio State Buckeyes