What to Expect: Ohio State at Indiana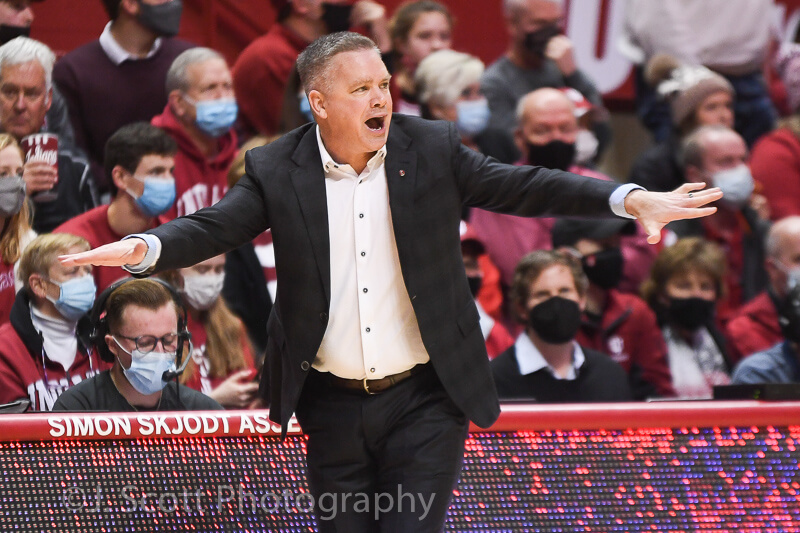 Indiana will seek its fifth straight victory when it hosts Ohio State on Saturday night at Assembly Hall. The Buckeyes are 11-9 overall and 3-6 in Big Ten play.
Saturday's game will tip at 8 p.m. ET on FOX:
Indiana survived Wednesday at Minnesota for a narrow 61-57 win against a short-handed Gophers team. It was the fourth straight win for the Hoosiers and moved the program over .500 in Big Ten play for the first time this season.
Ohio State, meanwhile, has dropped six of its last seven games. Most recently, the Buckeyes fell 69-60 on Tuesday at Illinois. Ohio State started the season 10-3 and 2-0 in the league play, but has not been able to close out games for most of January.
The two programs will meet for the 198th time on Saturday night in primetime in a pivotal game for both teams. Indiana needs to protect its homecourt and continue to stack wins with a challenging back half of the league schedule looming. And Ohio State needs to start winning to maintain hope of reaching the NCAA tournament.
MEET THE BUCKEYES
Ohio State lost Malaki Branham and EJ Liddell to the NBA, but has pieced together another solid roster overall.
Chris Holtmann assembled one of the Big Ten's best recruiting classes, added some key contributors from the transfer portal and also retained several key pieces from season's past.
For the second straight season, the Buckeyes have a freshman who wasn't a McDonald's All-American putting up gaudy scoring numbers. Brice Sensabaugh, a 6-foot-6, 235-pound wing from Orlando, is leading Ohio State in scoring. Sensabaugh is averaging 17.4 points per game and is the type of wing matchup that has burned Indiana in recent seasons. A capable perimeter shooter, Sensabaugh is knocking down 46.7 percent of his 3s and is making more than two triples per game. He takes a lot of long 2s and is shooting 49.1 percent on those attempts, per KenPom Plus.
The last two games, Holtmann has started Oklahoma State transfer Isaac Likekele over Justice Sueing. The 6-foot-5 Likekele is shooting a dreadful 37.5 percent from the field and averages just 4.1 points in 22.6 minutes per game. Sueing, who played in just two games last season due to injury, is the team's second-leading scorer at 13 points per game. He's really struggled from the perimeter and is connecting at just a 26.4 percent clip on 54 attempts.
Center Zed Key is undersized at 6-foot-8, but can certainly hold his own in the post at 255 pounds. Key, however, has battled knee and shoulder injuries this season and hasn't looked close to 100 percent healthy recently. Key is third on the team in scoring at 11.8 points per game and leads the Buckeyes in rebounding at 7.8 per game. While he's shooting 60.8 percent on 2s this season, he's just 14-for-38 (36.8 percent) on 2s the last four games.
The backup minutes at the five will go to 6-foot-11 freshman Felix Okpara, who has a team-high 24 blocks over 20 games. Okpara is shooting 59.2 percent on 2s and should be a big part of Ohio State's frontcourt in the future.
Freshman Bruce Thornton starts at the point with West Virginia transfer Sean McNeil at the two.
Thornton has a team-high 56 assists and a team-high 16 steals and has started all 20 games in his first season. Overall, he's shooting 41.1 percent on 3s, but is connecting at just a 29.2 percent clip in Big Ten play. He's also shooting just 28.6 percent on 2s in league play.
The 6-foot-4 McNeil is second in the league in 3-point shooting in conference play at 50 percent. He's fourth on the team in scoring at 9.8 points per game.
The bench rotation also includes freshman Roddy Gayle, Wright State transfer Tanner Holden and Eugene Brown III, who recently returned from injury.
TEMPO-FREE PREVIEW
All stats in the graphic are for conference games only and are current as of Friday afternoon.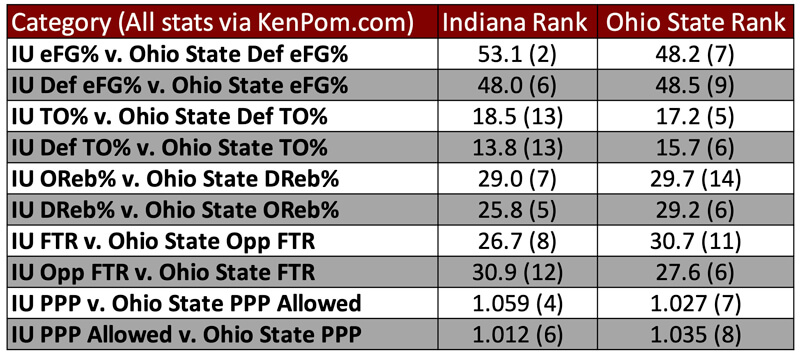 Ohio State is still ranked in the top 20 of KenPom despite an 11-9 record overall. The Buckeyes have been in several close games this month, but have a few glaring deficiencies.
The biggest issue is defensive rebounding. The Buckeyes are last in the conference in league play on the defensive glass as opponents grab 29.7 percent of their missed shots.
Ohio State has also struggled to defend without fouling in conference games. Buckeye opponents have a free throw rate (FTA/FGA) of 30.7 percent, the fourth-worst mark in the league.
WHAT IT COMES DOWN TO
The KenPom projection is Indiana by three with a 61 percent chance of victory. The Sagarin numbers like the Hoosiers by 3.5 points.
The Sensabaugh matchup is of the most concern for Indiana. The Hoosiers have struggled to contain wing scorers with the most recent example being Jamison Battle on Wednesday in Minneapolis.
Indiana is playing with a lot of confidence and Trayce Jackson-Davis has been playing as well as anyone in the country. He'll be a tough cover for Ohio State, particularly with Key less than 100 percent healthy. With a road trip to Maryland (unbeaten at home in league play) looming followed by home games against Purdue and Rutgers, the Hoosiers would be well served to take care of business on Saturday night and keep momentum rolling.
Filed to: Ohio State Buckeyes