What to Expect: Indiana at Minnesota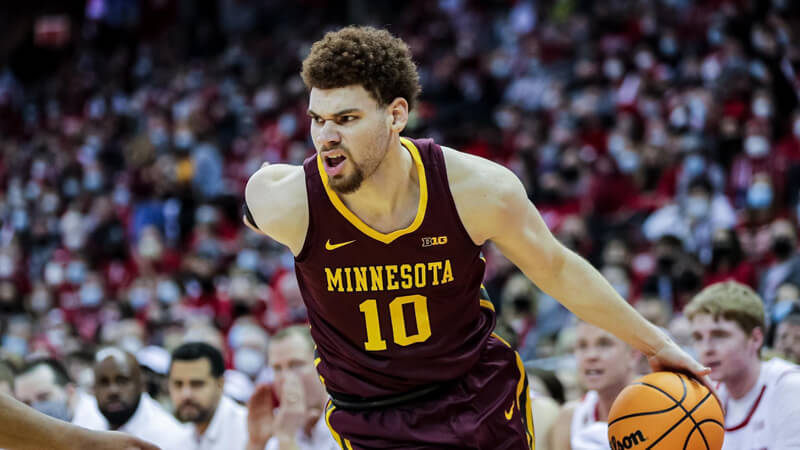 Indiana will try for its fourth-straight win when it travels to Minnesota on Wednesday night. The Golden Gophers are 7-11 overall and 1-7 in Big Ten play.
Wednesday's game will tip at 9 p.m. ET on BTN:
After a 10-1 start last season, Minnesota has struggled to find much success under Ben Johnson. The Gophers were often competitive in Johnson's first season but finished 13-17 overall and 4-16 in Big Ten play. Still, Minnesota finished the season ranked just outside the top 100 in KenPom (109th) and had five wins over top 100 KenPom teams.
Season two for Johnson in Minneapolis has represented a step back thus far. The Gophers are 0-4 in Big Ten home games, have just one victory over a top 100 KenPom team and are the worst team in the conference as league play nears the midway point.
But in the Big Ten, anything can happen, so Indiana will have to keep up the level of play it has exhibited over the last three games to avoid a costly loss at Williams Arena.
MEET THE GOLDEN GOPHERS
With the graduation of Payton Willis, Morehead State transfer Ta'Lon Cooper is now the point guard for the Gophers. Minnesota runs a lot of pick-and-roll action in the halfcourt with Cooper as the main facilitator. The 6-foot-4 guard leads the Gophers in assists and minutes per game.
Cooper is third on the team in scoring at 10.8 points per game and shoots better on 3s (49 percent) than he does 2s (43.9 percent). He has one of the top 25 assist rates in the country at 34.1 percent.
Taurus Samuels, a 6-foot-1 transfer from Dartmouth, starts at the two and is a low-usage, low-efficiency offensive player. Samuels averages only 2.5 points in 19.5 minutes per game and has attempted 54 shots in 18 games. Samuels is 6-for-18 on 3s in Big Ten play.
Freshman Joshua Ola-Joseph starts at the four with Jamison Battle at the three. Ola-Joseph is a 6-foot-7 wing who is a solid athlete and a capable finisher. He's making 58.4 percent of his 2s this season. His 7.2 points per game are tied for fourth on the team.
Battle has been banged up this season, missing the first four games of the season with a foot injury. He then injured his back against Illinois on Jan. 16, but hasn't missed any games as he plays through the setback. In 14 games, Battle is averaging 12.1 points, but is shooting just 34.6 percent from the field. His effective field goal percentage is down from 54.1 percent last season to 42.7 this season.
North Carolina transfer Dawson Garcia starts at the five and is Minnesota's leading scorer. A former Indiana recruiting target, Garcia began his career at Marquette before transferring to Chapel Hill. He left North Carolina's team last season and returned to his home state to play for the Gophers.
Garcia's 14.9 points lead the team, as do his 6.3 rebounds per game. Garcia has legitimate size at 6-foot-11 and was dominant in Minnesota's lone Big Ten win at Ohio State. Against the Buckeyes, he poured in 28 points and showed off the versatility that made him such an intriguing prospect as a recruit. Garcia hasn't shot it particularly well from 3 (32.3 percent), but is a legitimate pick-and-pop threat that Indiana must account for defensively. One storyline to watch on Wednesday is Garcia's health. On Tuesday, Johnson said a right ankle sprain could keep him out against the Hoosiers.
The only Gopher that played double-figure minutes off the bench in a 60-56 loss at Michigan over the weekend is freshman Pharrel Payne. The 6-foot-9 Minnesota native shoots 67.9 percent on 2s and has a team-high 20 blocked shots.
TEMPO-FREE PREVIEW
All stats in the graphic are for conference games only and are current as of Tuesday afternoon.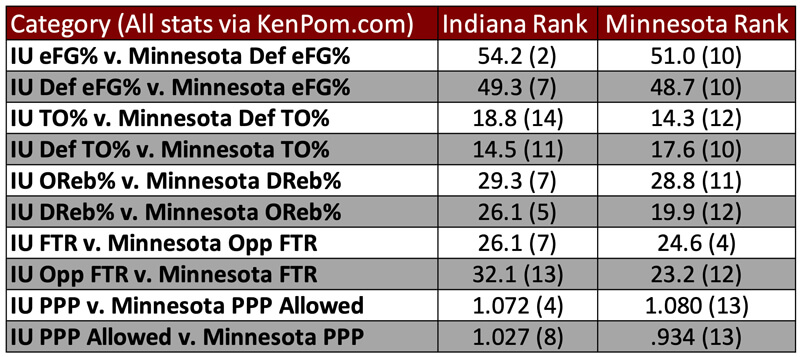 The KenPom profile for the Gophers is ugly. Looking at the four factors, the only strength for Minnesota is keeping opponents off the free-throw line.
Minnesota is 12th in the Big Ten in 3-point shooting percentage, 7th in 2-point field goal percentage and 13th in free throw percentage. The Gophers turn the ball over on 17.6 percent of their possessions and don't get to the free throw line well, either.
Defensively, Minnesota is 10th in 2-point field goal percentage defense, 11th in defensive rebounding percentage and is a below-average shot-blocking team.
WHAT IT COMES DOWN TO
The KenPom projection is Indiana by 10 with an 82 percent chance of a Hoosier victory. That win probability is the highest number left on the IU schedule. The Sagarin ratings like Indiana by 10.5 points.
Minnesota's home attendance has been poor this season as the Gophers are averaging just 8,925 fans per game in the 14,625-seat Williams Arena. That's not particularly surprising given the performance of the team and a season that is on its way to ending in the Big Ten tournament for a second straight season. That said, there's enough talent with Garcia, Battle and Cooper for Minnesota to play spoiler in a few games the rest of the season.
Indiana is 5-4 in its last nine trips to Minneapolis, including an 84-79 win last February. Wednesday's game will mark Race Thompson's final game in his hometown and a chance for the Hoosiers to pick up their third road victory of the season. Nothing is a given in the Big Ten, particularly on the road, so Indiana has to come in with the energy and focus it has exhibited over the last three games to get above .500 in conference play for the first time this season.
Filed to: Minnesota Golden Gophers