What to Expect: Indiana at Iowa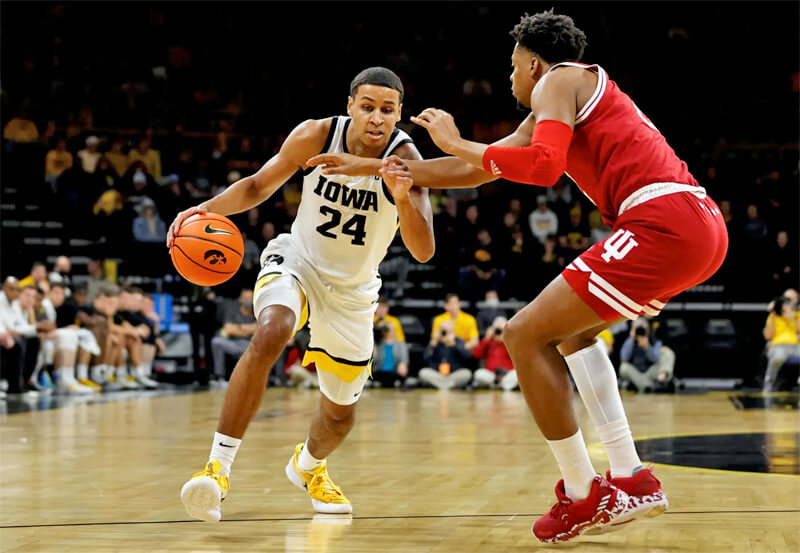 Indiana's 13-day layoff comes to an end tonight when the Hoosiers take on Iowa at Carver-Hawkeye Arena. The Hawkeyes are 8-6 overall and 0-3 in Big Ten play.
Thursday's game will tip at approximately 9 p.m. ET on FS1:
Indiana resumes Big Ten play tonight in Iowa City against an Iowa team that is scuffling. The Hawkeyes have lost three straight games, including a 92-83 setback on Dec. 21 against KenPom bottom-feeder Eastern Illinois.
Indiana won its last two games, but plenty of question marks about the direction of this season persist. The Hoosiers are a solid 10-3 overall but are now without point guard Xavier Johnson (foot) for the foreseeable future. Trayce Jackson-Davis has also been sidelined recently by a sore back, bringing his status into question on a game-to-game basis.
MEET THE HAWKEYES
Iowa has one of the best NBA prospects in the Big Ten in junior wing Kris Murray. The 6-foot-8 lefty came off the bench and scored 29 points against Indiana in an 83-74 Hawkeye win last January.
With his twin brother Keegan now in the NBA as a Sacramento King, Kris Murray is the clear No. 1 option for Fran McCaffery. Murray's 20.4 points per game lead the Hawkeyes and was recently named to the Wooden Award midseason watch list, placing him among the top 25 players in the country.
Along with the scoring, Murray also leads Iowa in rebounding at 9.8 per game. He's shooting 50.3 percent overall from the field and 37.1 percent on 3s. He's only getting to the free throw line an average of four times per game and is shooting a stellar 77.5 percent from the stripe. From a matchup perspective, Mike Woodson might have to try a variety of defenders to slow down Murray. This could be an opportunity for Jordan Geronimo to earn more minutes if he can stick with Murray on the perimeter and slow him down on the offensive glass.
Filip Rebraca starts at the five for Iowa and is quietly putting together a fantastic season. The 6-foot-9 center from Serbia transferred to Iowa before last season and has blossomed into a regular double-figure scorer. Rebraca's 14.1 points per game are second on the team as are his 8.4 rebounds per game. He also has a team-high 20 blocked shots. Rebraca is shooting 61.2 percent on 2s and is 2-for-5 on 3-pointers this season. Free throw shooting is a weakness for the Serbian. He's shooting just 59.7 percent from the line this season.
The Hawkeyes will be without Patrick McCaffery for tonight's game and likely beyond that. McCaffery announced earlier in the week that he's taking a leave from the team to deal with anxiety.
Without McCaffery, Iowa will likely go with smaller lineups featuring Rebraca at the five, Murray at the four with three guards/wings.
The lead guard in the Iowa rotation is Indianapolis native and junior Tony Perkins. Pegged as a potential breakout candidate before the season, the 6-foot-4 guard has struggled with his shooting this season. Perkins is shooting 41.5 percent overall from the field and 33.3 percent on 3s. His 11.3 points per game are third on the team. Perkins can be an explosive athlete going to the rim and Indiana would be well served to limit his opportunities in transition.
Sophomore wing Payton Sandfort was a starter for the season's first six games and again in the loss to Eastern Illinois, but played fewer than 10 minutes in the losses to Nebraska and Penn State. The 6-foot-7 wing from Waukee, Iowa shot a stellar 36.6 percent on 3s last season but is connecting at a rate of just 21.5 percent this season. With McCaffery out, Sandfort will likely get a shot at an increased role.
The rest of the Iowa backcourt rotation consists of Connor McCaffery, Aaron Ulis, Dasonte Bowen and Josh Dix.
The older McCaffery has started three of the team's 13 games and averages 7.3 points, 3.9 rebounds and 2.4 assists in 25 minutes per game.
Ulis has started the last four games but is shooting just 35.1 percent from the field this season. Bowen, a freshman, plays just over 13 minutes per game and averages 4.9 points. Dix, a 6-foot-5 freshman from Council Bluffs, is 5-for-14 on 3s this season.
TEMPO-FREE PREVIEW
All stats are valid through Wednesday's games.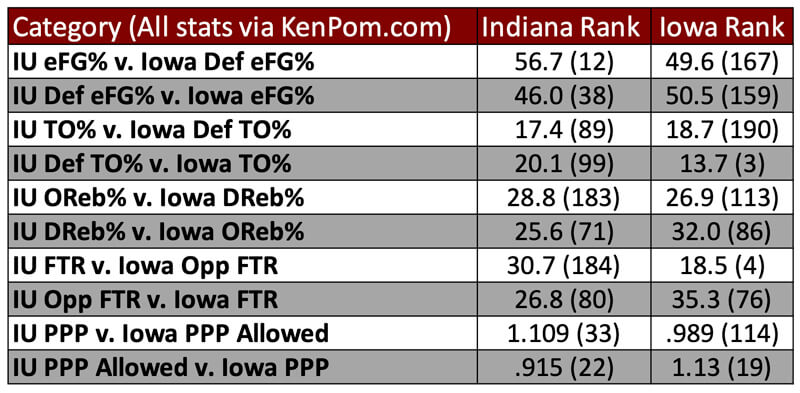 Even though it plays at an up-tempo pace, Iowa does an excellent job taking care of the ball. The Hawkeyes rank third in the country in turnover percentage at 13.7.
The real struggle for Iowa this year has been with 3-point shooting. The Hawkeyes rank just 257th in the country in 3-point shooting at 31.7 percent. Last season, Iowa was north of 36 percent from distance and ranked in the top 50 nationally percentage-wise.
The Hawkeyes, who have never been known for hard-nosed defense under McCaffery, don't send their opponents to the free-throw line. Iowa ranks 4th in the country in opponent free throw rate (FTA/FGA) at 18.5. Iowa will try to keep Indiana as a jump-shooting team and out of the paint. While the Hoosiers have shot much better this season from distance, settling from the perimeter early in possessions will be considered a success by Iowa.
Iowa is also an above-average offensive rebounding team, ranking 86th nationally in offensive rebounding percentage (32). Rebounding and turnovers typically loom large on the road in the Big Ten and tonight will be no different in Iowa City.
WHAT IT COMES DOWN TO
The KenPom projection is Indiana by 1 with a 52 percent chance of victory for the Hoosiers. The Sagarin numbers favor Iowa by less than half of a point.
At the various sportsbooks, Iowa is a 1.5-point favorite at FanDuel, 1-point favorite at Caesars, 1.5-point favorite at BetMGM and a 1.5-point favorite at DraftKings.
There's plenty to be concerned about entering this game for Indiana. The 13-day layoff is atypical but could be beneficial if it allowed some of the banged-up Hoosiers like Trayce Jackson-Davis to get closer to full strength.
Without Johnson, Indiana will be asking a lot of Jalen Hood-Schifino in a tough environment and needs Jackson-Davis to return to near All-American form. Murray is a tough cover for any team and last season, Indiana had no answer for him in Carver-Hawkeye Arena. This game, on paper, is a toss-up and the Hawkeyes are likely to play like a team desperate to snap a three-game losing streak.
Filed to: Iowa Hawkeyes